Found this somewhat scruffy little blueberry in the 50% off area of a local nursery:

SDC10957.JPGblueberry2013.JPG

It has really nice looking foliage and bark.  I've removed the fruit and trimmed it back some since the picture.  Probably going to wire the smaller trunk into a better shape for a double trunk and then eventually end up putting it in the ground for a while.
Anyone have any experience with blueberries?  (This is a "Vaccinium 'Top Hat'").  I think it could turn into a pretty nice looking little tree, and the price can't be beat.

JimLewis

Member





Lovely! How long have you been training it?
Well, let's see. My mower ran over this plant out in my garden about 4 years ago. <g>

JimLewis

Member





I have experience with growing the wild species - High Bush Blueberry, Vaccinium corymbosum. I find them very tolerant of weather extremes in my area and they make beautiful bonsai. Fall color is spectacular!
Here's my bonsai: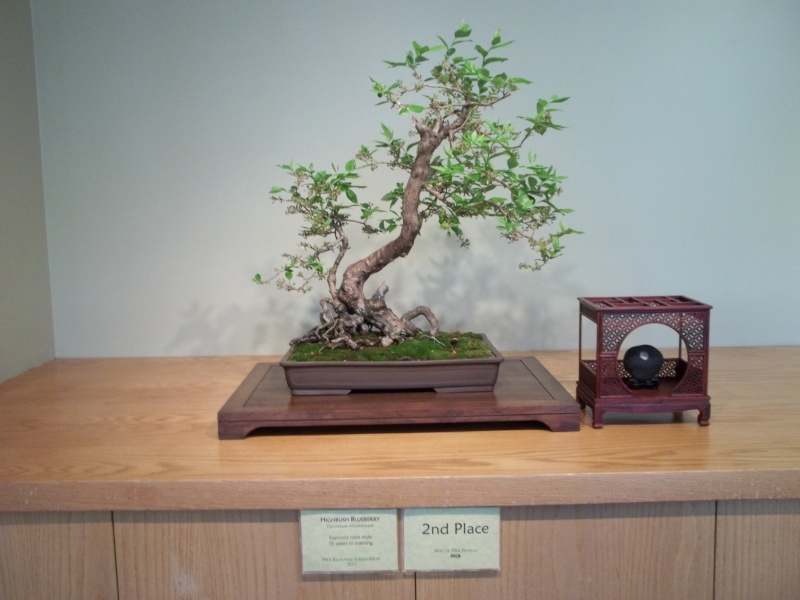 and a little history:
I collected this Exposed-root Blueberry in a swamp/tributary off of the Rappahannock River in King George County, Virginia. It spent 3-4 years in a nursery pot, then about 7-8 years in the ground. I then re-collected it out of the "overgrown" landscape and have grown it in bonsai culture since 2007 (?). It was heavily damaged during a hail storm in 2008, and then had some borer damage two years ago. The small trunk and branches on the large trunk were grown by me. It flowered heavily this year and was full of berries; which I trimmed off to redirect energy into developing foliage. The tree stands approx. 20 inches tall from the top of the soil.

Todd Ellis

Member





Thanks for posting, that is a lovely tree. Interesting history too.

Similar topics
---
Permissions in this forum:
You
cannot
reply to topics in this forum