For consideration of a black (or other opaque paint/lacquer finish), try this little simply quick and easy test to see if you agree?
Take a soft green floral foam block and press your stone into it to the depth of your daiza.
With a sharp knife just chop down excess foam around stone till you create daiza sides, front and back
Then chop off the excess across the bottom to about 3/4 inch from bottom of your stones depression.
Next cut out area not wanted in relief to create feet, carefully! don't get fancy with feet, not needed.
Now spray paint the foam daiza with black paint, allow to dry in sun for about ten minutes.
Set stone in black daiza then brown daiza, on turn table and judge for yourself! no go no problem!
Post your results for opinions on black or brown color choice.
stonener...
Latest find on last river trip this year, what see you?
Last edited by stonener on Tue Jan 08, 2013 4:21 am; edited 2 times in total (Reason for editing : clean-up of post split from " 'Pictograph' not what I was planning for my first effort")
I like your suggestion stoner,
reminds me of a story I'd like to share here
In the history of japan and the appearel worn by the ruling parties, black was THEE color.
To be selected by them to make their fabric, the color must glisten with sheen. What was the secret
that allowed but a few to compete? The fabric must first be dyed red and then black.
One of the secrets in the hobby of Koi when selecting koi that have red,white and black colors is to judge the qualty of the black on white ground, as the black always looks better than it is when it appears thru the red.
If these stories are true ( and they are) i wonder if we color our daiza red first to get a better black?
On the lighter side, speaking for seattle area residents who see the bright orb in the sky on occassion and never in the winter....What's the sun"?

dick benbow

Member





[quote="dick benbow"]
i wonder if we color our daiza red first to get a better black?
Hello Dick,
That is the secret yes!
One can use red, blue or purple for example depending on the color of the stone.
Yellow is also used under gold leaf to enhance the color.
A bit color mixed with black is an other option, but i think building up a color in different layers is more magic.
Sunip
Ya Ok Guys, that's the advanced method,
We must first learn to walk before running.
If black is chosen by Rick then.
First stain dark brown, then spray black over that,
then steel wool to remove some black,
and expose dark brown underneath,
called the antique look.
stonener...
what see you?
Hi guys
If you want to make a "antique" finish for a daiza, is it needed to use regular dense paint. This method is used for this very early, and small daiza I made for a danish "waterpoolstone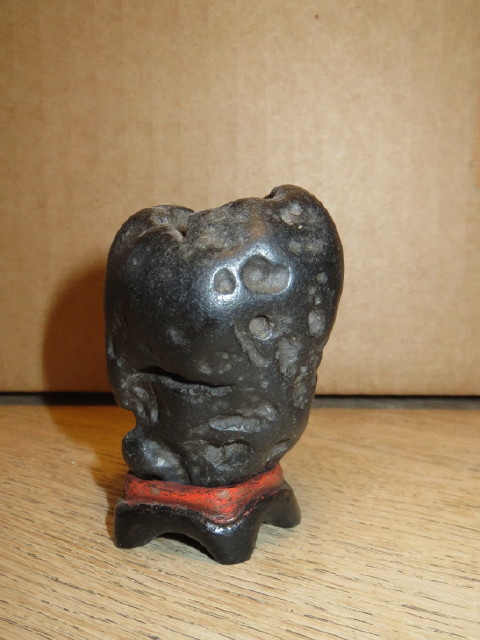 If you use a "seethrough" woodcollor can you mix redbrown, yellowbrown and black right away, and paint....add two times for a deeper collor.
To first add a yellowbrown, and later a black, is not needed....the collors can be blended right away for the use.
Kind regards Yvonne
Very interesting daiza Ms Yvonne,
Can you tell us a little more about the stone?
size, back side view & were collected?
stonener...
Hi stonener
The stone is quit the same all the way around, nothing fancy....but it is a nice quality of stone...basalt, I found it on a danish beach.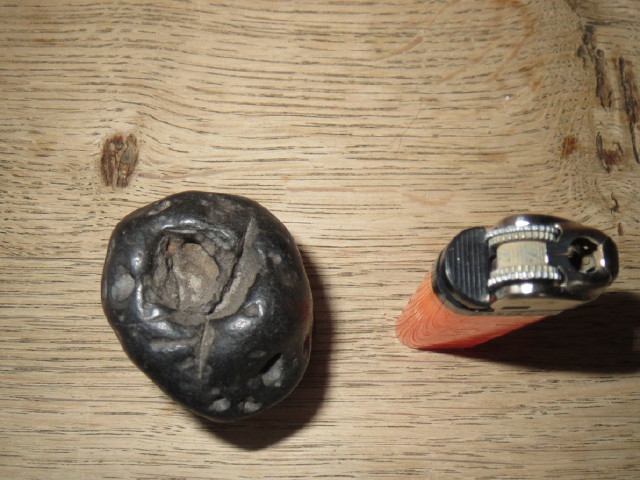 The daiza must have been made in 2005 when i had my first experience with suiseki and daizacarving....I soon took a long brake, as I did not know enough about how to place legs, shape, and so on, and working with wood was not really my thing.
1.5 years ago, I began to carve again....after looking for a while on IBC, I had to try again, and I must say, I have learned much from Peterbrod and Chris.
My long love for the japanese style, and what i learned here, basic skills, has made my style a kind of traditional.....I resently heard one say..."I prefer not to look at suiseki, the same way, as a japanese monk does"......It surpriced me a lot, as I never had thought of that...it sounded boring.
Contact with people all ower the world, give me a lot of food for thoughts, suiseki is never boring....
What the future will bring, can I not say...I wish I was such a good carver, I could make a really nice chinese styled daiza if i wanted too.
But right now, am I a housevife, with a love for the japanese style, and the tradition I know of, and understand.
Kind regards Yvonne
Thank You Ms Yvonne!
For additional pictures and information, very interesting
but most of all for taking the time and effort to share your thoughts.
we are all so different like the stones yet united by the same.
stonener...
Last edited by stonener on Tue Jan 08, 2013 4:10 pm; edited 1 time in total (Reason for editing : +)

---
Permissions in this forum:
You
cannot
reply to topics in this forum