This effort did not work, so this stone is a self-portrait after I spent 4 hours trying to upload my first pictures, and of course I got the wrong one and could not get rid of it so I am posting it. My goal is to present viewing stones for constructive criticism in an effort to expand on what are considered traditional stones and the minimalist approach. My stones are not suiseki in most cases and come from the North Western USA. Criticsm is what I am looking for and not viewer's likes or dislikes of the stones. I am a technological Pterodactyl (from the Jurassic period) and may not respond to all incoming critiques. I want to thank you all in advance.
I note the picture came in quite large when I used 640, so maybe I should drop down to 320?
Hopefully, I can do a better job; my first presentation will be of hut stones.Rick
Rick
Image as edited by moderator (~26.5 KB):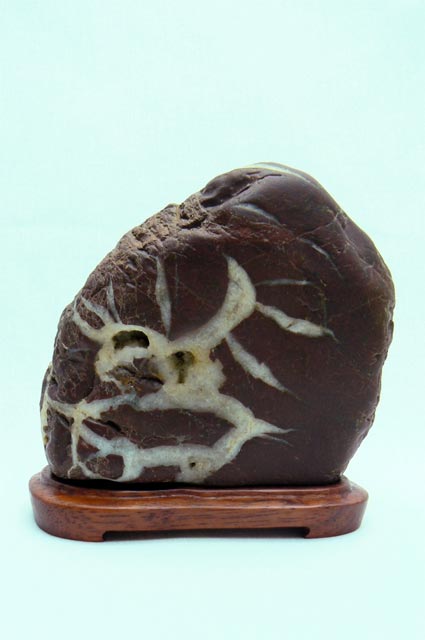 Originally-posted image:
Last edited by Chris Cochrane on Sat Jan 05, 2013 5:09 am; edited 1 time in total (Reason for editing : Edited photo to reveal stone's entire image.)
Hi, Rick, after having teinted the wood, did you put some "fondur" it is the french word, someone could surtently give the english one. I found sealer as a traduction, but I am not sure. With that kind of product, your finition will be more glassy.
. And finally to my mind A daiza a little bit turned to a dark brown red.
Still to my mind tou're right this piece is a biseki.

Harria

Member





Rick is a friend of mine thru the same suiseki club. His enthusiasm is infectious, and the number of stones collected is amazing. I wish he'd have had "luck" with his initial effort to display but am delighted to see him involved here. I want to thank those who have contibuted so far and encourage more to get involved as an encouragement to Rick. he has a lot to share and it would be good for all of us.

dick benbow

Member





Hello,
Thank you Dick for mentioning this because after this first post of the red rock -Indian Eagle-, i love to see more.
Rick, i see Chris edited the pictures, are you after this introduced enough to post your pictures on the forum?
Sunip

---
Permissions in this forum:
You
cannot
reply to topics in this forum