Good evening,
I purchased this ficus benjamina at a nursery today. All the ficus on site were about 3 maybe close to 4 feet tall and on sale because winter is coming. The one I chose was the only one with branches near the base so I figured it would do better after cutting. I had it cut in the store because there was no room in my car for the rest of the tree.
My main question is, should I make the trunk even shorter (it's around 12 inches long now) and the 2 branches are between 3 and 4 inches from the base. I figure I should leave it in the nursery pot and just let it grow and see where things go... Is this OK or should I change the pot considering some of the roots are touching the edge?
Sorry for the crappy pics.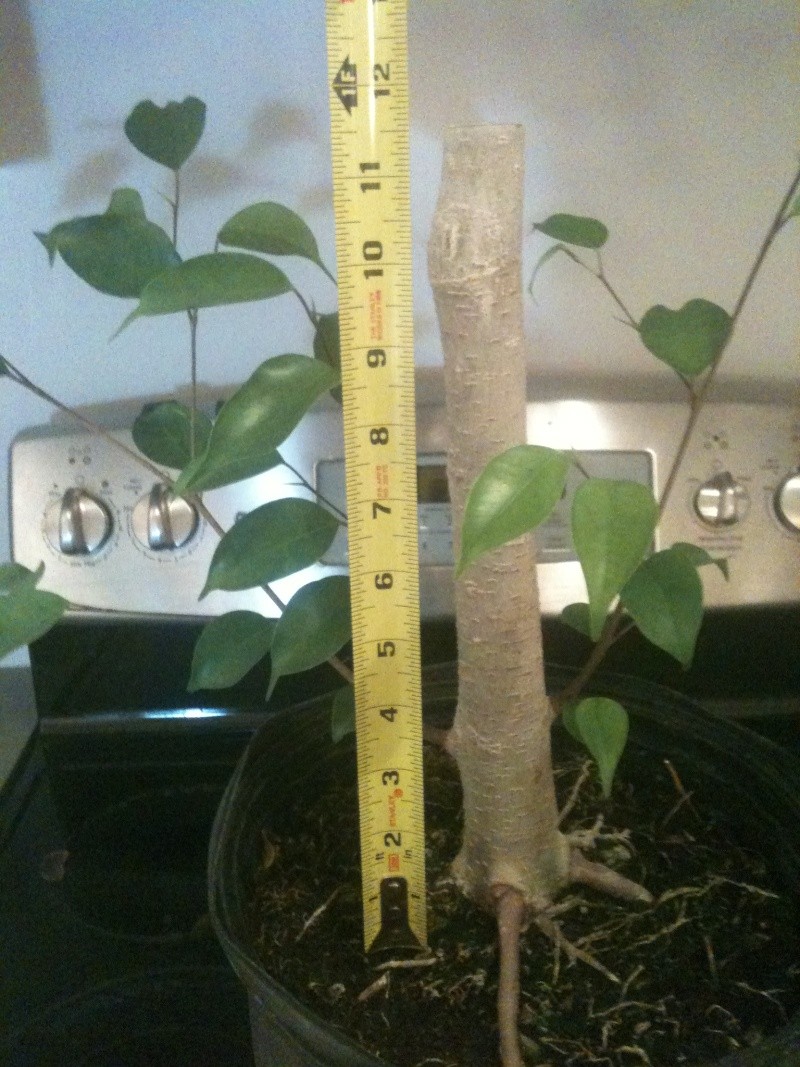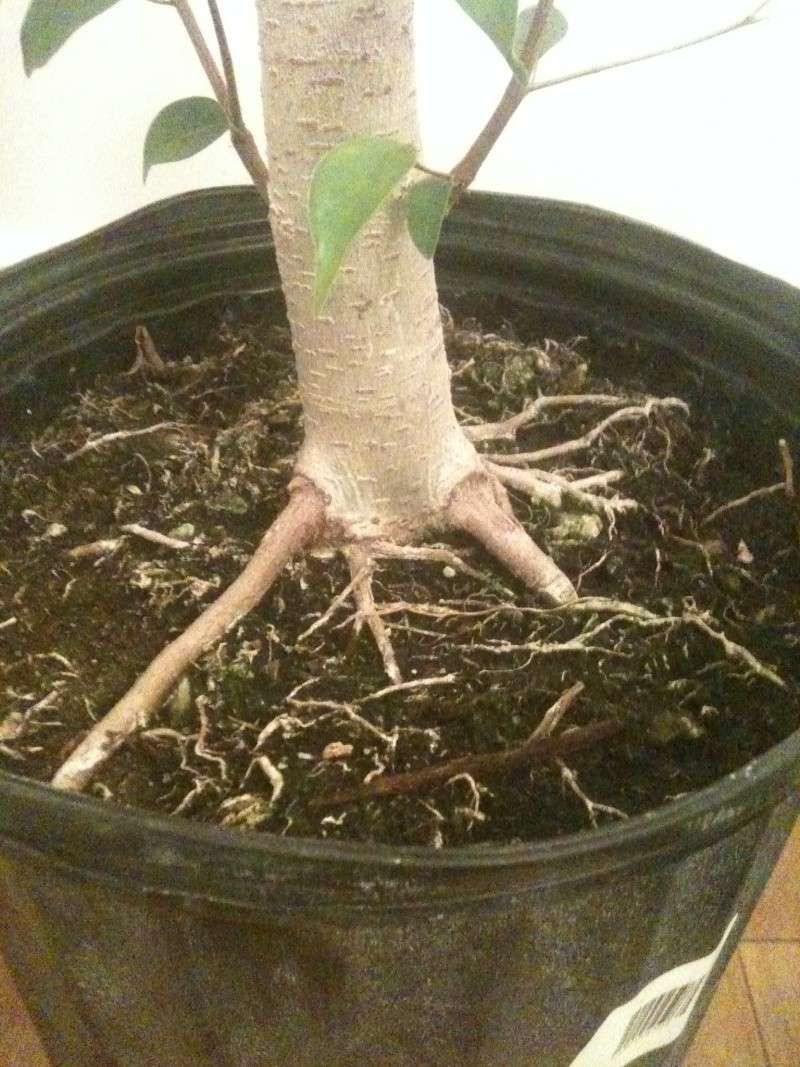 It's a shame you couldn't squeeze it into your car --- it might have been fun to try an air-layer with the upper portion. Did the nursery people see you cutting it down? I once had a fellow all but plotz, when I pulled out a saw to reduce an Amur maple on late season sale.
My experience with benjimina is exclusive to the "too little" cultivar, which I have found to be unpredictable (perhaps even unreliable) insofar as back budding goes. However, provided the tree is healthy, they are (usually) willing to volunteer growth at the point of the trunk cut (but rarely further back). So, as far as cutting your trunk further, it would really depend how you want to develop your tree. If you do want it ultimately shorter, I say "go for broke" now --- otherwise, you just wind up cutting off any foliage that sprouts along your current cut.
As far as the re-pot goes, I would personally just concentrate on keeping it alive through the winter months, then deal with that come late spring --- being careful not to overwater between now and then (it's going to use a lot less water after the haircut it's received).
But, if you're restless & plan to give it supplemental light indoors, you might be able to get away with it now.
How vigorous was the portion you removed?
Jerry Meislik's ficus website has some helpful meditations on this and other ficus topics.
http://www.bonsaihunk.us/ficusforum/FicusTechniques/FigTechnique15.html
http://www.bonsaihunk.us/ficusforum/FicusTechniques.html
If you plan to further explore ficus, I recommend his book.
Last edited by rps on Fri Sep 28, 2012 5:11 am; edited 1 time in total (Reason for editing : Typos)

rps

Member





Thanks for the comments.
Yeah, its too bad, I guess I could have kept the top. But I didn't have much room for it in the house. I just wanted to concentrate on a stump since I am new and witness the thing develop.
After I made this thread I found this one
https://ibonsaiclub.forumotion.com/t5581-ficus-benjamina-backbud,
and I'd say my tree was exactly like that but had lost some leaves because the nursery let them get cold (close to freezing).
Since the tree came to you already stressed, I wouldn't put it through much more. Treat it nice through winter. Give it some light, if you can, and don't over water --- then come spring, if it's showing vigor, have fun.
The trunk seems to want taper, so you may eventually elect to cut it at an angle near one of the existing branches & form that into a new leader. But I'm getting ahead of things; for now, shepherd it through winter.

rps

Member





Epicus,

For now, just grow it for health. Work on it in late spring or summer.
I started my largest ficus from 3 leaves on a cutting, and take from the school mascot over in Florence,Italy/
Later.
Khaimraj

Khaimraj Seepersad

Member





Ficus love heat so I would not repot until next July. I do my ficus root work in the hottest part of the summer and they do fine.
I've noticed there are a few insects on the soil. This plant was sitting outside at the nursery over the summer, and in a covered, yet open, part of the nursery when I picked it up.

What would be a safe mix or product to use to get rid of these insects and any other insect there might be in the soil?
To my surprise the tree has put on a lot of growth since I created this thread despite the fact that it's not in it's growing season.
All the new growth has been sprouting from the existing branches, so nothing from the trunk itself yet and I am not sure it will.
As you can see, I cut the stump shorter since the first pictures, and now I am debating cutting it shorter come growing if it hasn't backbudded on top by then. What do you think? I would probably cut it an an angle between the 2 main branches making those the "top" of the tree. Is this a good idea?

That looks like a healthy amount of growth. Are you using a grow light of some sort? Or is it just by the window? I like the root spread at the base.

I think you would be safe chopping or carving back the remaining stump to between the two branches. The trick is carving it so that it heals it will have a natural transition between the branches. Unfortunately, I don't have any real specific advice as to how to achieve this, other than that my (amateur) inclination is to do it in stages. i.e. first carve off the bark to crate a line between the two branches and maybe start to whittle down the stump. Then later, once there are signs of the live tissue starting to roll over the stump, you can continue to whittle down the stump or take a dremel to it in stages.
I am not a carving expert, so I would appreciate any differing opinions or suggestions. My inclination to do it in stages is so that you can react to how the tree is healing and responding to your work.

I do remember hearing the advice on this site, that ficus prefer to heal over convex wounds, rather than the concave wounds which are recommended for deciduous.

Thanks,
David D.

MrFancyPlants

Member





I am new to this and do not know about carving. I will read up on it and consider my options.
I have lots of time to think about this and after 6-7 months of getting into bonsai I have developed the patience to wait now
It's really cool to compare then and now pictures. I myself had no idea how much growth this tree displayed until I saw my original post.
The tree is in my upstairs bathroom next to a window with direct sunlight (the tree received direct sun from September to near end of November forabout 5 to 7 hours a day). Now it's winter so it's getting less (probably 2-3 hours of direct sunlight a day on a clear day). I expect growth to come to a halt at this point. This is the bathroom where we shower so I am sure the tree appreciates the humidity in the air it gets once or twice a day.
Next summer I will do some root work and change the soil. I might put the tree outside, but if it's doing so good in the bathroom, maybe I won't.
Thanks for the reply.

Similar topics
---
Permissions in this forum:
You
cannot
reply to topics in this forum