As most of my material requires dormancy, I haven't really worked with any species of plant suitable for bonsai+indoor life until last year when I acquired an ugly little stump of a ficus being sold in a big box store as a finished bonsai lol. I repotted it in a much larger garden pot last spring and as it was in poor shape when I got it I let it recover over the last two summers (it spends late spring through early fall outdoors). I am just wondering as this tree is coming inside for the fall is it possible/wise to do wiring and light to medium pruning on a ficus while over wintering indoors?

Steven

Member





I'd say as long as the tree is growing well I don't see why some minor trimming would be harmful.
In my limited experience, ficus will survive almost anything --- but given generous light and humidity, they thrive. Are you planning to supplement their indoor light through the winter?
Provided the ficus is healthy, it can handle winter work. My ficus are indoors under a couple of T5s from mid-September through May --- I have re-potted, defoliated, pruned, wired, re-wired and re-wired again (since their vigorous growth often forces this) and they rarely miss a beat.

That said, have you identified the species? Some are more forgiving and adaptable than others.

If you get a chance, please post some pics. I'd love to see what a rescued tree looks like after a couple of summers in the sun.

rps

Member





When I acquired this it was no more than the trunk and maybe 3 barely living, can not find the picture. Here is the tree after its first partial summer of growth....
This is at the beginning of this summer, I wrap the trunk in plastic to encourage arial roots, which worked nicely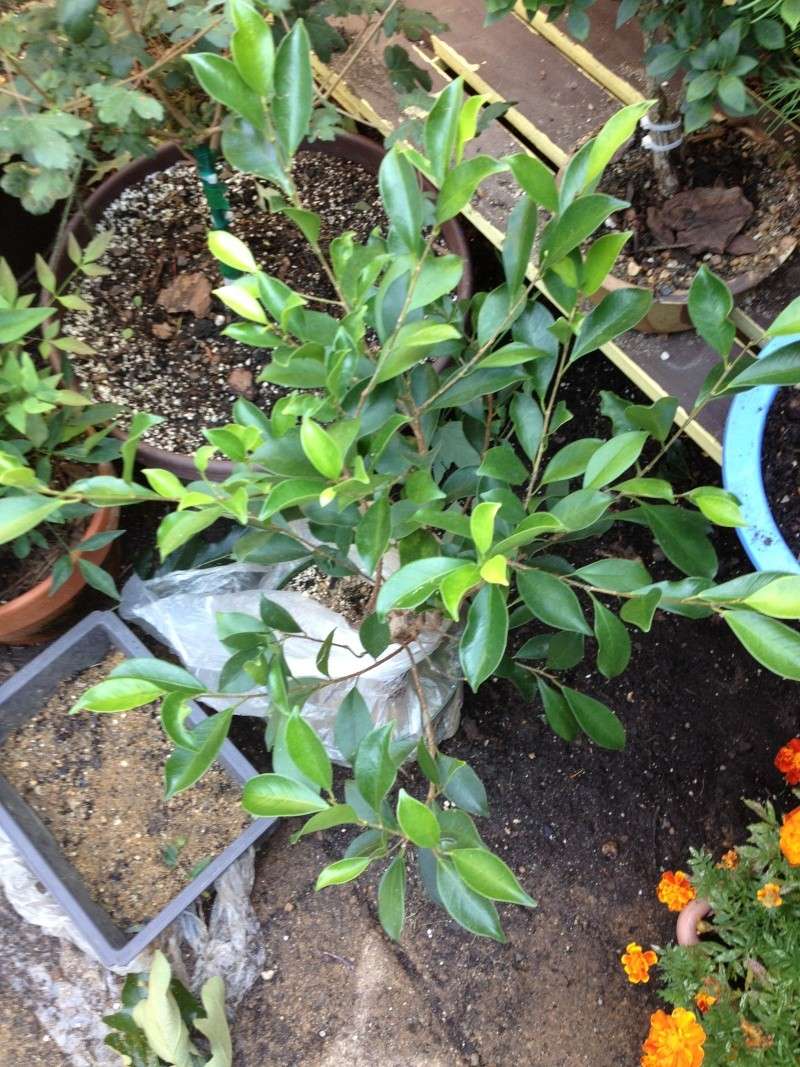 Sorry for the terrible lighting, but this is it now after a summer of growth, I also decided to pull two branches down to become future additions to the trunk/arial roots as I decided I did not like the balance of the existing look, so we will see how that goes, otherwise I plan to do some cutting back and some foundation wiring from there, and with any future growth, while also continuing to push new arial roots. The tree will be receiving additional light via t5 grow bulbs.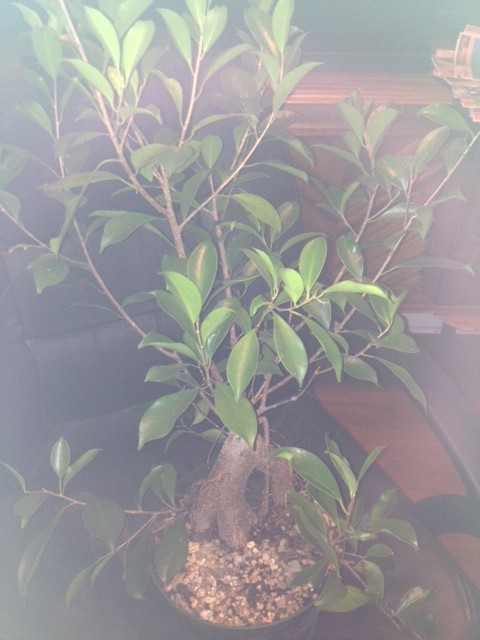 Steven

Member





I wouldnt waste much time on a ginsing ficus, their roots will form carrots. You may be able to have some luck if you airlayer above the split in the root, I have one ginsing that has an amazing nebari after doing this but I anticipate one day the roots fattening to much. I have more big retusas and nerifolias than I know what to do with, Ill bring you some better ficus species when I come through your town one weekend. To reduce the size of my ficus and to get a new set of leaves adapted to lower light conditions, about a month before bringing them in I will do pruning/defoliation and leave them in full sun for 2 weeks but then move them to shade for 2 weeks before leaves harden then move them indoors. This way you get the benefit of strong backbudding in the full sun while at the same time forming leaves that are adapted to lower light levels so you dont end up with much leaf drop once inside. However most of the time I do no pruning and if they drop leaves i dont worry as they always grow new ones anyways, this way I end up with as big of a tree as possible (most of mine are in 36" grow boxes and up to 6 feet tall) I have good luck growing them in raised beds of pure compost in full sun in the vegetable garden as well.

bucknbonsai

Member





I probably should have mentioned that most of my experience is with tiger bark retusa --- a species that, so far, has rewarded my clumsy meddling with enthusiastic back-budding and fine branch structure. While there is something arresting about those ginsengs, I've never had much luck coaxing secondary [let alone tertiary] branching out of them.

rps

Member






Similar topics
---
Permissions in this forum:
You
cannot
reply to topics in this forum