is a bear atop a waterfall fishing for salmon. hiroko did two beautiful sumi-e drawings. It was hard to choose which one. But finances dictated that only one was in the budget. The other board which I liked better was just a bear on top of the falls looking out into space with anticipation, no salmon. I could see a nice tenpai with a leaping salmon to accompany the tree in the tokonoma along with the scroll. But so many of my quests need things abit more spelled out and less subtle so, I went with this one. What do you think?

dick benbow

Member





Yo! Dick,
give her my number,
I'll take the other one...
562 533 5505
suisekilove@hotmail.com
The other one that I moaned over not getting was snapped up by my brother after seeing my original. I do believe she had several others. probably best if you contacted
her.....Hiroko@shuhkoh.com
As I recall she had another with salmon and another just fishing in the falls.

dick benbow

Member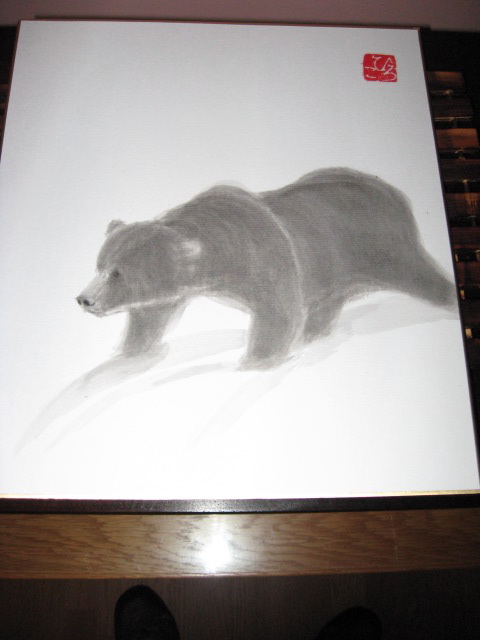 Here is a copy of the board my brother got of the bear. Least it's in the family. I liked it better but would have looked hard and long for a tenpai (figure) of a leaping salmon.

dick benbow

Member





here's what I submitted to hiroko for her next project
september she tells me...

dick benbow

Member





WoW Dick!
Will be looking forward to you posting results...
Thanks for the contact

Similar topics
---
Permissions in this forum:
You
cannot
reply to topics in this forum