In addition to my 50th birthday, this week marks another milestone - two years of bonsai obsession! I figured it might be fun to share the story of my first bonsai workshop and the resulting tree, which is still alive. The post got a little long, but hopefully some of you will enjoy it.
First a little background. In spring 2010 my wife and I attended an orchid show in Rochester, NY (I used to have a modest orchid collection when I lived in a warmer place). While there we came across some literature advertising the upcoming Bonsai Society of Upstate New York annual show. Since I'd always had some interest in bonsai, we decided to check it out. Was very impressed by the trees at the exhibit, and also by the knowledge of club members I spoke to. Amazingly, I had no idea there was such an active bonsai "scene" right in my own backyard.
I was informed of a special opportunity available for beginners - a workshop (including a boxwood, pot, soil, etc) plus one year of club membership for a very reasonable price. Figured why not give it a try.
The workshop opened with a lecture/slide show followed by a demonstration. Then we were unleashed to choose our "victims" from among a group of unsuspecting boxwoods quivering in 1 or 2 gallon pots. New ideas and unfamiliar terms (nebari?) were swirling around in my head as I searched for the perfect tree...of course, I really had no idea what that was! I'm thinking, this one has nice roots but the trunk is strange...this one has a big trunk but not so sure about the roots..the branches on this one are poorly spaced. As I procrastinated - one of my best "skills" - the number of options dwindled as people grabbed all the ones with good roots, or good trunks...while I searched for the perfect tree that had it all. Finally, all that was left was me and 4 or 5 "Charlie Brown" boxwoods,
none
of which had particularly good roots or trunks. I still couldn't decide! Eventually I realized that the day was about learning how to do things, not making the perfect bonsai...so I grabbed one and got started.
After about an hour of tree torture...ripping up roots, chopping off 75% or more of the branches and leaves, crossing wire left and right (look at that beautiful figure-8 on the lower trunk)...I was left with this: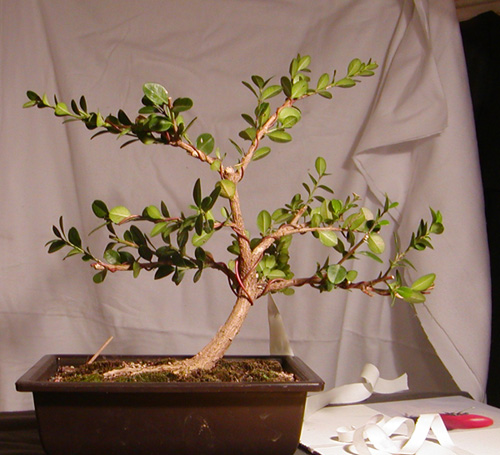 I got home, looked at this poor plant still shaking in its pot, and thought "what have I done?" Then, over time as I recovered from the initial shock (and the tree did as well), I started wondering "can I possibly turn this into something decent?" As the tree grew (strongly - as it turns out, boxwoods are tough) and I dutifully watered, pruned and wired, I looked at hundreds of photos of various bonsai, trying to find a decent style that might work. Nothing seemed right. Then, last summer, I finally saw something...some hope. Did some major pruning and wiring, and this is where we are as of today: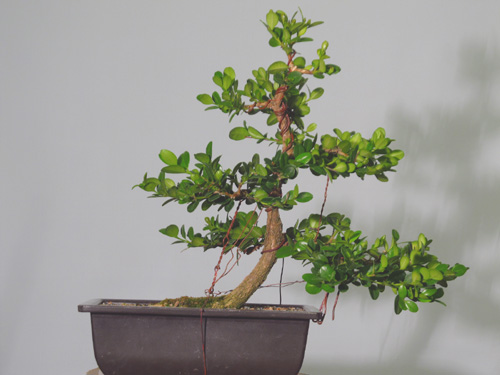 Not a great tree by any means...but I've learned a lot from it, and it's special because it's my first one. I'm sure others are familiar with that feeling! I'm thinking of possibly letting the lower right branch continue to grow out and down, creating a sort of semi-cascade tree. I'm very open to hearing other thoughts and suggestions. Note, tree is 10" from top of pot to apex. Sorry this post got so long...but hopefully some of you enjoyed the story - maybe it brought back memories of your first tree or workshop, and that strange mixture of excitement and apprehension that came with it. Please feel free to share your own "beginners stories" in this thread if you'd like.
Chris

coh

Member





great story Chris, and Happy Birthday to boot!
)

Fore

Member





Thank you...now officially over the hill. I don't feel any different...well, maybe a little grumpier! At what age does one officially become a grumpy old man? Hey, get off my lawn!

Chris

coh

Member





Two main thoughts;

1. That tree is so much nicer than the first tree I ever hacked up.

2. You don't look anywhere near 50 Chris. Happy birthday!

-Jay

drgonzo

Member





Well, people do keep telling me I don't look a day over 49!

coh

Member






---
Permissions in this forum:
You
cannot
reply to topics in this forum