Last edited by 3man0n on Thu May 17, 2012 12:29 pm; edited 1 time in total

3man0n

Member





Can you tell us the botanical name?
Sorry, this is not yet a bonsai. Maybe it will be some day. Right now it is a plant growing in a rock.
Iris

bonsaisr

Member





bonsaisr wrote:
Sorry, this is not yet a bonsai. Maybe it will be some day. Right now it is a plant growing in a rock.
Iris
mmmm, Iris, not very welcoming -(you should know a little better though) as I think.... "sorry the picture below is not a bonsai, maybe it will be some day, right now it is 5 twig like plants put in a pot and called a forest" Edit ....5 twigs with 2 stones to leave nice dry spots for the roots to struggle in....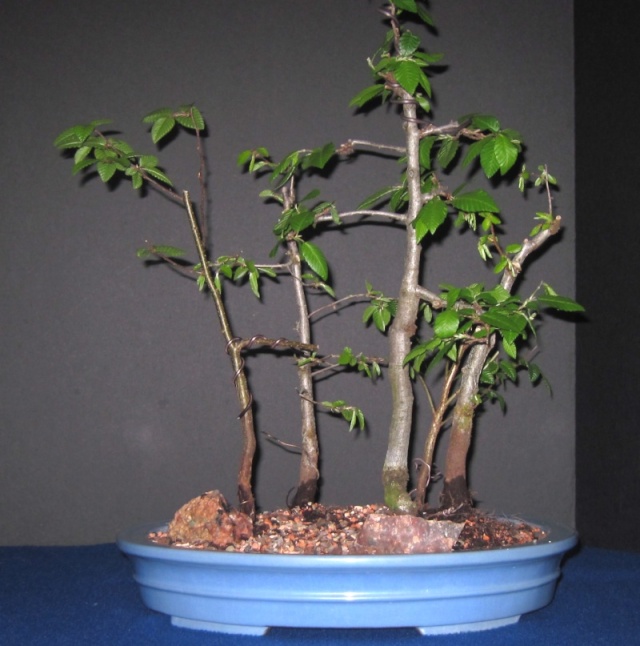 Many 'bonsai in development' are plants with pots or plants with rocks afterall.
Welcome to the forum 3man0n. Do the roots go right therough the rock or stay in a hollow inside?
cheers Marcus

marcus watts

Member





Of course those sticks in a pot are not a bonsai. I never said they were. They are a stage in a progression. It is a good example for our new member to see what is & isn't a bonsai.
Iris

bonsaisr

Member





it's ok! By the way the roots of the crepe myrtle passes through the rock, so if it is in need for further sustenance as "it develops into a BONSAI", I may need to put it on a pot.

3man0n

Member





Bonsai
(盆栽?, lit. plantings in tray, from bon, a tray or low-sided pot and sai, a planting or plantings, is a Japanese art form using miniature trees grown in containers. Similar practices exist in other cultures, including the Chinese tradition of penjing from which the art originated, and the miniature living landscapes of Vietnamese hòn non bộ.
So bonsai means a miniature tree in a pot/any form of shallow container, provided it follows certain aspects of the craft like form and style.

3man0n

Member






3man0n

Member





I forgot to mention, in my book you get double extra credit for looking up the botanical name. Many times we get members from tropical or far-flung countries writing about native species and they only know the native names. A picture doesn't always help. Then it is hard to offer an intelligent comment because we don't know what kind of tree we are talking about. Most of us are familiar with crape myrtle. As you said, you may find that you have to position your rock on a tray of soil to keep the roots healthy. That will make an interesting scene.
Iris

bonsaisr

Member






Similar topics
---
Permissions in this forum:
You
cannot
reply to topics in this forum