Now for the real stuff - the Forum board, where all the threads and posts are.  In this section we'll look at:

Index

The Forum layout
Replying to posts (link to existing info)
Saving topics as Favourites and Watching Items
Last edited by fiona on Thu Mar 06, 2014 4:05 pm; edited 4 times in total

fiona

Member





To get into it, all you do is click Forum from the drop-down menus at the top of the page.
The first thing you get is the Forum Index page which looks like this (I've reduced the size so I can get it all in):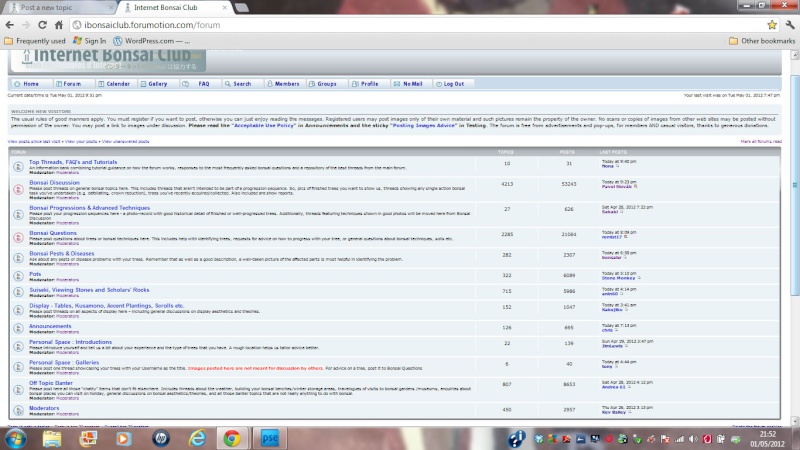 You can see all of the different forums we have. If the button at the left side of any of these is highlighted in red, it means there have been new posts since your last visit.
Under the title of each forum is a rough guide to what sort of topics you'll find in each. This is helpful for when you want to start posting your own topics.
To get into any of the forums, just click on its title. You will then get the list of topics in that forum (again, ones with a red highlighted button have new posts in them) and to read any of them, simply click on the topic's title.
Last edited by fiona on Fri May 04, 2012 1:54 pm; edited 3 times in total

fiona

Member





This is covered in this section
HERE
Last edited by fiona on Fri May 04, 2012 1:49 pm; edited 1 time in total

fiona

Member





If you like a topic so much that you want to have it kept in a list of your personal favourites, then simply click on
Actions
at the top right above the top post.
You also have an option of "Watching" a topic. This doesn't save it as a favourite but gives you an email prompt when someone else adds a new post to the topic. To set this up simply click on the Watch topic for replies legend at the bottom right of each page.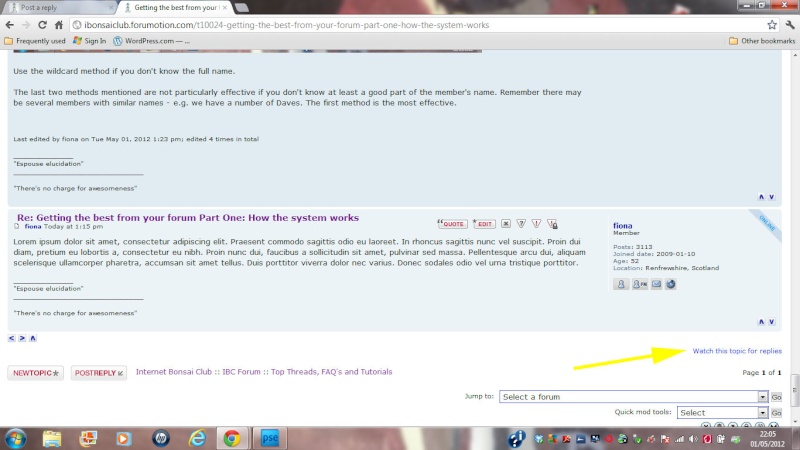 Where do you find your Favourites / Watched Topics?
Ah, I did say we'd come back to this.
Go to your Profile and you will find these as the last two of the drop down menus.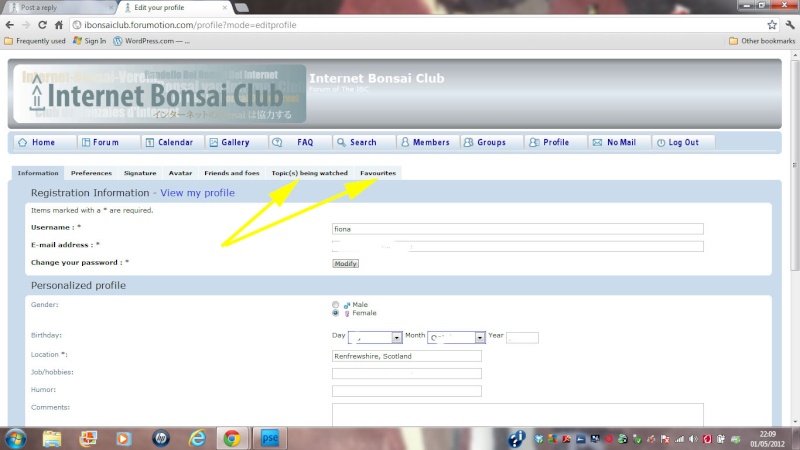 Just click on these. Et voila.
Note:
you can also remove them as Favourites or Watched items on this screen.

fiona

Member






---
Permissions in this forum:
You
cannot
reply to topics in this forum