Welcome.  You have now successfully registered for IBC and will no doubt be wondering what all the various buttons and functions are.  The following is a quick guide to things to help you get orientated.

I hope it is useful to you but don't forget if you are really stuck don't hesitate to contact the Administrator or one of the Moderators.

In this section we'll look at:

Index

The Home page
The Profile page
Personal Messages/Mail Boxes
Sending Messages

Last edited by fiona on Thu Mar 06, 2014 4:04 pm; edited 4 times in total

fiona

Member





Many people set the Home page as a Bookmark/Favourite for their internet browser. When you click on it you get this:
Menu Buttons
The key items here are the menu buttons across the top (just under the Internet Bonsai Club logo) and the google search box. Not all of the functions are operational on this forum, so please ignore Calendar, Gallery, FAQ, Search and Groups.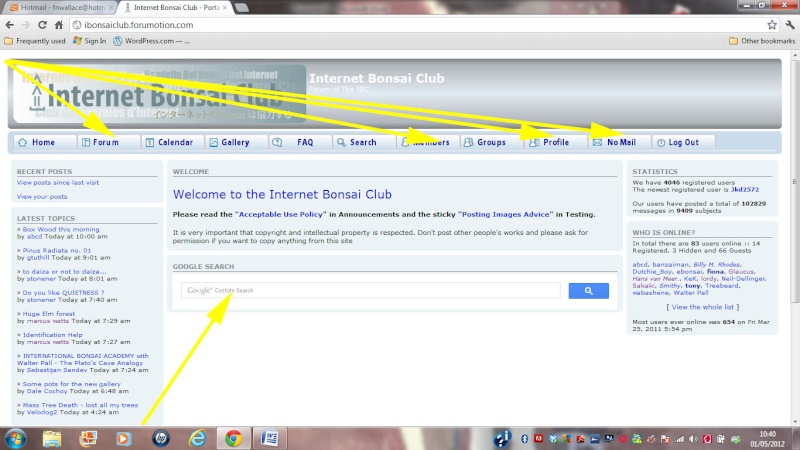 The Key ones are Forum, Profile and No Mail. We'll assume Log Out is self-explanatory. We'll have a look at each of those in turn in the next few posts.
Google Search facility
Also on the Home screen is the Google Search facility which we strongly advise members to use as it searches the site much more effectively than the system's own Search button which only searches for words in thread titles. Just do as you would for a normal search and type in key words – for example Chinese Elm – and this will bring up a list of all the posts in which your key words appear.
Last edited by fiona on Fri May 04, 2012 1:56 pm; edited 1 time in total

fiona

Member





You will be directed to the Profile menu as part of your Welcome message. Please fill in as much information as possible and fields marked with an asterisk * are mandatory. It is especially helpful to give some specific information about your location. This allows other members to focus any advice they give so that it is relevant to your home climate. We don't need your exact post/zip code
- a town or state/county is fine. Please also read
THIS
.
Please note that there are several drop-down menus within Profile as sometimes even longer standing members don't see these. They are found here: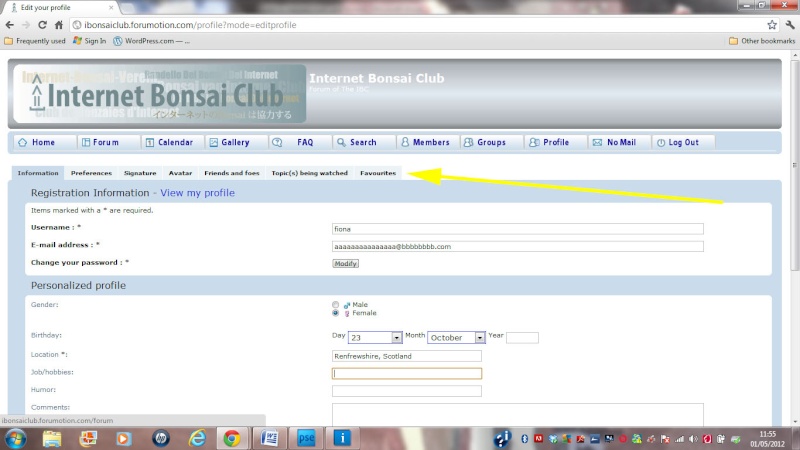 We'll be returning to Topics being watched and Favourites at a later point. For just now the one you need first is
Preferences
and many of you will also want to personalise your profile with an
Avatar
. Just click on these and carry out whatever actions you want. Can we please cordially remind you not to use an avatar that others might consider offensive. Also, could we ask you to avoid animated avatars.
Last edited by fiona on Fri May 04, 2012 1:57 pm; edited 2 times in total

fiona

Member





It may seem a bit out of sequence but let's look at the Personal Message facility now.
You will have seen from the first post in this thread that there is a drop down button marked No Mail. This is the default setting but if you have received a Personal Message (PM) from another member this button will instead show the word
MESSAGES
. Just click on it and you will get your Inbox containing your incoming messages with the most recent at the top.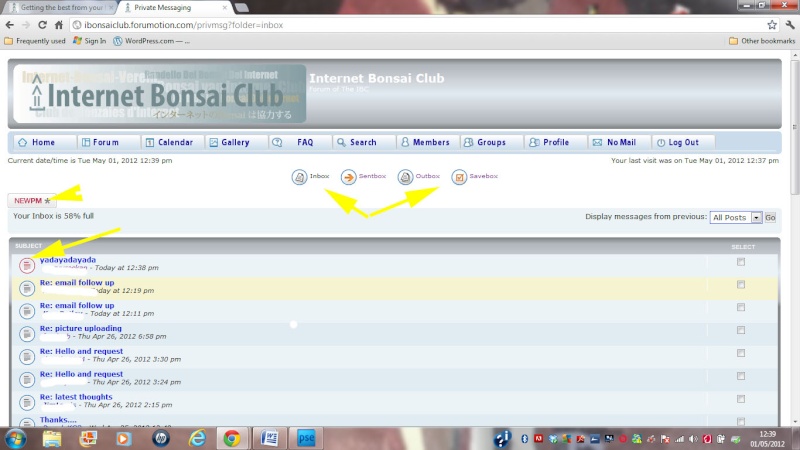 Any message you haven't opened will have a red circle beside it as opposed to a black one. Just click on the message title to open it.
As well as your Inbox, the other mailboxes you have are:
Sentbox
= a list of messages you yourself have sent to others that they have opened
Outbox
= a list of messages you have sent to others but which as yet are unopened
Savebox
= a message box in which you can save messages you want to keep. (please note there is a capacity limit on this)
Last edited by fiona on Fri May 04, 2012 1:57 pm; edited 3 times in total

fiona

Member





Sending a Message
You have a few options here:
1. If you are replying to a message you have received, simply press the
Post Reply
button you see when you open the message, write your response then press
Send
. The reply is already addressed to the the person who sent you the message.
2. If you want to send a new message click on
NEW PM
(as shown in the previous screenshot). You will get this screen:
You must type in both a
title
for your message and the
message itself
otherwise you will get a prompt to say the message cannot be sent.
More importantly, you must address it to a correct username.
Getting the correct username
The simplest (and best) way is if you are currently reading a post and want to PM the member who has written it, then click on the PM button under their avatar and that gets you straight to the PM screen with that person's username already inserted in the address box.
If you are not certain of a username then:
either
look it up on the Members list (one of the drop-down menus at the top of the page). The screen you get looks like this: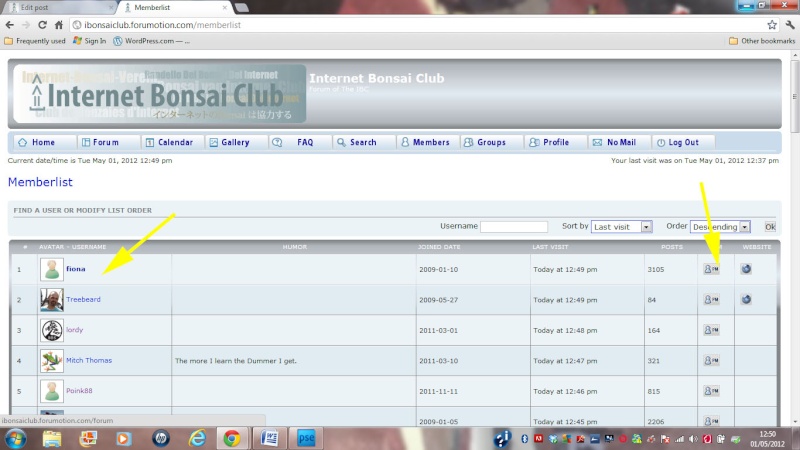 Click on PM at the end of the row and you will get redirected to the New Message screen again with the member's name automatically dropped into the address box.
or
use the find username button on the New PM screen that we saw previously then enter the details as you know them:
Use the wildcard method if you don't know the full name.
The last two methods mentioned are not particularly effective if you don't know at least a good part of the member's name. Remember there may be several members with similar names - e.g. we have a number of Daves. The first method is the most effective.
Last edited by fiona on Tue May 01, 2012 1:23 pm; edited 4 times in total

fiona

Member





In Part Two we'll look at the most important part of IBC - the Forum itself.

fiona

Member






---
Permissions in this forum:
You
cannot
reply to topics in this forum