Page 3 of 3 •
1, 2, 3

I finally got all the information together and started writing my article. I hope someone in the area can take magazine quality photos for me.
The Finger Lakes larch is not being sold on eBay at present.
I finally have my own. One that I bought early last year died. I think they are susceptible to root rot. This one was styled & wired last November, and potted in the spring. The trunk was wired in March and secondary branches in April. You can see the influence of Japanese larch in the foliage. The hybrid is not as rubbery as American larch & holds wiring well. The wires were removed in July.
The hybrid leafs out at about the same time as American larch, but has a longer growing period. I had to keep pinching it about two weeks later than the American.
I forgot to include a scale indicator. The pot is 7 inches long (18 cm).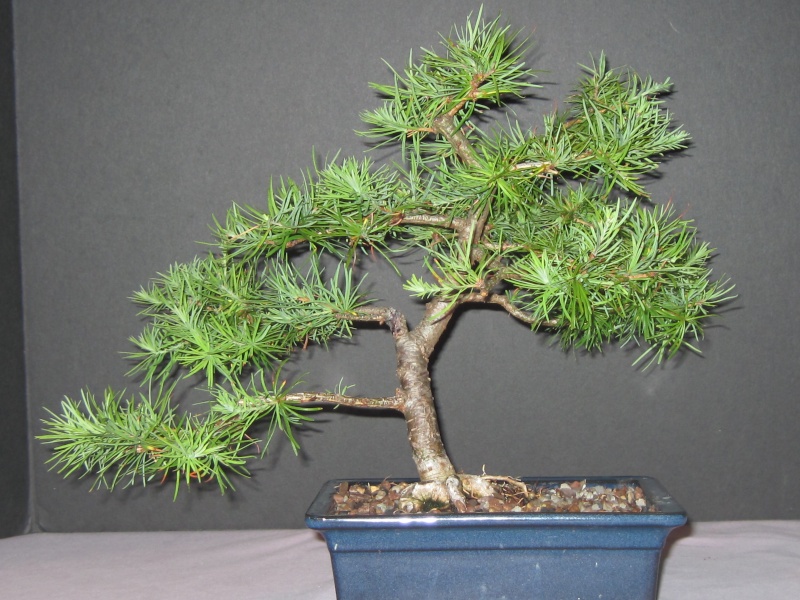 Iris

bonsaisr

Member





Iris

Congratulations on beginning the final step of our long journey with this tree! Please keep me informed as to your progress and if you may need anything else from me. I know the owner of the property the specimen was found on would love a copy of your article as would I.

Best of luck.
-Jay

drgonzo

Member





Iris,
I collected and kept some small stunted alpine larch for a number of years. They came from the Rockies up near the Canadian border in Idaho. They transplanted fine and grew OK but like some mountain species I have read about, resented sustained heat, especially when it goes into the evening. They eventually petered out and died. Of course it could have been a myriad of other factors or maybe if they had been more shaded--at the time it was "full sun baby" or nothing at all.
It may not have been just the heat. Alpine plants brought down to near sea level rarely survive. They cannot tolerate the difference in air density or the amount of UV light. Botanists or collectors who wish to study alpine plants have to grow them in special chambers.
Iris

bonsaisr

Member





Page 3 of 3 •
1, 2, 3

---
Permissions in this forum:
You
cannot
reply to topics in this forum