I thought it was rather obvious when they paved around this tree that came down in the nasty wind storm we had a couple of weeks ago. I didn't lose anything other than a few 20 year old fence posts that will have to be replaced in the spring, but there were many, many trees blown down and over 200K customers without power for hours to well over a week.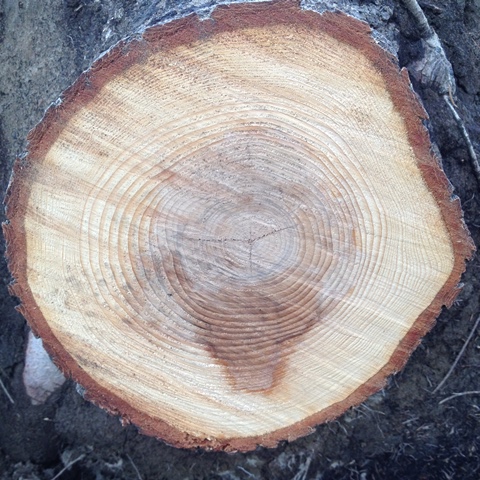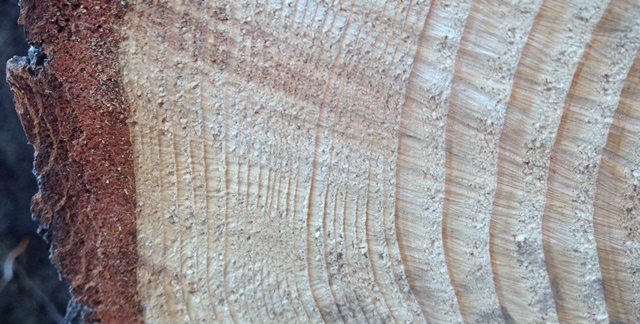 Ah yes time to make display slabs. Glad damage was light. Have a Blessed Christmas.

DougB

Member





Ineresting set of rings!

It looks as though the summers were wetter and wetter from early in this tree's life, and then abrubtly the rings became much smaller. It could be that suddenly the summers were very dry and the tree produced two rings per year, or it got pruned hard. Since you mention it, did it get paved around about 11 years ago?

0soyoung

Member





This was a fairly large pine (12 inch, 30 cm or so trunk). It was located between a paved walkway and a parking lot. I seem to recall one or both being expanded in the early 2000s which would have dramatically reduced the tree's access to water and ability to grow.

Does anyone have a nice example from a tree you grew in the field for several years and then transferred to a pot for refinement?

Khaimraj Seepersad

Member





Actually I was looking for the cut off branch to see the change in the growth rings. Neat tree and I like to grow from seedlings as well so I can see the development over the years and also get a nice flaring root system.

---
Permissions in this forum:
You
cannot
reply to topics in this forum