Purchased this Casuarina back in April 2012 for $5 at a bonsai nursery. It was in a small nursery container and when I tried to lift it I realized that it had rooted through the pot. It took a couple of us to tilt the container that was falling apart in order for a third person to cut the large tap root. The tree was around 5 ft. tall at the time but I almost immediately cut off most of it in order to make it easier to transport. The tree was in poor condition at the time but it had a decent root flare consisting of one large root with several other smaller roots. I took advantage of the one large root and showed it off by planting the tree with a slight lean. I cut off another large portion of what was remaining of the tree and left only the small branch at the right hand side of the first photo below. I wired that branch and it became the new leader and first side branch. It has been a little over 20 months since I purchased this tree and it has come a long way. Some light wiring and continual pruning is all that this tree has needed to get where it is at today. It should be a very nice tree in a few more years when the trunk and branches thicken and the bark of the entire tree starts to get that corky look to it.
The tree when I first purchased it on April 07, 2012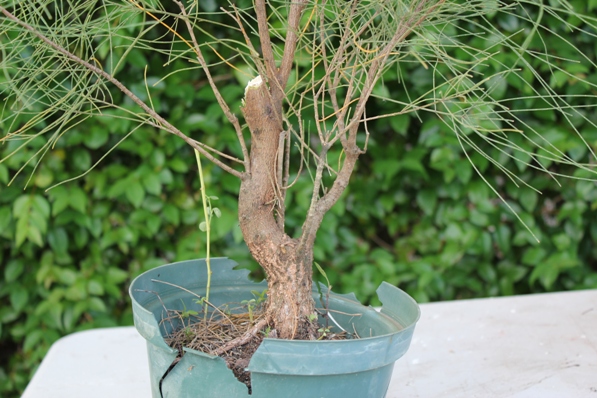 Here is the tree a couple of days later on April 09, 2012 after its first styling
Here is the tree as of today - December 27, 2013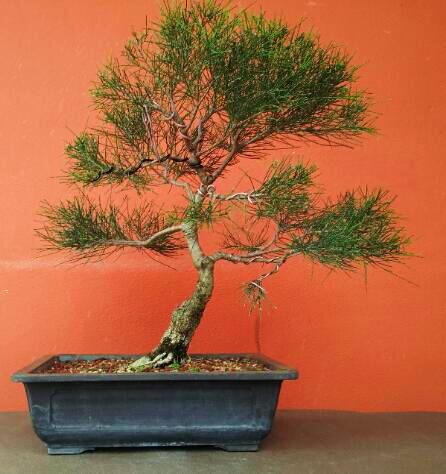 Lazaro Quintino

Member





Your tree grows very fast, it look good but u should make a back branch to make the tree more deeply.
Thanks for the advice vanxeng. It is hard to see in the picture but the tree does have a couple of back branches. All of the branching is still very young.

Lazaro Quintino

Member





Nice, $5 well worth it


---
Permissions in this forum:
You
cannot
reply to topics in this forum