I worked on this old Lantana of mine yesterday at our Study Group meeting. It was cut back to it's line & rewired. The tree was collected in 1984 along a fence row from a horse ranch in Homestead, Florida. They are a very soft wooded plant, and branches will die back for no apparent reason. As such, one must just go with what the tree wants to do. This one started out as more of a broom style, and over the years was transformed into the present cascade. Who knows what's next ! These are nice to work on, because you can enjoy it sparce like this, showing the twisted & old trunk and branches, and the when it grows back out, you get the great flower show.
Ed Trout Pembroke Pines, Florida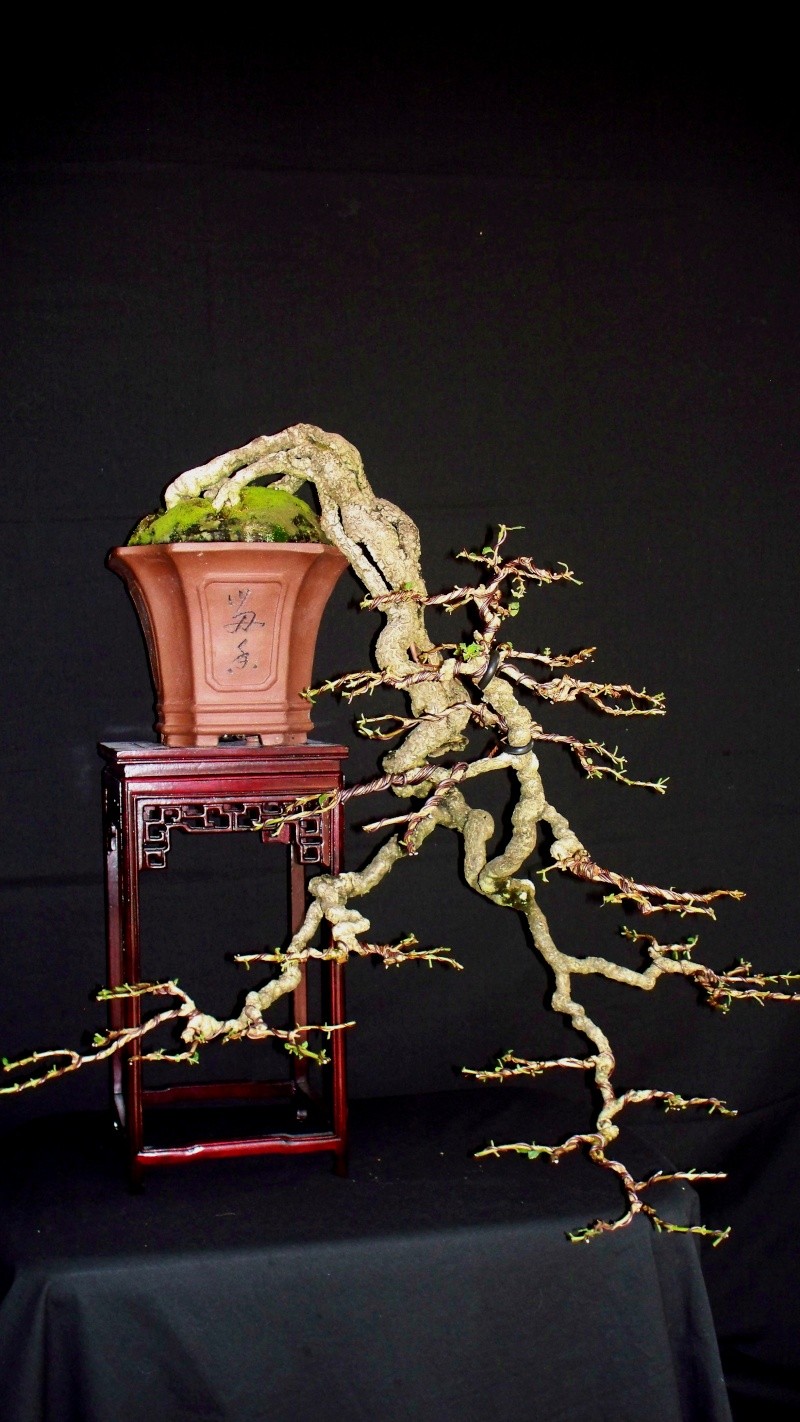 Lovely Ed, and great photography as well...nice to see such character in the species....my one and only Lantana is very much of the "cookie-cutter" variety...What cultivar is your tree?

Regards,
Tom

Tom Simonyi

Member





I remember this one in flower. Still lovely, Ed.
_________________
Jim Lewis - lewisjk@windstream.net - Western NC - People, when Columbus discovered this country, it was plumb full of nuts and berries. And I'm right here to tell you the berries are just about all gone. Uncle Dave Macon, old-time country musician

JimLewis

Member





Thanks Jim...I cannot decide which I like better "structure or flowers", but it's fun to have a choice.


Thanks Tom,

Although I am not a horticulturist, and what I say about horticulture carries no weight, I believe that this particular tree is the actual species ( camara ). I have a couple of others that I got from nurseries that have different flower colors, and seem to produce their flowers much closer to the end of the stems, and I believe those are cultivars. This tree has very long bloom spikes, and is very hard to keep "orderly" for bonsai. But in flower, it is still spectacular. I will try to post a photo of this tree in bloom when it had a broom style canopy many years ago.

Ed Trout
Great tree,I like it very much
Greetings Ed

Ed van der Reek

Member





Great job Ed. Lots of patience wiring those branches.
Due to the losing branches for no reason behavior I have resorted to clip and grow for mine.

Rob Kempinski

Member





Ed, I love this tree. By chance, is this the same lantana shown on the AOB site? This one?
Ed

EdMerc

Member





Ed: Beautiful job you have done with re-wire. Looks very old(I am guessing you or Jim Smith have oldest collected in U.S.) I have been too scared of ever having one indoor and giving Fukien white fly. Flowers are quite unique color for bonsai (unless there is yellow Azalia/Bouggy out there somewhere) Dustin Mann Ann Arbor Michigan
Rob,

Thank you for the kind comments...they mean a lot to me. As I grow older things like growing smaller trees & clip and grow are becoming more appealing. I still wire a little, but arthritis is limiting me.

Ed

You have a great eye. This is the same tree shown on display at the World Bonsai Convention in Orlando in 1992. The photo is by Peter Bloomer & it is one of the highlight moments of my bonsai journey. I have yet to find another tree worthy of that Shigaraki-Yaki pot and it sits idle in my den.

Dustin,

I can just see a lantana in full bloom in that amazing cellar of yours in Ann Arbor, along with all your other tropicals !!!

Ed Trout
Wow that is an amazing transformation. Must of had a "Complete Makeover" - was it on a reality show.

Rob Kempinski

Member






Jerry Meislik

Member






---
Permissions in this forum:
You
cannot
reply to topics in this forum