Tom Simonyi

Member





Beautiful petrified wood, it looks like an island.

Heven

Member





Hi Tom... Twelve years ago (May 1997), you wrote on the IBC forum:
... This forum has been very useful to me and I enjoy it very much. My Acer is slowly breaking my heart... if there is no hope, I want to know so that I can move on with life... .
I lost two Japanese maple bonsai that I've had over 15 years this summer. The community grounds' service staff might have sprayed them thinking it was a good thing... :-(
Moving on with life... this week, the June bugs are munching wisteria blooms.
A stone connected to a daiza constructed by Keith Scott surely has special significance. Is there more to the stone's story?

Chris Cochrane

Member





Hi, Chris:

I am very sorry to hear of the loss of your japanese maples...they are among my favorite species, as is Wisteria...it sounds like you are enjoying yours....

Since you have asked I will tell you "the rest of the story." Several years ago Keith was still living in Pittsburgh, Pa. after having retired as the curator of the bonsai collection at the Phipps Conservatory. He was gracious enough to visit our club annually, usually in the fall, at which time he would help members with their own trees. We all soaked up his insights and expertise of which he gave freely and graciously.

At our fall 2003 meeting I brought in the stone which had been recently given to me by a geologist friend of mine...I had pestered him to the point where he finally gave in...I really liked its character and the images that it provoked for me.

Keith felt that the stone had character as well and I sheepishly asked him if he would consider making a stand for it. He said he would do what he could, and that was that. He took the stone with him after the meeting.
We convened again in the fall of 2004 at which time he brought the daiza and the stone with him. I was thrilled after seeing the two together. He spoke a bit about the uniqueness of the wood that he had utilized (Paulonia sp.?) which he had acquired from the Phipps staff before his retirement.

I have been enjoying the composition ever since.

Best regards,
Tom

Tom Simonyi

Member





Beautiful together!
What are the views of displaying petrified wood?
Irene
Hi Irene:

In China at the major exhibition I attended petrified wood was pulled from both the exhibit and the auction, later included as a separate category.
In Japan it is not considered suiseki by the Nippon Suiseki Association and the Stone Lover's organization (Nippon Aiseki Kai) leave it to the local affiliate groups to classify it.

Cheers.

Peter Aradi
San Antonio
Hi Tom... Thanks for the description of Keith mounting this stone. It is special. In Japan, a famed
Sajigawa
(Tottori Pref.) suiseki has similar long straight edges (though not so sharp) including diagonals intersecting near horizontal plains.
Hi Irene. Hi Peter...
I'm glad Peter could comment re' petrified wood stones. His explanation is consistent with modern Japanese practice in suiseki exhibits. Perhaps, petrified desert stones are rejected because Japan does not have the deserts of China or California. The appreciation of a moisture retentive surface in landscape suiseki is not consistent with wind-eroded desert stones.
Nevertheless, I see Japanese books (especially woodblock print books of the Meiji period) where distinguishing stone from wood in mounted objects indicates appreciation for the transformation of wood to stone in actual (wood-to-stone) &/or imaginary (stone-to-wood) transformation.
Among Chinese scholar rocks, there is a category titled
Muhua-shi
("petrified wood stone"). A vendor comments on a petrified wood scholar's rock that he has for sale as well as one which sold at a famous Christie's auction of the Niliuzhai Collection:
Asianart scholar's rock
.
Kemin Hu illustrates several "petrified wood Fengli stones" (pp. 54-57) in her book
Modern Chinese Scholars' Rocks
. Note that though called "Fengli (desert stones)," these are collected over a much broader area than the Gobi desert, which is often associated with Fengli. Kemin notes that collectors in other countries often polish cross sections of petrified wood to show beautiful patterns, but in China, "people tend to appreciate & to preserve the original state of petrified wood & to do very little polishing or processing."
According to Kemin, petrified wood collected as scholar rocks were first mentioned in the
Stone Catalogue of Cloudy Forests (Yulin Shippu)
in the Song dynasty. She notes a Qing dynasty author who asks of his stone, "When was it a pine & when was it stone?" The quality of transforming energy between organic & inorganic forms is essential to deep appreciation of
qi/chi
"spirit/'breath' of the Universe" energy, valued by Chinese & Japanese literati.
Do you think Tom's stone is petrified wood, Irene? My identification skill is not strong, but some stones nearly bowl-over the viewer with their connection to natural wood. I've collected stones that conform to wood in Virginia streams/rivers, so a desert is not the only source. Forest wood under water became replaced by minerals, gradually becoming petrified. According to mineral replacement, Kemin notes, "petrified wood can be classified as silicified wood, protein petrified wood, & agate petrified wood."
Virginia petrified wood rising ~18" above tall wood container...

Closer views...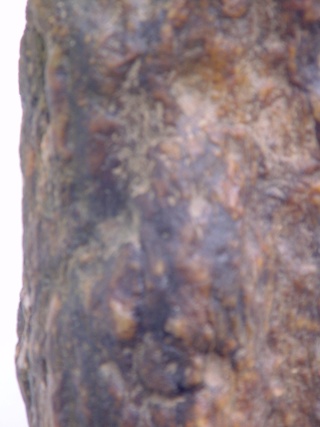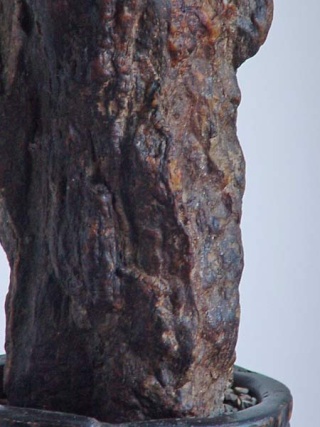 Chris Cochrane

Member





I believe it is...Here in Texas we also have what is called Jet (SP) which is petrified but very lite weight..

I have many large pieces of petrified wood that show the pattern of the tree it was and have always considered them to be very earthy and something to treasure because of it's age.
Being new into the forums of rock/stone collecting leaves me to wonder if we are ignoring or setting aside the beauty of what is in our own backyards and going with what another country has to offer more and placing more value to those from China or Japan then to what we have here.
Irene
Irene:

To the best of my knowledge no one set of aesthetic rules apply in stone collecting in this group.
You are free to collect stones by any standards you see fit.

However, if and when you formally join a group of collectors, you will have to abide by the group's philosophy and standards, otherwise why join?
There are several viewing stone organizations/groups in the United States and they do not have a single, shared set of standards.
Some follow the strict Japanese model of the Nippon Suiseki Association, while others are more liberal. It is your choice who you gravitate toward.

When you are using the term "we," as in "what we have in here," who do you actually refer to?

Sincerely

Peter Aradi
Hi Peter....missed seeing you at the club tonight, get well soon.
I am referring to Americans as the we. Being a member of several forums which have areas for stone discussion I see more wanting of the stones from Japan and China then showing what is here under our own feet and on our land. Each area in America has a different structure in regards to stones and rocks some are most beautiful to see and collect but I am not seeing many doing that.
Irene
Irene:
James and Alice Greaves of Santa Monica, California are collectors of viewing stones. Even though Alice recently passed away, Jim is continuing with his project of expanding their legacy, the American Viewing Stone Resource Center. Their collection is almost exclusively stones collected in North America. Last year it was exhibited at the National Bonsai and Penjing Collection, National Arboretum, Washington, D.C. Jim also published a companion book, "American Viewing Stones - Beyond the Black Mountain: Color, Pattern, and Form." The full color book contains nearly 200 pictures, a selection from their collection. It is the best example that we Americans do not ignore our own resources.
I very highly recommend this book to all collectors of viewing stones where ever they are located.
You can contact Jim on the Internet at
www.americanviewingstones.org,
he may have copies for sale from the second printing.
Cheers.
Peter Aradi
PS. Irene: If you can't wait to get a copy of your own, call me and you can borrow one of my copies.

---
Permissions in this forum:
You
cannot
reply to topics in this forum