Hi Everyone

On the week-end of the 15/16th of October Walsall Studio Ceramics Workshop week-end hosted by the Vale of Clwyd Bonsai Society at the Green Dragon Establishment

The Vale of Clwyd Bonsai Society invited members of Wirral Bonsai Society to take part over the 2 day Workshop event, 18 members or so from both Bonsai Societies enjoyed a great adventure in making their own Bonsai pots from start to finish as far as they could before the Bonsai pots were transported to Walsall Ceramics Location then there members Bonsai Pots will be checked over thoroughly by Mr's Dave + Ken and Mark Jones, The Team of Experts at Walsall Ceramics before going into Electric Kiln taken out then more work done on the pots before going into Gas Firing Kiln

More about this process and how the pots are completed can be found on Walsall Studio Ceramics Website

http://www.walsall-studio-ceramics.com/wsc%20web%20new%20about%20us.htmThe workshop event on Sunday the 16th The Vale of Clwyd Members Dave B + Dave Y + Mark K + Brian + (who have Dual Membership for both Bonsai Societies) DangerousBryn + Steph + Othelia plus Arthur + Sean D + Steve H +Dena and Ron from W-B-S all really enjoyed the experienced of making their own Bonsai Pots for their Bonsai Trees.

These images are just an Extremely Small Sample of Sunday's Workshop
Dave Jones Walsall Studio Ceramics Workshop Preparing for the Members
The session is underway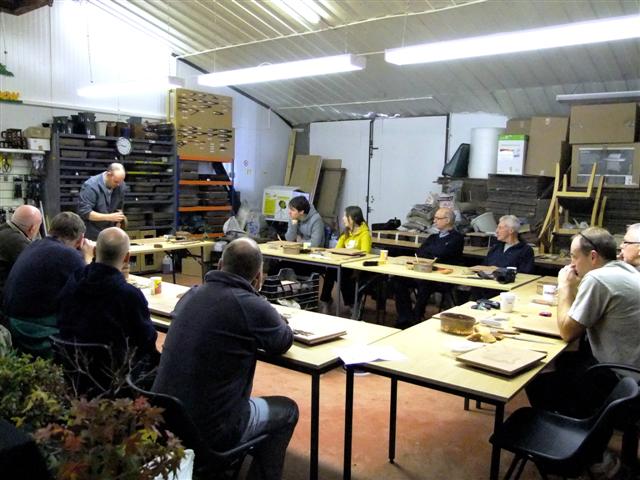 Chairman Dave B of V-o-C-B-S showing off his Skills
Daye Y of V-o-C-B-S busy making his small Bonsai Pot
Dave Jones joining in and doing what he does best Making Bonsai Pots


Mark K of V-o-C-B-S busy working away

Sean D from W-B-S about to assemble his Small Bonsai Pot

Dee from W-B-S smoothing away the inside of her pot


Bryan of V-o-C-B-S working on making his large Bonsai Pot
Steve H of W-B-S enjoying what he his doing

Brian From V-o-C-B-S showing his handy work

Arthur From W-B-S seems pleased the way things are going with his Bonsai Pot


Othelia From V-o-C-B-S smoothing away at her Large Bonsai Pot

Steph From V-o-C-B-S cutting of the sides for his small pot
Everyone paying attention to Dave

[/url


All is productive at the workshop

[url=https://servimg.com/view/16669129/135]
For me it was an extremely well presented workshop from
Mr Dave Jones of Walsall
Studio Ceramics and to thank
The Vale of Clwyd Bonsai Society
also Mark K the Green Dragon owner plus to
THANK EVERYONE
who was at the Workshop for allowing me the privilege of taken these and many many more
Take care and look after each other and all your Bonsai Trees and Bonsai Pots
Jim thelad

The Lad

Member





Fantastic set of photo's JimLad!!!

It was a fantastic day we had... And as we found out it was two for the price of one, being able to make a smaller rectangles pot while waiting for the clay to dry off.

Loved the link you posted on The Wirrals Facebook page..... 200 photo's is a fair few!

Look forward to getting the pots back. We'll have to post follow up photos to show how they went!,

Thanks again
Bryan

DangerousBry

Member





THANKS to the lads from Wirral Bonsai Club that made the special effort to collect all the Pots from Walsall Ceramics last week.
I'm looking forward to seeing how everyone else's turned out. Hopefully we can get members to bring them in for the AGM in January. Then we can take pictures of them all.
For now, heres how mine turned out!!
THANKS
BryanD

DangerousBry

Member





Lovely, Bry. That speckled blue glaze is a really nice one.

_________________
"It is not the strongest of the species that survives, nor the most intelligent. It is the one that is the most adaptable to change." - Charles Darwin.

Kev Bailey

Admin






---
Permissions in this forum:
You
cannot
reply to topics in this forum