Neil Jaeger

Member





Hi Neil,
Is this the tree we were talking about this weekend (at the open house)? It's got a lot of nice qualities despite the issues. Regarding the chop scar, are you referring to the area circled?
It's hard to see from the picture, but it looks like there are 2 major limbs coming out of that location - the one that comes forward and appears to be the next trunk segment, and a large branch that goes to the back and forms the back foliage pad/mass. Is that what is going on? if so, looks like a tough area to deal with. Is removing the back branch and carving the chop area to improve the transition an option? That back foliage mass looks pretty important so probably not. Can the chop area be carved to improve the transition while maintaining both branches?'
Otherwise, I like the tiered/layered look to the foliage masses that run from lower left to upper right....feel the tree might be a little tall and shortening the apex might help, like in the following virt. Also not sure about the lowest branch on the right, so I removed that too: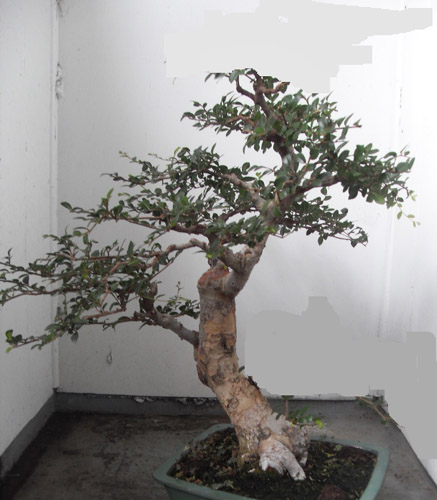 Hmm, now that I look at the two images, I'm not sure that lowering the top improves it...maybe if the remaining foliage masses were modified it would help. Anyway, just some beginners thoughts, for what it's worth.
Chris

coh

Member





Neil,

can you post a pic thats head on-so chris and I can see that slingshot and the scar a bit better, give me one with the wide side of the pot facing me I think I can get better perspective from that angle.

Its good material, the potential is there.
-jay



drgonzo

Member





Your tree looks good to me..elms are my favorite... the scar is normal acording to all mine...can you carve for some taper to not let it be stright across?? i did 2 of mine that way.. the bottom branch is up to you i pruned mine off.. nice tree take care john

Neil Jaeger

Member






Neil Jaeger

Member





I think you just need to do some serious carving to induce taper. Most apparent from the third to last photo. Perhaps use a dremel and leave all the branches above that point for now to help it heal. you can refine the style above that point later on once it heals over. It is a nice tree and could be even better with some work and some time.

MrFancyPlants

Member





Neil,

You're probably right about the negative space - but it's hard to really evaluate the overall tree because your photo of the new front seems to be looking down on the tree as opposed to looking straight at it. A better-placed photo would probably be very helpful, even if it isn't the best quality.

That's a gnarly-looking scar...I haven't had to deal with anything like that (yet) so cannot offer any other comments. What does Roy suggest?

Chris

coh

Member





Thank you for your comments. Chris, the scar dosent really bother Roy he thought we could hide it with foliage. MrFancyPlants, i agree with you that some carving needs to be done. Its to bad the trunk just is to stright leading up to the scar. If the trunk had a little more movement it might not be so bad.

Neil

Neil Jaeger

Member






---
Permissions in this forum:
You
cannot
reply to topics in this forum