+4
Ryan
bonsaisr
moyogijohn
Joe Hatfield
8 posters

It's been some time since I have had the time to focus some efforts on the forum. I have been pulling my hair out with work and family life. My trees are suffering as well as my inner peace. I have managed to maintain my trees but not make and huge strides this year so just taking pictures of this tree has given me a sense of accomplishment.
Here's a Ficus I have been playing around with for a few years now. Successfully preformed an air layer last season after 2 seasons in preparation.
I had some leaving out issues and I am now currently working on getting buds in the right spots. I have done minimal wiring thus far and plan to do the wiring after I have figured out how to get the leaves to bud where I want them.
Comments, criticisms, advice very much so welcome.
How Horrid! The tree not our smiling mugs!
[img]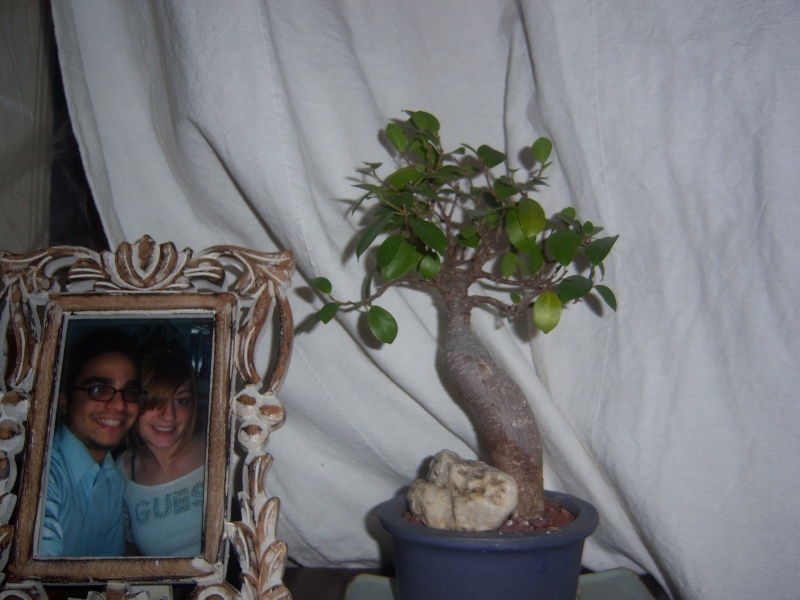 [/img]
As of now.
[img]
[/img]
[img]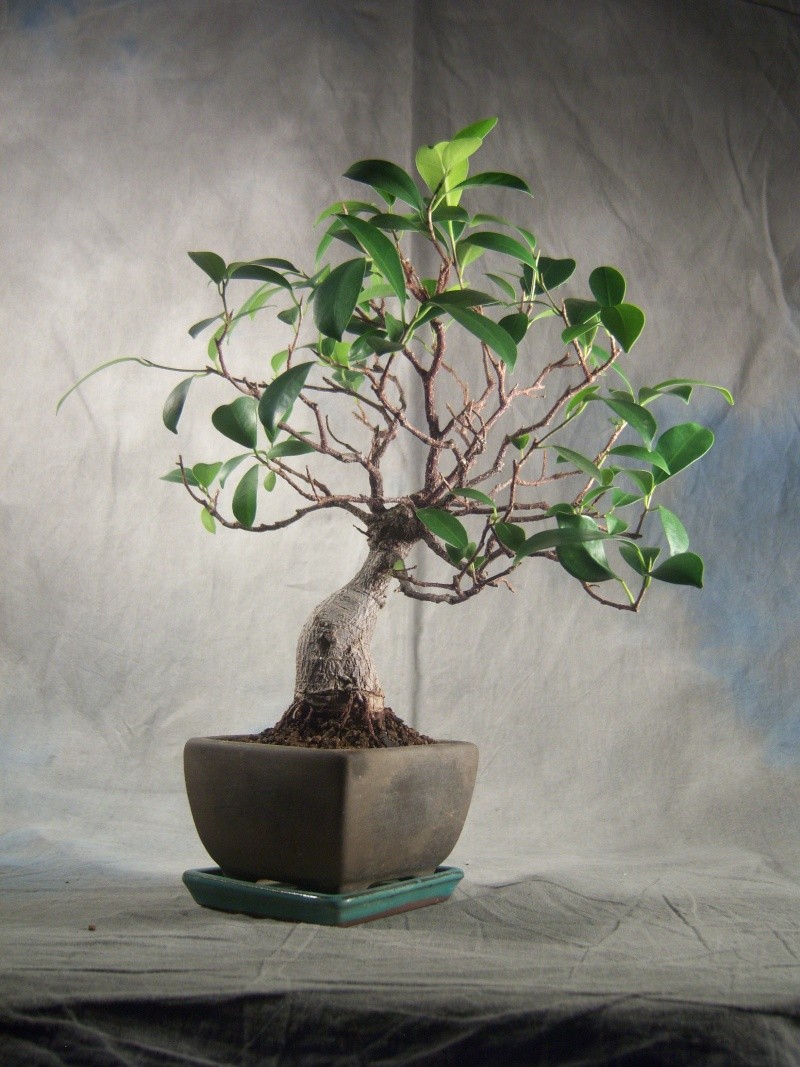 [/img]
Thanks!

Joe Hatfield

Member





JOE,, A nice looking tree,,,, i like the trunk..when you find out how to get back budding,,,i need to know...thanks take care john
Sorry for your problems. Hope things resolve.
Although there is improvement, I have the feeling that the lower trunk & the canopy are not on the friendliest terms. I would consider a thread graft sticking out of that hip-like curve.
Also, I would put the tree in more sun & tighten up the foliage & ramification.
Would you consider a wider & shallower pot?
Moyogi:
I have found that outside of the tropics, at least under my conditions, Ficus do not back-bud that readily. To get one or two branches lower down, use thread grafting. To get a lot of branching lower down, you need to chop everything off in midsummer, perhaps even a trunk chop.

bonsaisr

Member





That is a tuber, right? As commonly seen with those ugly Ficus ginseng plants? If so, I have found that they do not backbud on the tubers. I still like what you've done though.
Nice progression with your tree. A huge improvement in its design.
I would suggest cutting back hard on all the branches to get back budding. Make sure the tree is healthy, and well fertilized before you do this.
Jerry

Jerry Meislik

Member





Jerry beat me to it. I'm pretty sure that if you cut those long, slender branches back quite a bit, you'd start getting more ramification. You will, of course, have to repeat it often. Eventually you may want to defoliate. I did one of my F. nerifolia this year and am very happy with the results.

I don't see a need for a branch lower down.

Does this grow outside in the spring and summer? All your pics are indoors.

Very nice job with one of these fat A***d kind of figs. They usually are gawdawful ugly.

JimLewis

Member





Joe,

I don't know how successful you'll be at back budding until you cut it back hard and get it into a lot more light. If this tree were mine, where I live, I'd choose my branches, cut it back hard, plant it in a shallow pot, wire it and put it out into as much sun as I could find. I have no idea how much of that will work for you where you live, but the right pot and branch selection will be a big step in that direction.

R

Russell Coker

Member





Iris, I will do some reading on thread grafting on ficus and see where it leads me.
Good idea on the pot idea as well!
The "hack back" that has come up a couple times will be done after next season (if all goes well). I lost 50% of the foliage since the air layer and I am unsure as to if the tree can handle it yet.
The tree grows outside from about mid spring to very early fall. I keep a close eye on the temperatures. The tree gets a lot of sun. I'd say roughly 4 hours of nearly direct full sun after a morning of partial shade and a evening of shade. I worry about drying out the soil. I will increase the sun exposure and see what happens.
Ryan, This tree was bought at a semi local flower shop that had a sign that read, "BonZai clearance $3.00." When I asked the lady what the Latin name was she replied, " I don't speak Spanish."
"Here's the 3 bucks thanks for your time."
I assume this could be one they call "Ginseng ficus" or "Tuber ficus". I haven't put much time in ID'ing it.
Thank you everyone for your time and consideration with this humble mess. I know it needs work but, I really have grown fond of this tree and I look forward to posting its progression.
-Joe

Joe Hatfield

Member





It can be a nice informal upright with a bit of wire and some pruning. It looks like it could be F. microcarpa - the trunk looks fairly normal, most ficus trunks will swell a bit (like a tuber.)

Rob Kempinski

Member






Similar topics
---
Permissions in this forum:
You
cannot
reply to topics in this forum