I have been VERY into bonsai for a good while now, but have lived in apartments for some time. This doesn't make the safe keeping very easy due to risk of theft and lack of room. I, however found that Sunshine brand greenhouses make a nice small (6ft wide/ 4ft deep/ 8.5ft high) redwood/poly greenhouse that fits just right on my small back porch and I believe will greatly help with leveling out and providing a good consistent environment for warm months and a very sufficient coldframe when it gets chilly here in central Indiana. Just thought I would throw this out there in case there is anyone out there that was/is in my position and looking for a possible solution.
Greenhouse has an auto vent, fully open at 80 deg F, front and back do.or, composite base. Set up 13" circulation fan, thermometer/hygrometer and metal shelves. Great thing is temp is very easy to manage due to SE direction. Gets around 7 hrs of good morning early afternoon sun then is in shade from around 1pm on. Open to any questions or recommendations.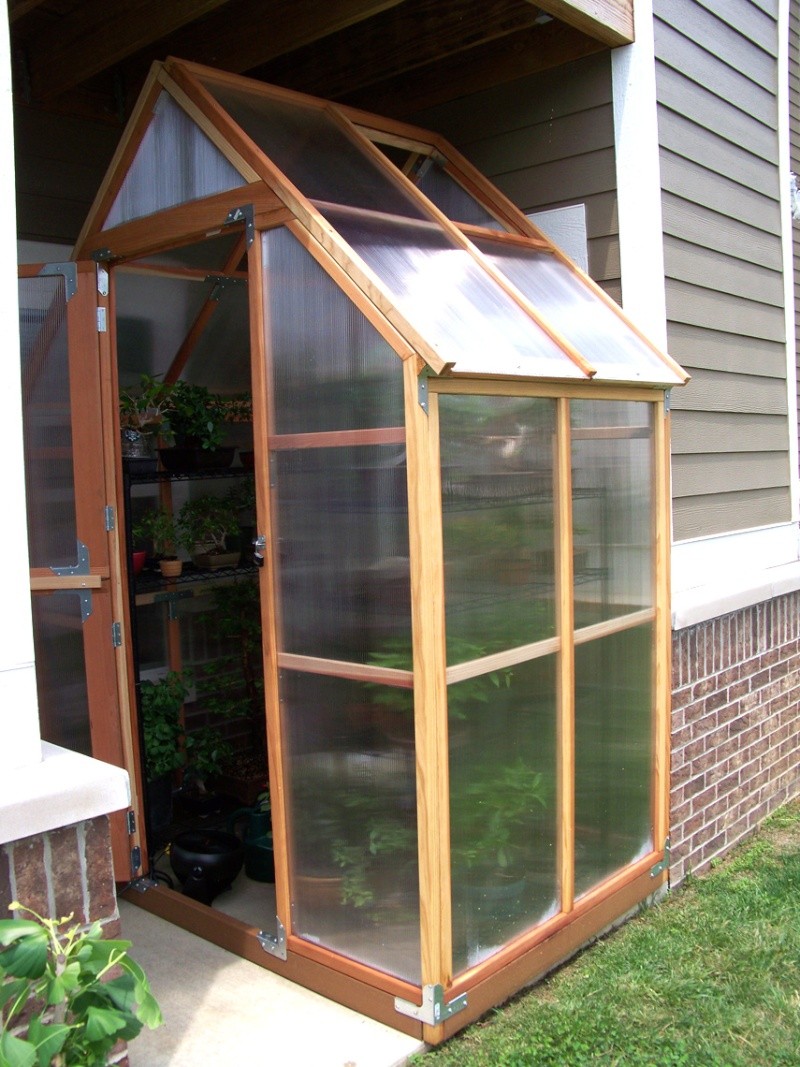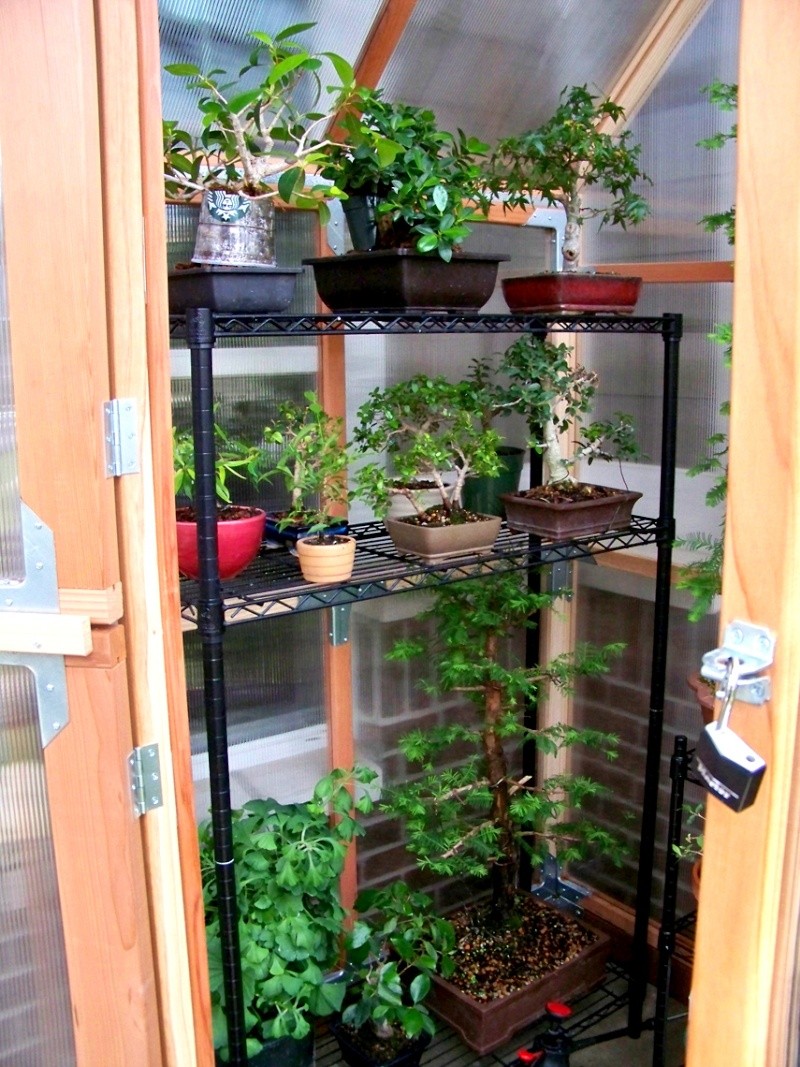 mojojava

Member





Nice setup , but not so sure about keeping pines in there

tim stubbs

Member





tim stubbs wrote: Nice setup , but not so sure about keeping pines in there
I agree with Tim. Most of what I see needs to be out in the sun and rain. I understand why you're doing it, I just don't think it's a good longterm option - but I guess better than nothing. Your tropicals will be happy enough - but maples, larch, ginkgos and pines???? I predict a spider mite infestation in your near future.
R

Russell Coker

Member





Hate to be redundant, but I agree with the others, get everything out in the sun and rain.

As for the construction, looks great and should so well for the tropicals in the earlier and later months. It might also work well for some of the outside tres during the winter, as a cold frame.

If you do keep the tropicals in there, put some type of water container in there to increase the humidity and watch out for pests, diseases, etc.)

Jay

Jay Gaydosh

Member





While i have to agree with the other's about what's been said about caution. Let's acknowledge the effort you made to have some control about the way our weather, world wide, has been treating our subjects. having control during critical periods
(spring,fall, winter) will be a great asset.

reminds me so much of insurance...costly...but nice to have when you need it.

good for you!

dick benbow

Member





Thanks all for your replies so far.

I agree that an ideal situation for all the trees would be to be out on a stand in the open. However I have already lost a 20 year old wisteria to theft and that was very frustrating.

As far as pest control I am vigilant as far as that goes and check daily for any problems. The very breezy conditions that are present due to circulation fan and roof vent being off totally for warm weather keeps everything moving and cool and definitely deter all the bugs. Everything has been in the structure for over a month now and have seen no signs of pests or problems (fungus, mites, etc). The only thing i have seen is the occasional scale, which are spot treated immediately with insecticidal soap bath.

I admit the pines, maples, ginkgo being in the greenhouse was a bit of an experiment,however, all of them have been growing exponentially better than they were in their previous spot. Before they were sitting on what was affectionately called the "chicken coop" due to being merely a home made plant shelf covered by chicken wire to deter theft. I believe that the extremes of harsh sun and drying wind with fairly low humidity was enough to keep them alive but not thriving. I, again, have seen a very big turn around in growth and overall health so far this season in their new home. Larches are growing like crazy, maple leaves not burned and new leaves are staying very small/compact. Both pines have quickly extending candles and great color. And yes, tropicals are going nuts.

I am merely a novice at bonsai however have a decent knowledge of plants in general and can tell you for whatever reason the conditions in the greenhouse (notably customized for bonsai) are working great so far but will keep updated if anything were to change. Thanks again for all the input and if anyone would like pics of the new growth or specific trees please let me know!

Blake



mojojava

Member






Similar topics
---
Permissions in this forum:
You
cannot
reply to topics in this forum