+5
manosvince
Russell Coker
dorothy7774
Walter Pall
Gentleman G.
9 posters
Page 2 of 2 •
1, 2


I'd do it now.

Actually I would have done it when I dug it.

Russell Coker

Member





Based on your accounts, the plant seems to be improving so the soil, thought not the best, is not really hurting it. Just to be safe, I would wait a month or so if it is mine since I don't think it is urgently needed right now.

That said, due to your mild weather...I think the plant would be fine either way.

Poink88

Member






It's always better to have plants in a homogeneous soil mixture, especially if the old soil is a heavy clay type soil and the new soil is a fast draining bonsai type. But, like I said earlier, boxwoods are tough. Knowing the circumstances of when and how this tree was "dug", I don't blame you for sticking it in a pot just to get it stabilized. The next thing I'd do (soon) is get it out of that pot, wash the old soil out of the roots and prune whatever you need to get it into a pot about half as deep as what it's in now, and with some decent soil.

Russell Coker

Member





Yeah, we haven't had much of a Winter here this year. We had a ton of trees (not bonsai) that didn't lose their leaves until January. Over the next 10 days, we're only supposed to have two days with temps in the 40s according to the forecast (and I doubt it will be that cold). Since this is my largest project, I'd like to get it out of the way now before I get to everything else. Here are some pics of it's current state, I haven't done anything since the initial cut-back....
And a somewhat top view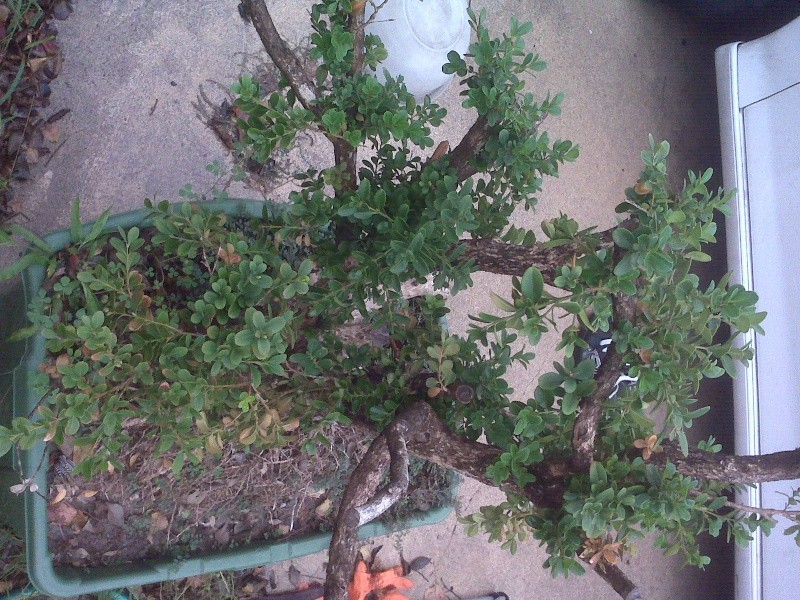 I'm pretty sure the branch in the bottom center of the lower picture is dead. I believe that this is due to the original owners ripping it out of the ground with a rope
There is a large section of bark that had been removed during that process, and it corresponds with where that branch is located (I plan on using this to practice some carving work that I'll remove later most likely). So, now that you've seen the tree in it's current state, do you still think it's a good idea to re-pot now? And if so, should I do any further reduction of the tree itself or leave it be??? I have no problem letting it be, I just want to do this the right way. I'm in no hurry to get this one in a bonsai pot (couldn't afford one large enough even if I was
), but I think that it is healthy enough for small amount of further reduction. What do you all think?

Gentleman G.

Member







G, a lot of the time old boxwoods like this have a newer set of surface roots on top of a better base. Another reason for washing the roots is for you to get a clearer picture of what you have to work with. If it doesn't, and what we are seeing is the nebari you are going to have, then you need to reduce the depth of the ball from the bottom and get some soil around the base before those roots start to die.

Russell Coker

Member





When I initially found this plant, we had to remove about half of the soil mass just so we could lift the thing! And upon removing the soil, we didn't see many roots. This tells me that the root system is most likely close to the surface. With that being said, and using my better judgement, could I just continue "hacking" the soil off until I see roots and then carefully finish removing the rest of the soil? Should I just "blast" the entire soil mass with the water hose? When I used the smaller Boxwoods for my slab planting I simply removed half of the root mass from some nursery stock, then kept going till the root mass was small enough to fit. Should I use this same basic approach, but on a less drastic scale??? I've never worked with such a large piece of material before, it's gonna take at least me and a buddy to get it out of it's current home... that soil is DENSE!

Gentleman G.

Member





And by hacking off the soil, I mean from the bottom up... once it's out of the container.


Gentleman G.

Member





Nursery stock is different. I did the same as you with the Magnolia figo I posted, plus used the hose. With a collected plant like this I'd use the pressure nozzle. Once the old soil is gone, you can see what you're doing and elimiate the guessing.

Russell Coker

Member





Okay, here's the deal.... If I can find an appropriate sized container, I plan on repotting tomorrow (meaning Friday). I have quite a bit of work to do in my studio though, plus I'm going to be shooting a video as well! But if I get done with all that early enough, I'm going through with this project!!!!!! Wish me luck! I'm excited to get my first extra large repot underway!

Gentleman G.

Member





Page 2 of 2 •
1, 2

Similar topics
---
Permissions in this forum:
You
cannot
reply to topics in this forum