Hey all, I was out in the backyard today "playing" as it were, and while I was moving around my new and small beginnings of a kusamono collection I thought, "how
do
others keep these things alive through the heat of summer, cold of winter etc?" I am very new to kusamono and I purchased "Bonsai Kusamono Suiseki: A Practical Guide for Organizing Displays with Plants and Stones" by Willi Benz which gives some good information. I've been to a few sites dedicated to them (if you have some you like I'm happy to see more) but they are more just showing "show ready" images. Here are those that I have found:
http://www.kusamono.ch/index.htm
http://www.kusamono.ch/album/index.htm
I know the obvious answers, i.e. don't let them dry out in the sun in August, so I guess what I'm looking for are those people that have managed to keep a few alive year after year, do you have any advice or maybe some photos of how you keep yours. Are they kept in trays over the summer or is it better to stick them in beds? How do you keep them over the winter? Has anybody ever just put dirt in pots and set them out to see what takes? (because I did...nothing yet). I also know the scope of plants used for kusamono is huge and so the care instructions is equally wide but just make gross generalizations.
Below are few of the more established of them. On an aesthetic level, I think one thing I need to do is bring the soil level up a bit on a few of them (2 and 3 specifically). I keep them on a lower shelf out of direct sunlight and sometimes in trays if the rains are few and far between. The soils are generally a mix of the finer particle of bonsai soil and the loam from the sifted bark. All of the pots (except 4) were made by my wife. Thanks,
Stone crop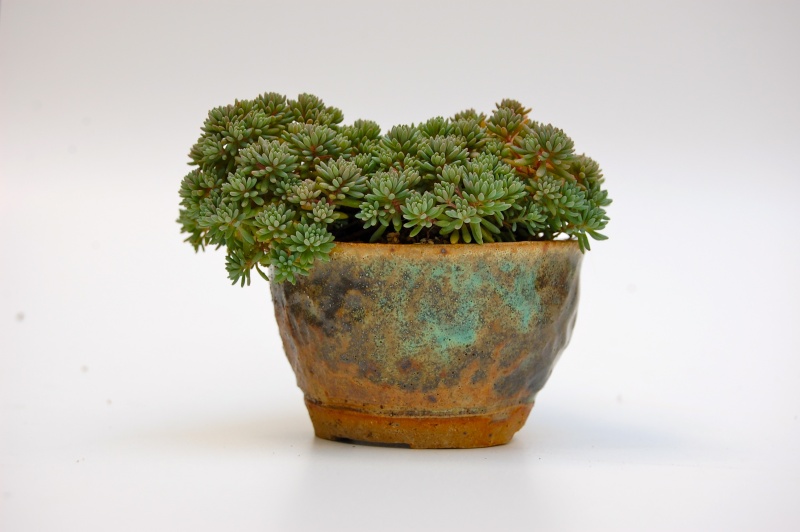 Mixed
Mixed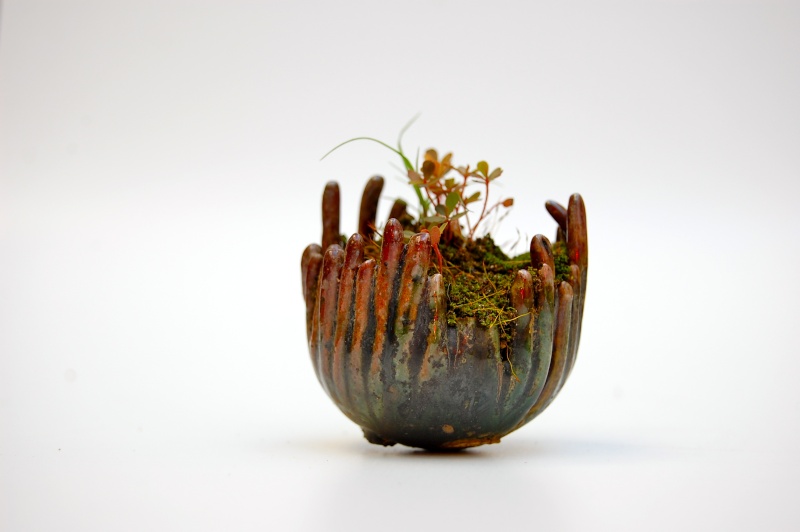 Mother of thyme
Thymus serpyllum
Moss experiment #1
Ajuga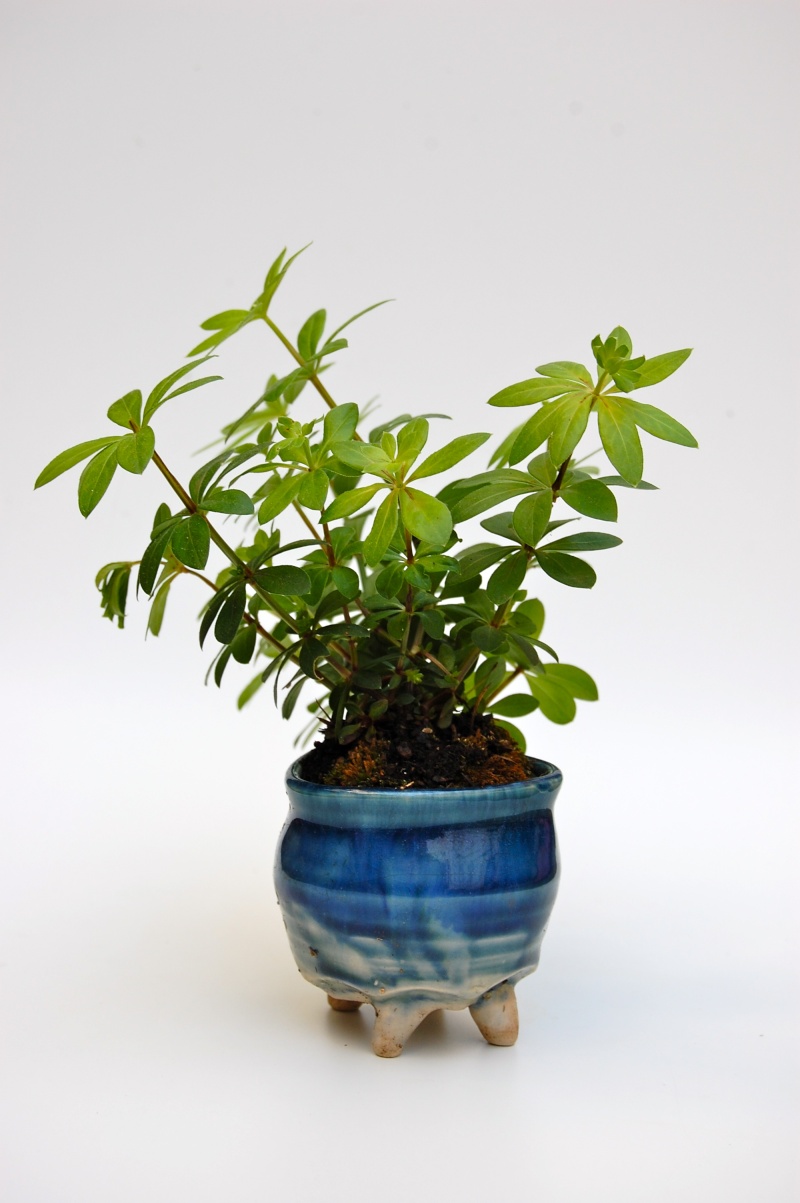 Jim Doiron

Member





Hi Jim,
Nice kusamono and very nice pots.
Some gross generalisations, as requested. I keep quite a few from year to year. Hostas and succulents, dwarf Mondo Grass, Dwarf Ladyfern etc. One advantage is that they often become smaller in leaf size after a few years. Despite feeding, some decline and need repotting or dividing. They are all given a bit of shade and are grown either on the bonsai bench or in a cool greenhouse year round. I sink many of my pots in seed trays of coarse sand and keep it damp. This way they can take a full day without being watered 2 or three times, in the heat of summer while I'm at work.
My worst enemies are slugs and vine weevils. Vigilance is required to keep down populations of both and prevent ugly notching of leaves.
One of my favourite sites for inspirational accent plant photo's is Wolfgang Putz's here
http://www.yamadori-bonsai.info/Putz_Beistell_Engl.html
but scroll all the way to the bottom for photo's

_________________
"It is not the strongest of the species that survives, nor the most intelligent. It is the one that is the most adaptable to change." - Charles Darwin.

Kev Bailey

Admin





Thanks a lot for the reply Kev. I was beginning to think I had unknowingly violated an ancient Japanese code of never asking another man about his kusamono.
The tray of sand is definitely a good idea and needed here, it is getting hot and dry and I have been keeping mine in trays of water thus far. Thanks also for the link, very nice inspiration.

Jim Doiron

Member





I too appreciate Kev's answer since this is the first year I have had any kusumono. Jim, I like your collection of plants and the pots you have chosen. I especially like the 'moss experiment'. The pot you have chosen for it is wonderful.

Carolee

Member





I am running the website Jim mentioned at the beginning. I belong to the addicted Kusamono-lovers. It all started more than ten years ago after a journey to Japan and visiting Fumiko Katoh's small garden with Kusamono. In the meantime my collection has been constantly growing – actually I did not count them but I would say between 200 and 300 smaller and bigger pots are on the shelves. I summer they are all outside of course, in winter I keep them in a coldhouse to protect from snow, heavy wind and very low temperature.
I summer time when temperature reaches 30 degress and more it is quite a job to establish an efficient watering schedule. I water 2 - 3 times a day. Very small pots with delicate plants I put in a large bonsai pots and keep the soil wet.
As there are many different plants they also need a different environment: full sun, semi-shade or full shade. Ferns e.g. are quite delicate, they change into a brown colour and look ugly for the rest of the season when they did not get water in time.
Soil is another topic. For quite a lot of plants I am using Akadama, but for others you have to make adjustments, say using a mixture or a complete different soil (mixture).
One of my favourite plants is Hakonechloa, Japanese Forest Grass. In Japan you can find different varieties of this grass. It is beautiful when coming out in Spring, and it is even more beautiful when it is fully developped. To get a really matured plant it takes time – but after 10 years of cultivation it will look gorgeous!
Carlos
One of my recent photos: kind of Armeria | pot by TAKAHAMA
[/url]

kusa51

Member






Gabriel

Member





I am really pleased that this topic has picked up some replies!
Carolee, thanks, I must say that the moss experiment pot was inspired by Robert Stevens whom I greatly admire. He has some bonsai planted in broken trays (which is what mine is planted in) with truly beautiful results. You can see examples here:
http://blogs.knowledgeofbonsai.org/robert_steven/wp-content/files/2007/04/111.jpg
kusa51, Thanks for posting some info on how you keep yours, I don't think I could ever manage 2-300 but since you have your experience is greatly appreciated. I searched for the Hakonechloa and think i found a place to buy some. I can see why you favor it, it really is beautiful. Now I just have to decide where to build the greenhouse.
Gabriel, that is a lush moss congrats on keeping it so. I, of course, have a great source for pots with my wife being a ceramicist but I have also been thinking now of finding small stones for this new-found interest. Eyes to the ground for plants and pots. Thanks again all

Jim Doiron

Member





Gabriel, the lava stone with its narrow base is a wonderful way to display your planting! I just noticed that one of my few kusumono is blooming. If it stops raining, I'll post a picture.

Carolee

Member






---
Permissions in this forum:
You
cannot
reply to topics in this forum