Hi gang, I have several coffee trees that I'm growing from seed, hoping to develop them into small bushes for an indoor grove. I'm in my third year with them and I can't get them to break branches. I mean to shoot out lateral branching. I've pinched off the growing tip a few times thinking it would divide like most trees when you nip the leader. Not so! They just keep growing new leaves and continuing upward on a single stem. I'm thinking of cutting back into the older wood to see if they would break branches from there, but wanted to see if anyone has any experience with coffee trees before I did. Any help would be greatly appreciated, thanks.

RKatzin

Member





I know absolutely nothing about Coffe bushes but your idea to cut back into hard wood sounds like a good plan to me. Most trees that I work with will only bud back if this is performed. Cutting into soft growth seems to stop apical growth but new shoots always appear close to the cut.
Thanks Will, other than that's where coffee comes from, I don't know much about the tree either. I know it's a bush and I've seen some as houseplants. They all have the same look, a tall skinny trunk with a bush of leaf on top. I'm shooting in the dark here, but is it possible they need to mature before they branch out? I know you said you know nothing about them (Fiona is gonna have a field day with that), I'm just supposing. I think I'll nip one into hardwood and see what happens.

RKatzin

Member





If you Google on Coffee as Houseplant, you will find a lot of instructions.
Iris

bonsaisr

Member





Thanks Iris, I have done that and couldn't really find much more than general info. I did just see one site that said they will tolerate hard prunning without ill effects, so I'll go ahead with the chop into hardwood. I'll let you know how it goes.

RKatzin

Member





Hi,

I also have a coffee tree collected from the forest, it was sitting on top of a boulder, and a good yank freed it's roots... I have also been trying to make it branch, unfortunately it doesn't do that. It just keeps on growing up! Anyway, I still kept it since the branch is literally a letter "H"and in one of the main roots, there's a letter "m" root formation. One more problem with coffee is the leaf size, and I don't think you can reduce it's size to a convincing proportion...

Regards,

Derick

dexworks

Member






RKatzin

Member





That's great, but do you think the leaf size will reduce?

Regards,
Derick

dexworks

Member





Hi Derick, We'll just have to wait to see about that. On two of the trees the division is unequal, one side is weaker than the other. As soon as I can get to it I'm going to nip the stronger leader to try and balance them. I'm afraid the weaker one will die out if the stronger one takes off. I think if the dividing will continue, the farther I get from the main trunk (third or fourth division) the leaves should reduce somewhat as the branches reduce in size. Leaves close to the trunk will likely stay large. This is what a typical tree will do, but we already know these are not typical trees. The next few weeks should tell the tale, they're growing real fast at this time.

RKatzin

Member





Hi folks, here's an update on coffee tree experiment. I set them out in dappled light and let them grow from the summer. They did really well in spite of a silk worm attack. They got chilled pretty well before I brought them inside for the winter, but the forty degree temps did no harm and they resumed lush green growth as soon as they warmed up. The old wood is hard and stiff like a pencil, but the new green shoots are flexible. They grow very erect so I used some wire to set them. I seem to have lost my pic.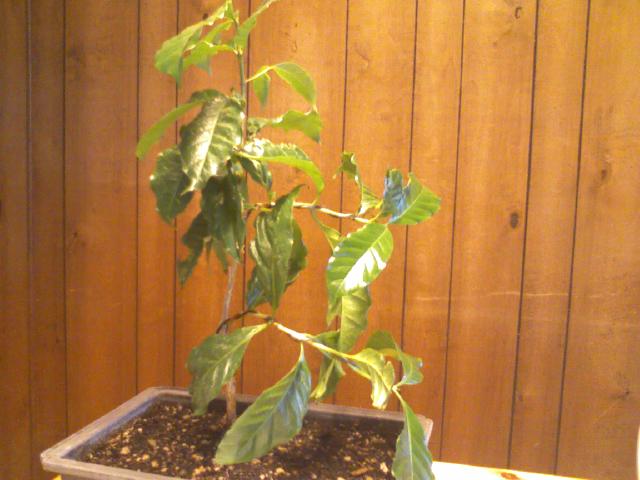 There you go, I had to fish them out of the recycle bin.

RKatzin

Member





bonsaisr wrote:If you Google on Coffee as Houseplant or

moka pot

, you will find a lot of instructions.

Iris
One of the cool advise from the site about coffee as a houseplant. Your coffee plant care routine can also include light fertilizing with a balanced fertilizer once every to two three months in the spring and summer. Keep in mind that a happy coffee plant can grow up to 6 feet (2 m.) tall. Therefore, provide enough space for the plant or make pruning a regular part of caring for your coffee plant. If you choose to prune your coffee plant, the best time is early spring.

---
Permissions in this forum:
You
cannot
reply to topics in this forum