Could someone please tell me what these pesky buggers are? They do not seem to be causing any problems--at least not that I can see--and I haven't noticed them moving beyond one particular tree. They seem to be feeding on the dead wood of my Forsythia, or at least that's where they keep turning up...a few shock-and-awe campaigns with insecticidal soap and a few layers of wood hardener do not seem to keep successive waves of these little beasts from moving right back in. As you can see, they are two different sizes and two different colors...it seems to me the black ones are protecting or shepherding the red ones, but I say that with zero knowledge of any kind about them.
What are they? Do I need to worry about them? How do I treat them?
Thanks very much for any help - Chris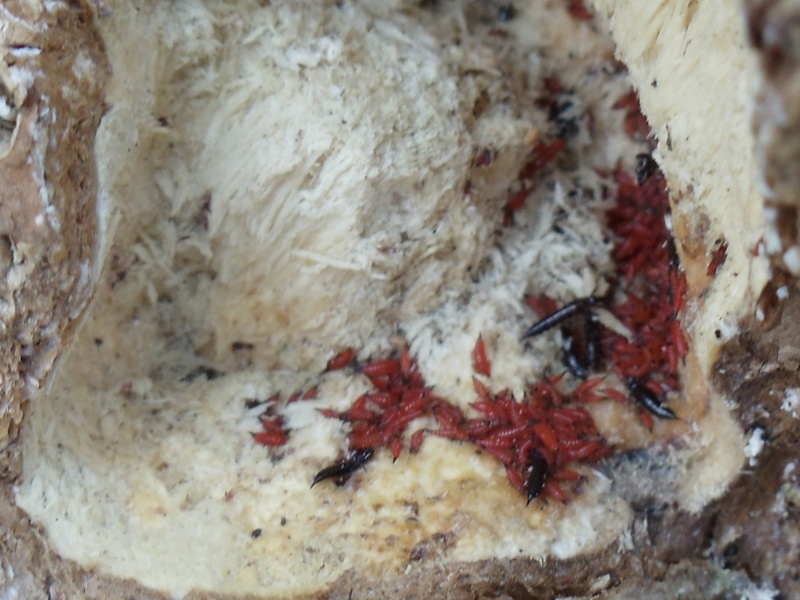 jersanct

Member





I know this is not productive thought... But it seems your tree has managed to take a trip on the same ship that was in the movie Aliens. You are right, they are creepy! I hope someone can help you out with them.

srqstyle

Member





A few things I should add:

Size - that hollow is maybe 1.5 inches across, for reference. They are very small. Only the black ones are clearly tubular bugs to my naked eye; the red ones just look like little dots until I get very close.

Also, they only seem to be congregating on the dead wood

jersanct

Member






jersanct

Member





Bugger! I wanted to get in first as Hoplandrothrips brunneicornis is a darn fine name.

So, you seem to have thrips. Fret not, I think you can get a cream for it in any good pharmacy. Dunno about your tree though.
_________________
"Espouse elucidation"
_____________________________________
my website

fiona

Member





Well, it seems nobody knew anything about these guys, so I will post this, just in case anyone else stumbles across this thread in the future. Neem oil appears to have knocked them out after a few applications, a few days apart.

I kind of miss the creepy little guys now...

jersanct

Member





Excellent photo as well, which always helps.
It a great name for a variety, just the sort of thing to confuse friends!

Dave Martin

Member






---
Permissions in this forum:
You
cannot
reply to topics in this forum