This is a weeping Hemlock that I posted last year when it was in the ground. I had mixed reviews of its potential as a potted tree.
I forgot when I purchased this tree. I think it was at least 10 years ago. I started bonsai training its first two years then decided it would look better in the landscape. It grew in the ground for six?, seven? years I think. Last year I looked at its trunk and saw that it thickened a lot. So, I decided to put it in a pot this late Winter, in February 2011. Last year, I cut back roots while it was in the ground and pruned about half of the foliage; reducing branch length to induce back budding.
Here it is in the ground last year:
Here it is potted and covered in our recent snow fall.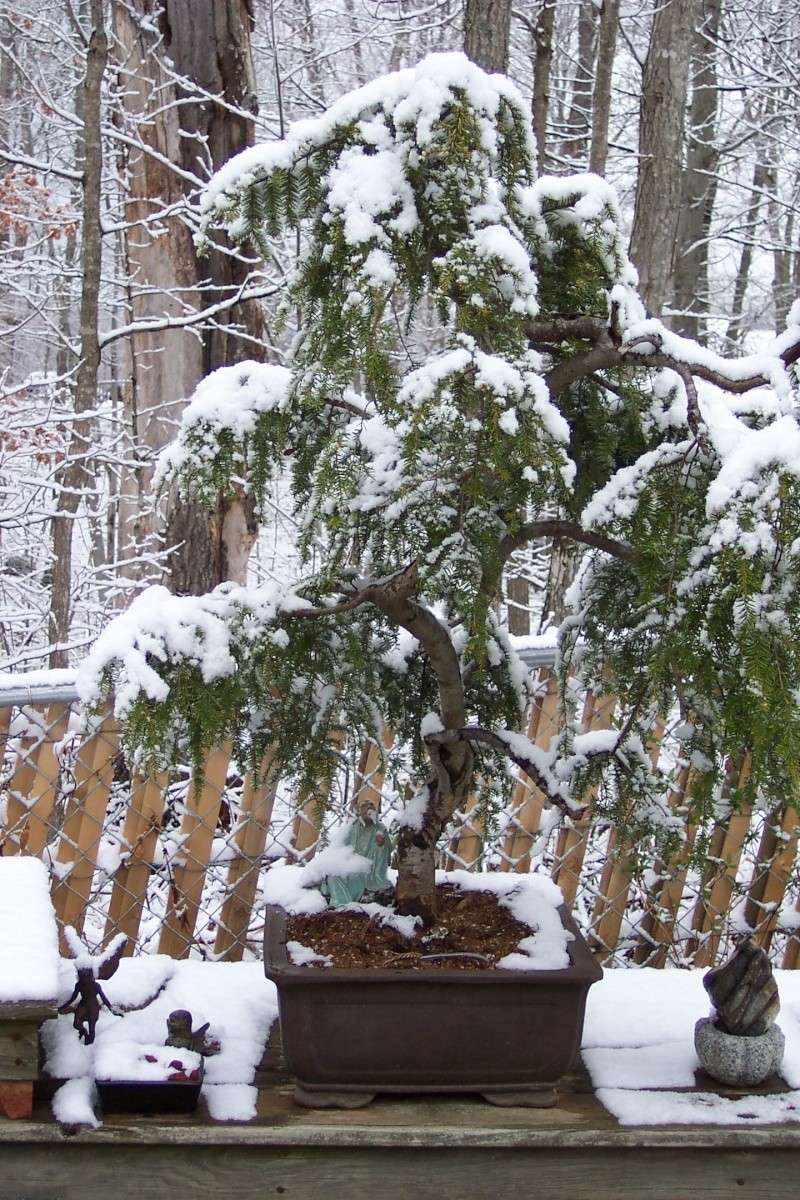 Here it is after the snow melted:
It will be styled as a Penjing. I have a lot of tying and wiring to do. My first stage for pot culture was to remove all of the clay loam that it was growing in and start it in good bonsai soil. Its buds are swelling and I believe it will grow well in this training pot. Next year, I will remove soil at the top to expose more surface roots and "establish" the nebari. This tree is very tall, approx 40 inches tall and 40 inches at the widest point. I will create shari (slowly)and jins and reduce the height and width. I will tie and wire various branches to enhance the weeping look. This is a long term project, but if I can keep it healthy I think it will become a nice Penjing. I am still looking for the right place in the yard to grow it in bright shade.
Do you think it has potential for Penjing? I look forward to your suggestions and comments.
Best,
Todd

Todd Ellis

Member





May I ask something?
From the ground into the bonsai pot all in one turn?
It seems amazing to a beginner - me...

my nellie

Member





Hi Alexandra,
Last year, while the tree was still growing in the ground, I used a shovel to dig around the root ball to encourage more rooting. This tree had been moved at least three times since it was planted in the ground; with each digging, roots were reduced. The roots had become thick and fibrous and contained. By cutting the root ball last year (approx 20 inches in diameter) and pruning half of the foliage, I anticipated that I could safely transplant the tree into a large training pot this late February. This pot is 17 x 17 x 10 inches. I cut off very few roots to fit it into the pot. So, this transplanting happened over a process of years. I could not have done this successfully if the tree had never been transplanted before; at least into this size pot.
Best,
Todd

Todd Ellis

Member





Now this is absolutely clear to me!
Thank you for your answer!
You have a long way to go but the journey is undoubtedly promising!
Do not forget to send us "postcards" from your "halfway stations" every now and then.

my nellie

Member






Similar topics
---
Permissions in this forum:
You
cannot
reply to topics in this forum