The leaves on my best seiju elm exploded this past week, and overall the tree is looking good. However, almost every branch has these red bumps on the leaves. There are leaves that don't have bumps, but have a discoloration and/or curled. The bumps are at right angle to the flat top of the leaf. Last year I noticed something similar except the bumps were green, and much fewer. I picked them off whenevery I found them, and after awhile I didn't have any more. The consensus at the study group, last summer, was 'don't worry'. But, now I am: there are so many more, the color has changed, and other leaves are disfigured. Here's two pictures.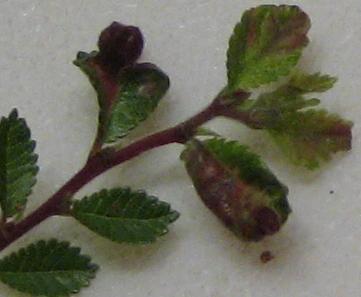 Carolee

Member





The bump are the tree's response to something stinging the leaves in the bud.

It might be a type of thrip. The damage is being done before the leaves emerge.

A dormant spray might work next year.

Removing damaged leaves might prevent the spread.

Billy M. Rhodes

Member





Yeah. It is one of the sucking insects. Maybe one of the "true bugs." They do a lot of their work at night when you might not see them.

Remove the leaves, then try a pyrethrin spray. (Or, wait for Nina to give a better diagnosis.)
_________________
Jim Lewis - lewisjk@windstream.net - Western NC - People, when Columbus discovered this country, it was plumb full of nuts and berries. And I'm right here to tell you the berries are just about all gone. Uncle Dave Macon, old-time country musician

JimLewis

Member





Looks like eriophyid mites to me. Check out:
http://www.oznet.ksu.edu/hfrr/extensn/problems/ElmGall.htm
These mites are very difficult to control with pesticides. You would need to talk with Cooperative Extension before even trying. I once had a buttonbush with eriophyid mites, and I cured it by removing every galled leaf as I saw it. It took a couple of years.
Thanks Nina. I looked at the site you posted and it said "These galls produce little damage to the host plant and therefore, control is rarely warranted." So if I just keep taking them off, I'll eventually (as in years
) get rid of them. None of the other elms I have seem to have them. Does it help to keep this one isolated from the others?

Carolee

Member





Yes, "little damage", but plant pathological advice is almost never directed at bonsai. "Prune affected branches" is common-sense advice for most trees, but it's tragic advice for our trees. And while you patiently remove the affected leaves, your tree looks like aliens attacked it. But mites won't kill the tree, so eventually you'll win out.
Those are also called leaf gall mites. Other Chinese elms & Jacqueline Hillier are susceptible as well. They are easily controlled (at least around here) by spraying with a systemic insecticide, such as Orthenex. You have to spray about three times during the growing season. Spray as soon as you start to see them.
Iris

bonsaisr

Member





I had the exact same issue with a cork-bark elm for several years. I would carefully remove the galled or curled leaves as soon as I saw them, being careful to remove and dispose of the infected leaves. After several years, the recurrences have stopped. I never used an insecticide on the tree.

Regards,
Mike

---
Permissions in this forum:
You
cannot
reply to topics in this forum