The chill is in the air and folks from the temparate Climactic zones are preparing their trees for the coming winter. It has also been a previlege of Bonsaists in the temparate zones to watch their trees change autumn(fall) colour(color). Us folks in the tropics can share your joy by watching pics of trees in autumn color. Well not actually. Here in India I know of one particular species where the leaves turn yellow in autumn before shedding them totally. I am talking of the Bursera species as they are commonly know or to be correct the Protium species. I am enclosing a pic of this tree from my collection which belongs to this species. You can see a last few leaves still hanging on to the tree.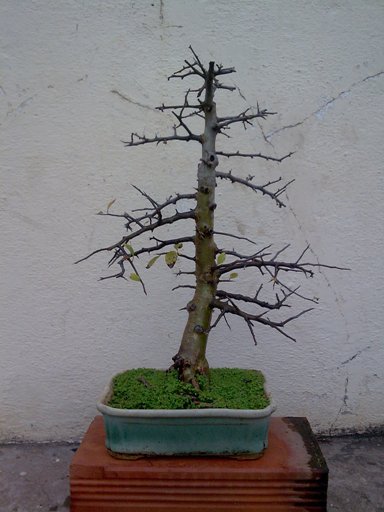 Sure the tree has atleast 2-3 years to go before it is exhibition quality. It is missing branches on the top left, mid right and also lower left which I am sure will be taken care of in the next couple of years. I am sharing this pic for its Autumn Look. Hope you like it. Do share your thoughts.
Regards
Ravi

Ravi Kiran

Member





Ravi,
here is my address.... please send seed of the tree. Have been searching for a Bursera species that one can actually bonsai, all we have is the Gumbo Limbo / Naked Amerindian - Busera simaruba [ spelling ?] and it is a horrible tree for bonsai [ glad to be proven wrong.]
An attractive specimen you have there, and happy to wait the next 5 to 10 years to see how it develops.
As usual, have you got a typical tree shot or two ?
Size?
Hey what gives
, you have the same hollow clay blocks we have on my side. Therefore you have crushed brick to sift
Our Fustic - Chlorophora tinctoria will around this time will also have yellow leaves and go dormant.
My tree also needs more time to develop, so please extend to me some patience.
Khaimraj [ message sent via my friend Guan - still on holiday.]
Tree, just coming into leaf.

Close-up top of tree.


Khaimraj Seepersad

Member





Ravi,
some of my elms are turning yellow orange too.
with regards to your tree- though I'm not sure with the design you have in mind, I think you should let it grow wild first in a bigger container to develop the secondary branches faster, you can also do the wiring without cutting any branches or branchlets. just minor wiring on your selected branches will do, in order to position the branches while they are growing wild but do not wire or cut any sacrificial branches (branches that will be cut off later on). this process will also increase the girth of the trunk.
goodluck with your tree.
regards,
jun
...and oh, I forgot, when you have a straight trunk design like this it will have a better visual effect if the tree is planted off center in the pot. "rule of thirds" (vertical) in photography. trick the eyes.
...same goes with Khaimraj tree-IMHO
regards,
jun
Hi Jun,

thanks, and as usual good eye. I am hoping when I lift the hackberrys for wintering in the fridge, to use the space to place the 3 fustics I have selected for trunk and first branch thickening. Hopefully I can pleasantly surprise you around October 2011.
Stay well.
Khaimraj

Khaimraj Seepersad

Member





Khaimraj,

Thanks for the post and also for sharing pics of your tree. Good to know that there are tropics that wilt in the autumn. One other tree that does shed its leaves completely in autumn here in the tropics is the Baobab. I do have a single tree with me and it has not yet shed its leaves as yet. Not sharing pics as it is far from being presentable and has many more years in training.


Jun,

Thanks for your comments. Yes one of the mistakes I did was putting this tree in a bonsai pot too soon. One of the reasons why it has taken a loooong time to develop. I was planning to shift it to a larger growth pot coming spring and your suggestion has added to my belief. The tree should do fine in a couple of years. The rootage of this tree was also a major concern but now seems to be settling down.

One of the other beautiful characteristics of this tree is that once all the leaves are shed, in early spring it flowers in a few bunches here and there. The flowers are shaped like cloves and are about the same size as cloves and dark reddish pink in colour. I shall share pics of the same when the tree flowers. Once the flowering is done is when the tree starts to leaf out.


Regards
Ravi

Ravi Kiran

Member






Similar topics
---
Permissions in this forum:
You
cannot
reply to topics in this forum