Hi everyone
I am really new to at this, although I have been reading up A LOT on the internet. I purchased this Bonasi at a local Bonsai Nursery about 3 weeks ago and I repotted it and now I am afraid that I may have killed it. I know that it is fall here in Southern California zone 8b and maple's will loose their leaves but I just would really appreciate any advice. Here is a picture of what it looked like when I purchased it and then after I repotted it.
Any Advice is greatly appreciated..Thank You !! Leah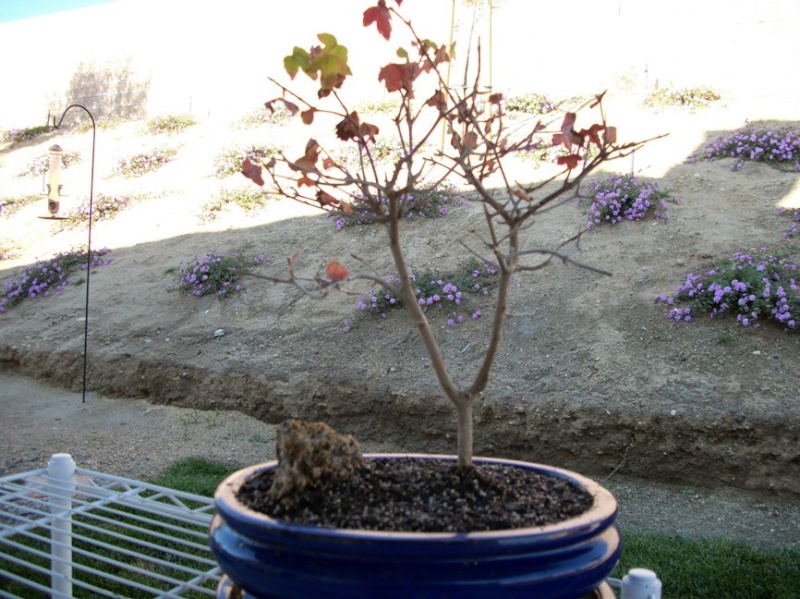 Diamondlea

Member





Hi Leah welcome to IBC.

Your poor Maple. Repotting should be done when the tree is dormant, this is usually in the winter months... Leave well alone and the tree may recover... It all depends on how much you disturbed the roots.

Good bonsai husbandry is all about timing.... When to: repot,feed,wire,trim,pinch,water... Immerse yourself in the many posts here on IBC and you will find what you need to really enjoy this challenging art/hobby


Hi Tony

Thank you !! I am so new to Bonsai and yet so facscinated with it. I guess the old saying of you learn from your mistaked is so true. This is my first tree and I thought I would be safe if I bought one that had already been started and now look what I did.. Keeping my fingers crossed and going to read up as much as I can... Thank You ! Tony :0

Diamondlea

Member





Hi Leah,

I assume you don't have frosts in that part of the US, so if you didn't cut too many roots when repotting, I suppose if you protect it from the wind, it will survive.

AlainK

Member





It has a fair chance of surviving if, as the others said, you didn't cut a lot of the root mass away. It will be hard to tell because it will lose all its leaves in the fall anyway, so persevere until spring.
Give it only enugh water to keep the soil
just
damp. Trees that are dormant and hibernating and without leaves don't use much water and one of the worst things you can do is overwater. I've not been in your area in the winter, but I imagine that it doesn't get too cold -- just the occasional frost? So your tree can and should stay outside all winter long -- and in summer, too. Maples are not indoor trees.
You appear to have a trident maple, which is one of the best for bonsai.
I suggest you visit a book store and get a basic book on bonsai; that better than learning from the web -- at least to start. One of Herb Gustafson's books -- "Bonsai Workshop" is good -- make a good place to start. Sunset Magazine used to pulished the best of the beginner's books, but they let it go out of print for some reason. You can still find copies on Amazon.com or
www.abebooks.
Search for Sunset Bonsai. The second (1976) or the last (2003) edition are the best.
_________________
Jim Lewis - lewisjk@windstream.net - Western NC - People, when Columbus discovered this country, it was plumb full of nuts and berries. And I'm right here to tell you the berries are just about all gone. Uncle Dave Macon, old-time country musician

JimLewis

Member






Thank you for all the advice. I live in southern california and in the winter we don't get hardly any frost but it does get a little windly at times. They call them the Santa Ana Winds and can get up to 30 mph. I am going to see about getting that book and maybe a few others or as many as I can...lol When will I really know if it survived ?? in spring?. The pot that it came in, the tree was rooted to the pot and I did not cut too much off the main root.

So the best thing to do when I buy one is to leave it in the container it came in until spring ?


Thank You so mcuh !!

Leah

Diamondlea

Member





Yes the general rule for most trees is to leave them alone until you notice them just starting to re-awake from winter rest and then repot. The sign to watch for is swelling of the buds.

_________________
"It is not the strongest of the species that survives, nor the most intelligent. It is the one that is the most adaptable to change." - Charles Darwin.

Kev Bailey

Admin





Hi Leah.

Yup, you potted at the wrong time. But chances are good that you tree will make it anyway. Your mild climate and the hardiness of the species are a blessing.

On another note, this tree is nowhere near ready to be in a bonsai pot. It's very immature. It currently has no bonsai qualities. It's just a "stick in a pot" (something we have ALL been guilty of).

Take heart. If you are serious about bonsai, then it won't take long to get the basics down and start to differentiate between what has potential and what doesn't. You'll see.

Good luck,
Ed

EdMerc

Member





Hi Andre we all want a lot and beautiful bonsai but when you new to growing trees you tend to stick things in bonsai pots much to quickly. I would suggest planting your little maple in a bigger training pot or into the ground let it grow to fatten up a bit then design prune hard after that you can work on your refinement. What you are doing know is keeping your tree away from becoming more beautiful and remember good quality bonsai trees take time. Enjoy the new hobbie.


andre10

Member





Is it ok to repot in a training pot again ? it's fall here in Southern California (Zone 8b) and yes from what I have been able to read the best thing I should have done was put it in a training pot... I just don't want to do anymore damage to it.. This is the way to bought it at the nursery and I just repotted it in a bigger pot not knowing much about bonsai. That was my biggest mistake.....Lesson learned
I have book ordered and am waiting for them to get here
Thank you all for all your great advice

Diamondlea

Member





Not now! Please leave it alone, at least until the proper repotting time. Probably better to leave it for a year and spend that time learning as much as you can and then then pot up to a training pot.

_________________
"It is not the strongest of the species that survives, nor the most intelligent. It is the one that is the most adaptable to change." - Charles Darwin.

Kev Bailey

Admin






---
Permissions in this forum:
You
cannot
reply to topics in this forum