Inside every great-grandmother is a little girl who plays with dolls and yearns for trees from Narnia, Hogwarts, and the home of the Menschniks. I have been trying to grow Iseli's miniature Mugo pines since they were featured in International Bonsai magazine in 1999. Has anyone been successful at making a bonsai from one?
Harry Harrington warns against them in Bonsai4Me. After killing almost as many of these as Serissas, I have learned a few facts.
The advice about repotting in July applies.
The advice about not repotting the same year you styled it applies.
Do not take advice from a Visiting Expert who is unfamiliar with these trees and with your conditions.
Be very careful of minimal root disturbance when repotting.
After the tree is all wired to the gills, when you take the wire off it will go Sproingg!. You will have to wire it again.
If you have any sense, grow something else.
I had totally given up when I ran across a new cultivar called 'Short Needle.' There were some for sale that had been pre-trained and potted in training soil. I bought one this April and it was wired by an Expert.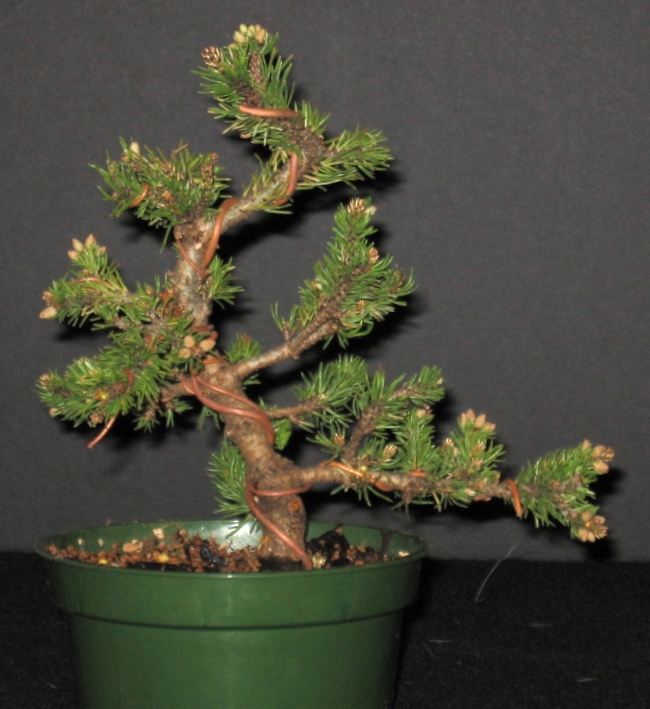 It sat around all summer without doing much. I removed the wires in August. While preparing for winter, I said, "Huh, this isn't the way we wired it."
So now it has been rewired by a blithering amateur.
Comments welcome as long as they are suitable for a family web site.
Iris
Last edited by bonsaisr on Wed Nov 03, 2010 9:19 pm; edited 1 time in total (Reason for editing : Add another picture.)

bonsaisr

Member





I gather the consensus is that this tree is either totally unremarkable or completely unspeakable.
Iris

bonsaisr

Member






---
Permissions in this forum:
You
cannot
reply to topics in this forum