resolution of insect and disease problems and a change in growing technique have returned my premna from near death to health and vigor. this hollow trunk is no exception. sharing a series of before and after pictures of development work over the past several days.
the yamadori is growing strongly. most of the predominantly deadwood trunk was created by mother nature. new branches and foliage everywhere. the work ahead includes defoliation, wiring, branch removal, refurbish deadwood, remove calcium buildup from pot, etc. the soda can looks small
last look before the start of two days of work.
the tree is defoliated branch by branch, hundreds of leaves are cut, plucked with tweezers or removed by hand. painstaking, but necessary work. at this point there is little wire nor have branches been eliminated. front view
rear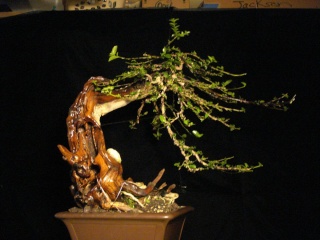 every branch has been wired and placed. many were removed. with more to come. the trunk has been has been brushed with teak oil to bring out the beauty of the deadwood. the light parts are living. no lime sulfur necessary. thick calcium deposits ringing the bottom of the pot were brushed with vinegar. today, using a fine steel brush, the calcium comes off easily. the dull pot is oiled - as good as new.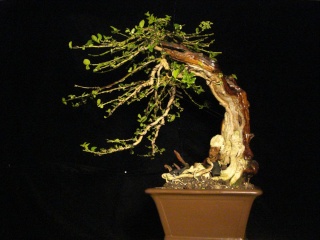 the back
looking inside
Beautiful work, how often will the teak oil need to be applied?

Orion

Member





as needed. at 3 - 4 month intervals in our climate.

---
Permissions in this forum:
You
cannot
reply to topics in this forum