Hi guys,
I was wondering if someone could give me some advice on my Dwarf Scots Pine
(Pinus Sylvestris "Beuvronensis").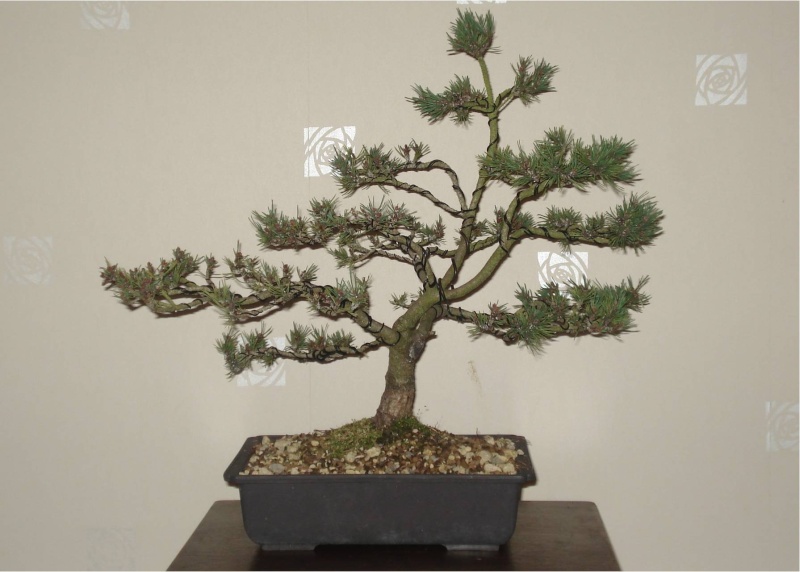 It was collected from my dad's garden a few years ago and as you can see it is somewhat leggie. It has quite a dumpy trunk about 1 ½" with a nice nebari developing. It stands about 17" high but due to the trunk, nebari and short needles I wasn't too sure if it might be a candidate to go Shohin?
Anyho, any advice/help would be fantastic,
LP&B,
Simon

bonsai monkey

Member





Hello Simon,
Your pine does indeed appear to be somewhat leggy. The only section that looks like it has more compact growth is the first main branch on the left. For this tree I would prefer to remove the rest of the trunk and the back branch coming off the same joint and jin the stubs.
At the same time you could also reduce the size of the lump formed at this joint. The remaining left branch could be shortened and wired into a more upright attitude with some added curves. Without a view from above, it is difficult to advise on which side branches should go where.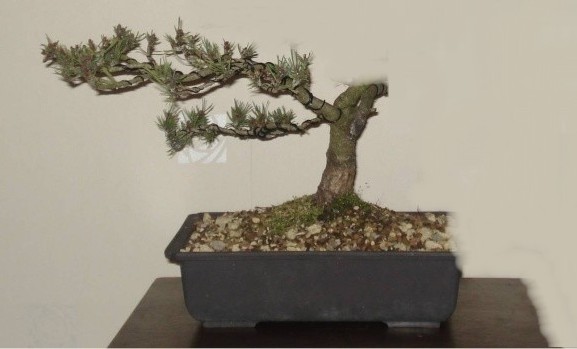 I am not very good at doing virtuals so I will not even try. These pictures are here just to show which parts I would remove and which I would keep.
Best wishes in bonsai,
Les Dowdell (waiting for the snow to melt so that I can begin repotting in another month)

bonsai monkey

Member





Hello Simon,

Yes, that is very close to what I was thinking of. The addition of a few curves in the (new) trunk would blend with the initial change of direction where the jin would be produced.

Best wishes in bonsai,
Les (waiting for the first spring day after the first day of spring)
Thanx again Lee.
I spent part of last night cleaning up the nebari and I think that this re-style could well work. I'll keep you posted.

Could someone please tell me when would be the best time to "remove" the 2 offending branches??

bonsai monkey

Member





As I understand it, scots pine particularly buevronensis back bud very well on even old wood. This according to Peter Adams, not my personal experience. That said, why not rewire and "compact" the tree...carry the wire out to the tips. Many of the branches you have wired appear to have very little movement in them. While doing this, employ some of the techniques used for inducing back budding. Try rotating the tree also to determine whether of not you need to worry about the relatively minor swelling. Just a thought. Good luck.
Thanx for your input Neil.

I have "tried" to compact the tree (last year) but it still looked all sorts of wrong. There is a bit more movement than the picture shows, (as that was taken in the Winter of 2007) thanks to last years futile attempt at a re-style, but I'm quite liking the reduction idea.

Re: back budding. I'm totally useless with Pines, as can be see above, but I have a few Scotties that would really benifit from some back budding but all attempts by me so far seem to fail. Could someone point me in the general dirction of some good practice as when I read the various books that I own I get muddled.

It doesn't take a lot to confuse a stupid person and I am that stupid person!!

Thanx in advance,
LP&B,
Simon

bonsai monkey

Member





In order for a programed effort to encourage back budding to work it is important that the tree be well fertilized prior to cutting back. It is also necessary to abandon, to some degree, the concepts of style and design you may be shooting for. You have to allow the tree free growth until the middle of summer; at this time you can cut off all of this years new growth down to its source from this spring's buds to just above where it started this spring. Do this first in the less vigorous areas. Ten days latter you can cut the vigorous areas back into growth that may be two or three years old as long as there are still some needles on the branch. If for some reason there are no needles you can cut back to cut as you did with the less vigorous shoots. You should get some back budding. It is also important that a pine treated in this way receive a good deal of sun as long as it does not cook. New growth from latent buds can be delicate so be careful of them for at least another year. Once this process starts you can carry it back further down the branch but you have to do it in stages or there is a chance you will lose the branch.

Vance Wood

Member





Well at last here's what I ended up doing with my Pine.
Still a long way to go but it's a start!!
The original plan/stye could happen so I hope that this is a fair compromise. I'm still messing around with the "Front" of the tree but I'll see what growth/back budding I get over the next couple of seasons.
Thanks for everyones advice on this one

bonsai monkey

Member






Similar topics
---
Permissions in this forum:
You
cannot
reply to topics in this forum