Cave stone - My black stone found in Khanh Vinh River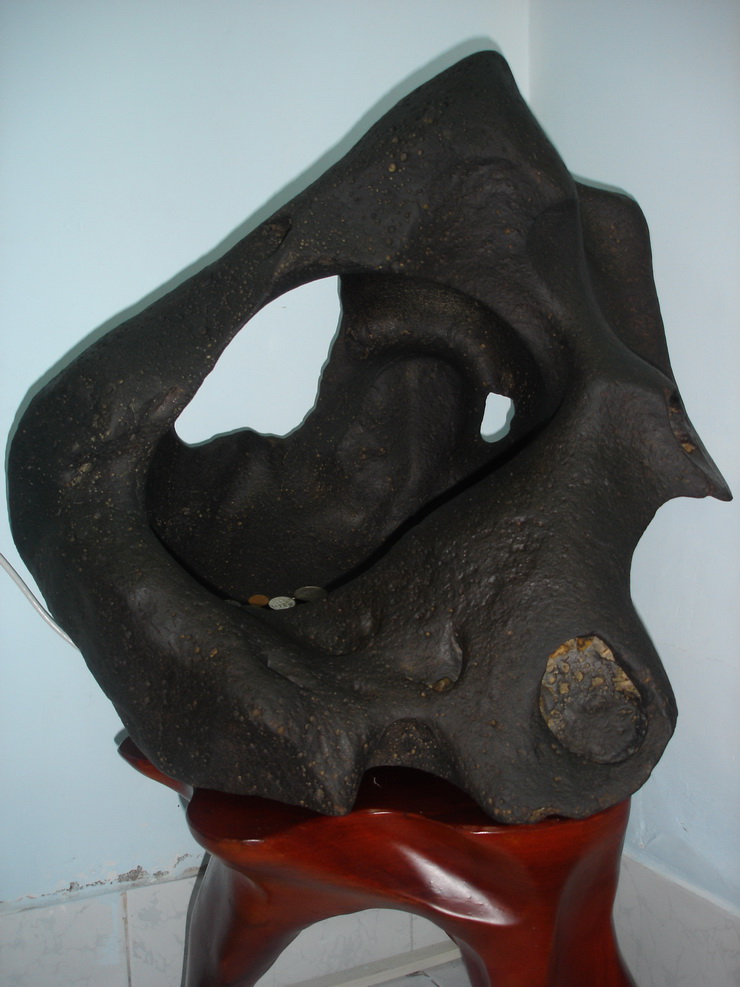 weigh: 80kg
Nguyenvuhung2001@yahoo.com
Mobil phone: 0905119090

Nguyễn Vũ Hùng

Member





80 kg... over 175 pounds!!!
Are you a professional stone dealer in Vietnam? Moving this & fitting the seat for it must have been a challenge...
May I ask the height of the stone alone? How tall is the stone with its stand?

Chris Cochrane

Member





No I'm not.
I'm a lover of stones ( Suiseki) and very like it.Weekend, I Usually go to Khanh Vinh disrist to find stone (suiseki)
the height of stone: 62cm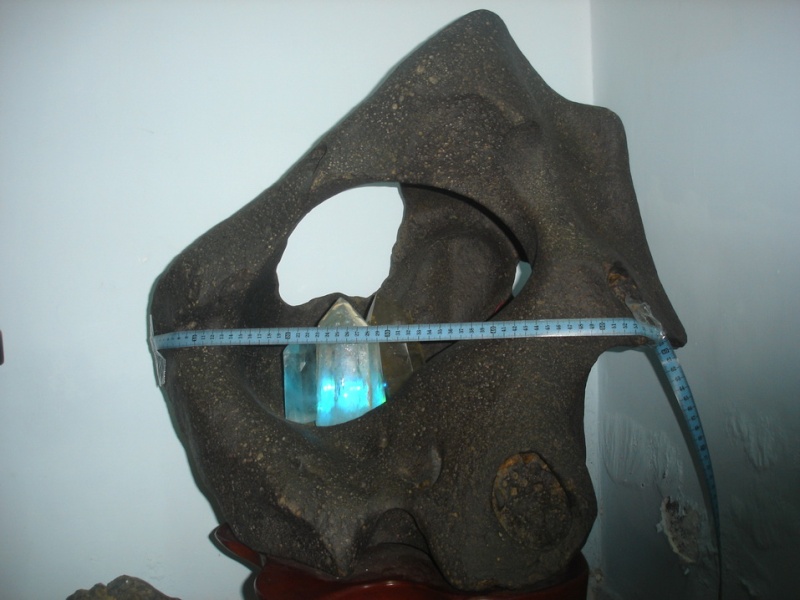 nguyenvuhung2001@yahoo.com
Mobil fone: 0905119090
Last edited by Chris Cochrane on Fri Jun 18, 2010 2:45 pm; edited 1 time in total (Reason for editing : clean image tags so photos will display)

Nguyễn Vũ Hùng

Member





This is quite nice and distinctive. I like the dark color & pitted texture very much. It has a contour associated with Chinese scholar rocks & a very nice mounting angle. The material texture (pitting) & heavy weight (for a stone ~ 2 feet/60 cm in height) could suggest metamorphic basalt (seen more commonly in Japanese-style suiseki). I wonder if that is possible because the deep depressions & holes look like solution pits (erosion caused by chemical reaction), which is typically the reaction of rainwater mixed with leaf-debris creating a mild acid that eats away calcium (limestone's material). The pitting inside the holes suggests a cause which may not be solution-pitting.
You'll have to teach me, Hung-Tran. Or perhaps we have a geologist lurking on IBC...
. I'd like to learn.
Is the addition of crystals in the depressions your personal expression or something seen among numerous stone collectors in your region? Should we recognize a story in seeing crystals placed in a naturally contoured stone?
The crystals are so angular. For me, they are less representative of worn, lonely nature & subsequent feeling found on windswept shores, remote mountain places and so on. I'd see them as a distraction to appreciating the dark stone until learning a special meaning by the host who presents them. I suppose a rock hound would zoom in on the exceptional crystals & perhaps loose sight of the terrific scholar's rock.

Chris Cochrane

Member





that is a stone number 1 my collection Suiseki

Nguyễn Vũ Hùng

Member





GOOD STONE, THANKS FOR SHARING:)

Heven

Member





It's my life

Nguyễn Vũ Hùng

Member





Hi Nguyenvuhung
Sorry , I have some ideas about your cave suiseki stone .
1/ Your photos are too heavy to load . You need free download PHOTOSIZER sofware to resize photo.
2/ According to basic theory of suiseki stone , landscape shape suiseki is a small copy of landscape objects in nature . Landscapes as mountaine , hill, lake , island , cave , … but its construction must be stable , firm and balance.
3/ Your cave stone, if you image a real cave mountain with the height which is multipled minimum 50 time ( 62cm X 50 – 31m ) ,you will see a mountaine with cave is high 31m but thin body , this constructon has no stable , no firm and no balance . It is dangerous and can collapse any time . So it's not suiseki stone.
4 / I think this stone is object stone or hole stone . If you play hole stone ,based on oriental phylosophy, so when you put it in your house , you will meet lucks and everything will flow smoothly.
this is a caves tone of Giesu

Nguyễn Vũ Hùng

Member






Similar topics
---
Permissions in this forum:
You
cannot
reply to topics in this forum