I have had this tree for many years. More of a large accent really but have recently re-styled it. I am thinking a nice cascade. do you have any thoughts? Don't take any notice of the pot. It blew off in 2007/8 and I had to rush out and get anything from the local garden centre and do an emergency repot.
It looks as if it is leaning to the left at the crown...it is not. Just my awful camera. Time for a new one methinks.
There are additional pictures on my Bonsai-blogsite. (see below)
Mike
As it was.
As it is now.
Last edited by Mike Jones on Tue Jun 08, 2010 4:06 pm; edited 1 time in total (Reason for editing : missed a word out)

Mike Jones

Member





is it a cascade or an informal upright with a cascading branch??
I do not know how to approach it.....
Hi Mike,
can you give use some more pictures of the trunk line and the back side? Because that trunk line seams realy promising to creat a formal upright or literati Bonsai. With this picture alone it is hard to make a virtual of your tree!
Cheers,
Hans van Meer.

Hans van Meer.

Member





I'm very bad at junipers, but this is what I personally sort of saw in this tree: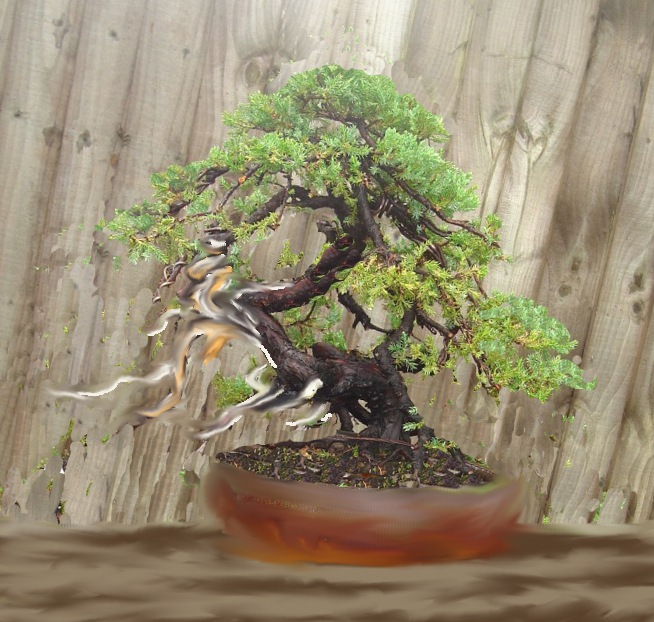 AlainK

Member





Just not this tree has very classic without the left branch, it is in the movement of the tree .. Maybe a little shorter branch, the works but I like this tree.

Similar topics
---
Permissions in this forum:
You
cannot
reply to topics in this forum