Hello all!! 
So after years of having always appreciated and admired the art of Bonsai, I finally pulled the trigger and purchased a young 5 gallon juniper procumbens nana! After looking at it for a while scared to touch it, and after watching and reading soo much material online I took the first step towards making something of it!! The tree was so tightly packed in the center with smaller shoots there was no chance of getting a good look at what was available inside! After some battling and a little blood I finally ended up with a visible trunk and three main branches. To improve the vantage point even further I removed the very top section of the plant pot as you can see in the photographs! 
I have never done this before, and most likely have already gone wrong somewhere, which is why I came to my senses and put a halt to my progress to gain some insight from here! I have no idea of the age of the plant, though having read through some material I'm guessing its in the three to five year range. The foliage is still to my knowledge almost all entirely juvenile, but I'm hoping I'm not mistaken that there is quite a bit of potential in this one! After mulling it over I decided to go with the full Cascade style as it has such a great sweeping branch for this, although I gather Cascade is not the most popular of styles these days!! I apologise for the quality of the photographs, these were taken with my phone which has a rubbish camera scratched beyond oblivion! If needs be I can charge my proper camera and improve on those here. The plant is located outside on my balcony facing south and gets around 4 hours of full California sun a day. I unfortunately don't have any space to plant it in the ground to help it mature as all I have is the 5 gallon pot it came in. I would love to have any advice anyone can offer. Have I already taken too much off for the first pruning? When should I think about reducing the root ball (I gather late winter early spring??) Can I wire straight away or leave it for a bit? I saw a really smart way of shaping the cascade using a long bamboo pole and snaking the plant down the pole to increase movement in the branch as it grows. If anyone could get some computer graphics going as to a potential style that would be amasing! The plant has 3 main branches, one sweeping cascade and two rear branches almost at right angles to the cascade. I feel a good front is just to the left of the top of the cascade as the rear branch creates depth where the other one juts out to the left. I am open to any ideas and look forward to hearing your input. Though I am preferable to the Cascade style!! Look forward to hearing from those who know!! All the best and many thanks!! 
P.S. If any of the pictures come out wrong (orientation wise) I'll try and get it sorted, like I said, first post so still figuring it out!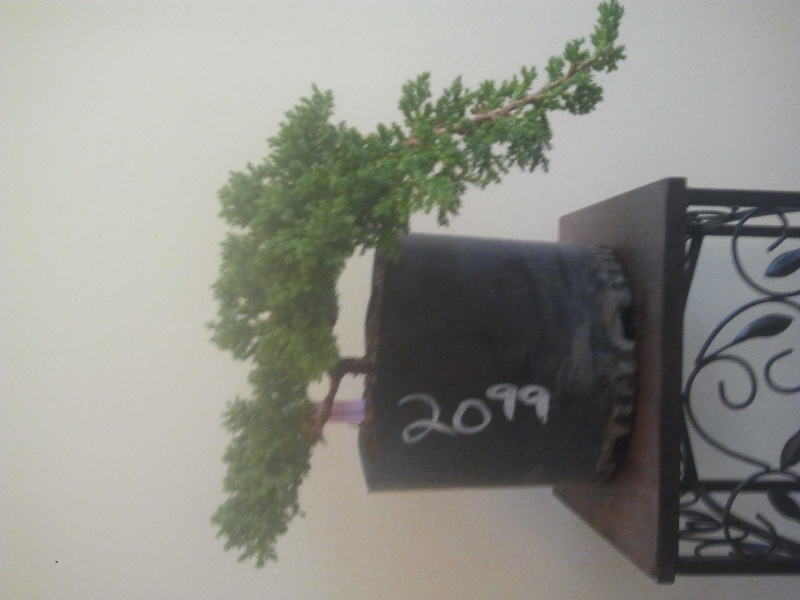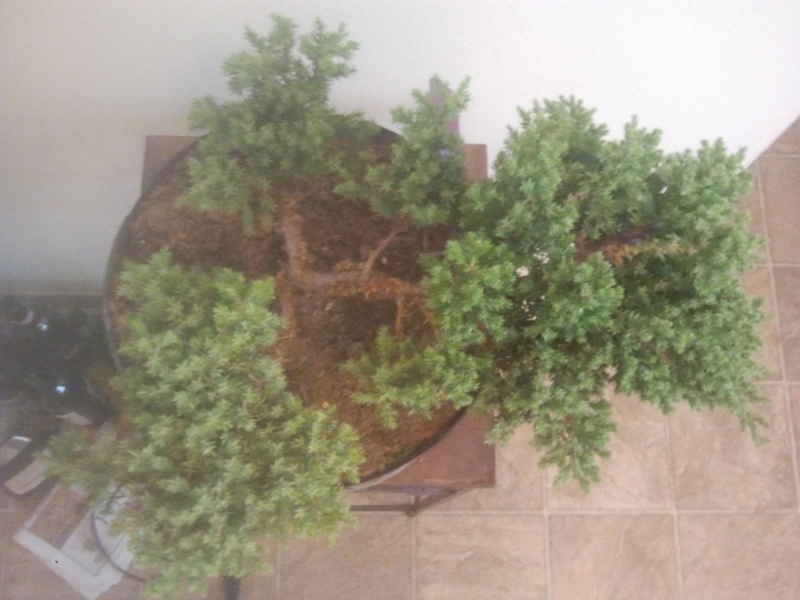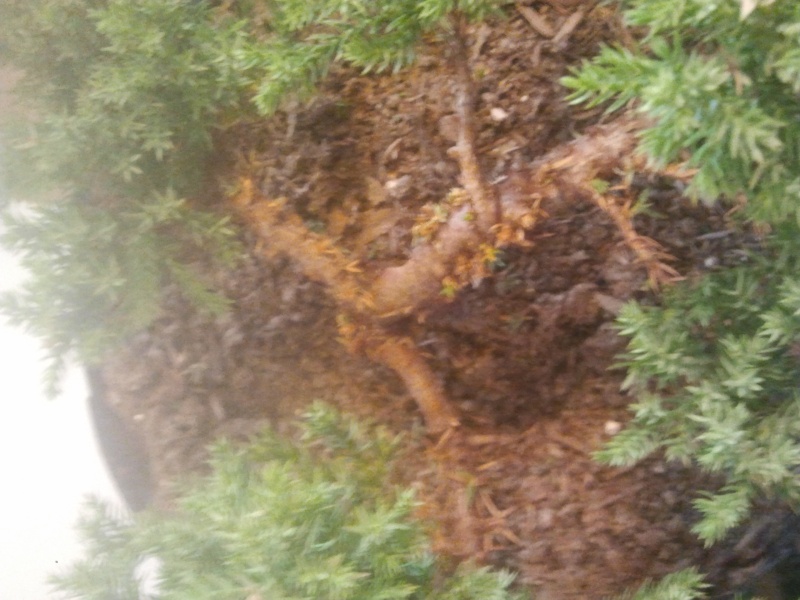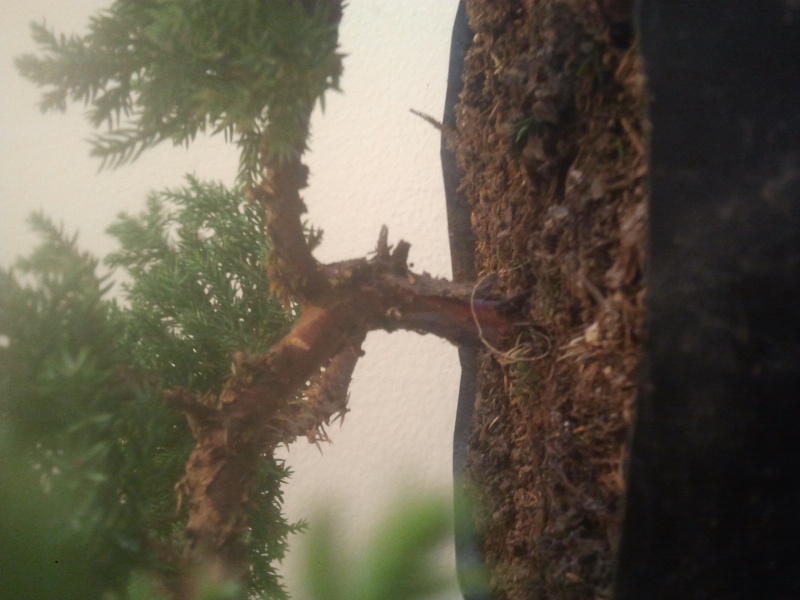 BHope

Member





Ugh, all the pictures are of course to one side!! I have to head out but I will be back later to get these the right way up, but if you can work on it like this then let me know!! My apologies, not the most computer literate out there!!

BHope

Member





You have a good start here. I would not cut any more now. Just let it recover, study it and READ.

JimLewis

Member





The name is Juniperus procumbens 'Nana.' 'Nana' is the cultivar name.
This plant has juvenile (needle) foliage throughout its life. If it ever produces scale foliage, you have a different species. It doesn't matter; treatment is the same.
I suggest you put California in your ID. It is important.
Iris

bonsaisr

Member





OK, thank you guys for your responses, I really appreciate any advice! So the plant will have this foliage for its lifetime, I thought it might develop some slightly more mature branches a few years from now! Not sure if I'm just being silly, but I do think it will make a great cascade! Just wish it had more height in the middle! Is there anything I can do to promote the growth in the crown? Can I start wiring it now or just leave it be as you say? Its in a spot where I see it all day long and so tempted to keep working on it but not sure if its going to jeopardise the tree or not! Does wiring stress the plant? I thought I put California in my profile but if not let me know! Thank you for your responses so far and I look forward to hearing more. I really want to get it into a bonsai pot to get it to resemble an actual bonsai rather than a glorified shrub, but the plant comes first and still wondering when a good time to repot will be! Let me know and thank you again for taking the time to reply!

BHope

Member





How often should I water it too when its in this soil, I know when its in bonsai soil its once a day but whilst its in this soil I'm keeping it to once a week or so!

BHope

Member






BHope

Member





There is only one way to tell for sure when to water. Take a wooden or bamboo chopstick or a freshly sharpened pencil & stick it in down to the bottom of the pot. If it's wet, don't water. If it's bone dry, you should have watered yesterday. If it's very slightly dampish, water today.
Iris

bonsaisr

Member





Thank you for the advice Iris! Really hoping this one has a long and healthy life! How long should I leave it for the next big pruning, and when should I repot? Want it to develop a little more before it moves out of the big tub. Also wondering if there is an all purpose fertilizer that makes things a little simpler or what the best way to go about fertilizing would be. Really want to get this tree into the bonsai form but patience is a virtue!! Can I continue with light pruning/pinching and wiring? Putting it into a bonsai pot and reducing the rootball must affect the overall growth of the plant?? I gather late winter early spring is a good time to do this, though not sure whether I should leave it in this pot to mature a little more would be a better idea! My apologies for all the questions but that is what this is about right? Looking forward to all and everyones opinion, don't be shy with the responses people!! Many thanks to everyone as always!

BHope

Member





BHope wrote:How long should I leave it for the next big pruning,
Next year. Just pinch it meanwhile.
BHope wrote: and when should I repot?
Late winter. early spring. Where in California are you?
BHope wrote:Also wondering if there is an all purpose fertilizer that makes things a little simpler or what the best way to go about fertilizing would be.
I rotate several different fertilizers, including fish emulsion once a month. Any houseplant fertilizer will do. as long as you use one with trace elements at least once a month.
BHope wrote:Can I continue with light pruning/pinching and wiring?
Yes, provided you know what you are doing. Join a bonsai club.

bonsaisr

Member






Similar topics
---
Permissions in this forum:
You
cannot
reply to topics in this forum