+3
DreadyKGB
Rob Addonizio
Russell Coker
7 posters

There was once a vast wetland that ran down through what is now the center of Mobile called Wragg Swamp. It was an eerie place that blocked the city's western expansion into the pine hills (desirable for real estate development) on the far side. But never fear in the 1960's the creeks were dredged and drainage canals were cut and now we have shopping malls with acres of parking, car dealerships, grocery stores, neighborhoods, and a multi-laned interstate corridor. Needless to say little remains of Wragg Swamp, and it is very fragmented. But if you know where to look you can still find little pieces.
Yesterday I was bringing one of the dogs home from the vet and saw that a patch I had been watching along the interstate service road was in its full spring glory. I also saw a friend's real estate sign on it so I gave her a call and asked if I could collect some plants ahead of the bull dozers.
I put this little planting together, all in its native black sticky sand. A couple of orchid species, sedges, pitcher plants, assorted weeds and sphagnum. My little piece of Wragg Swamp!
Russell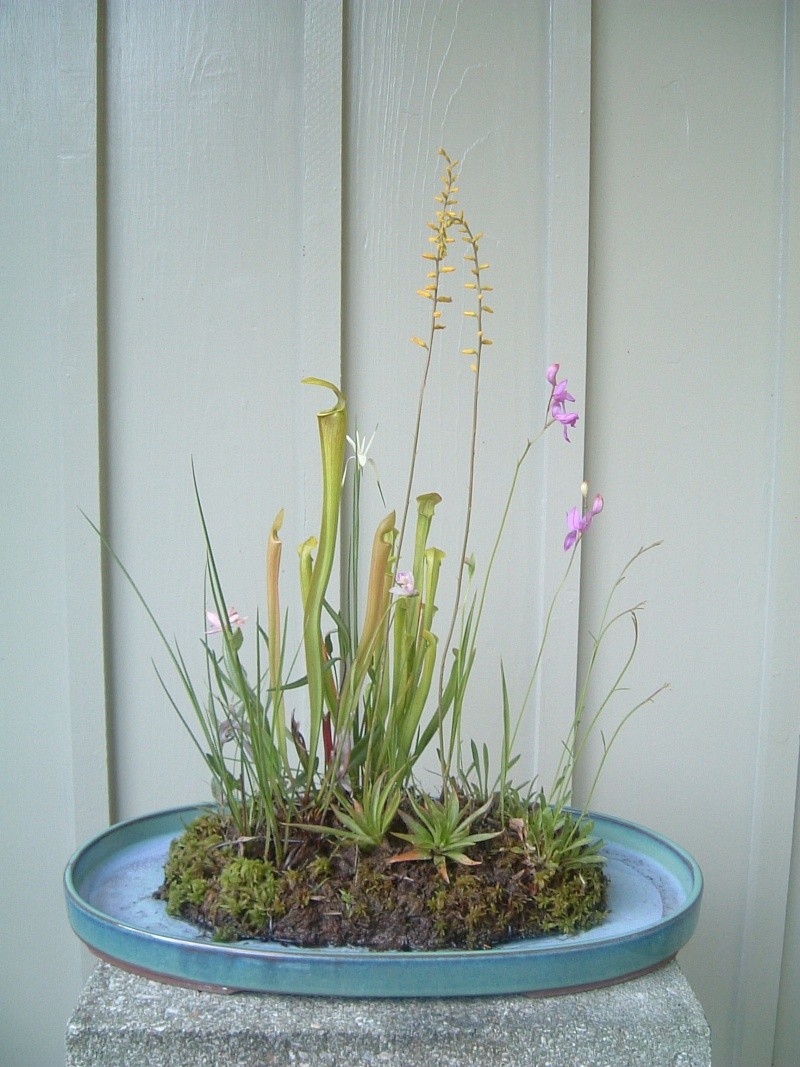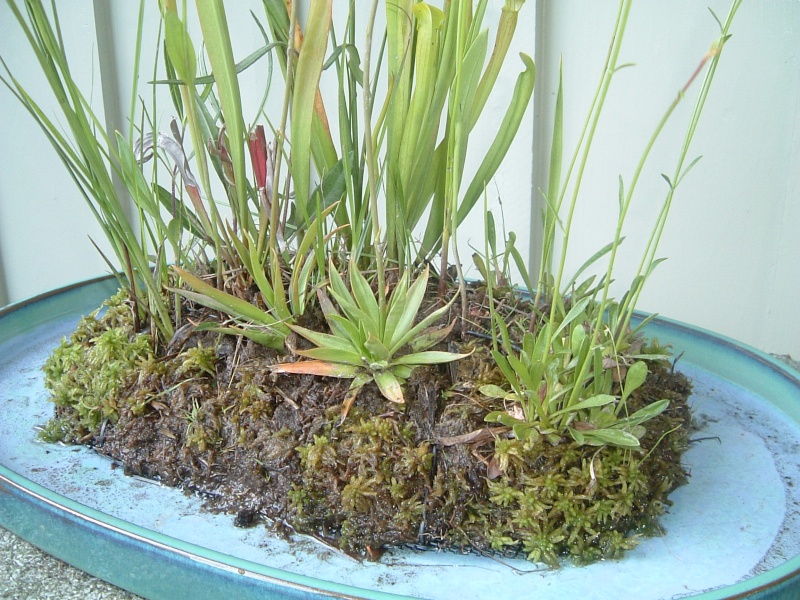 Russell Coker

Member





Hi Russell,

I like you composition. Nice combination with the pot!
Rob

Rob Addonizio

Member





Russell,
This look fantastic. I really like the pitcher plants. Overall I think it is a very nice composition and its great that it has meaning to you and your area. Very nice.

Todd

DreadyKGB

Member





That is beautiful. I love the pitcher plants.

Charles M

Member





Hello Russell
How does your swamp patch look this year? Native orchids are notorious for being difficult to maintain over the long run, I'm curious how maintainable this type of planting is over the long term. The Calopogon orchids are very lovely in their own right, and in this composition with the pitcher plants, grasses and other things I can't identify, it is quite a lovely. If you have time, comment a little on care, what do you water this with? Municipal water, or collected rain water or some other source? The pitcher plants in particular are intolerant of high mineral content in their water, which for me means I can not water pitcher plants with my local tap water.
Thanks
Leo Schordje
Hey Mike and Leo. Thanks for the nice comments. There really is something special about pitcher plants, and I feel fortunate to have grown up around them.

Leo, I have heard your comments about water here in my own club. All I can say is that's not my experience. I have nurserymen friends that grow them in nothing but finely ground pine bark. Their water is well water. The ones I showed here are still growing in their original muck, and I water with city water. I have a large pot on my steps growing with fire pink, liatris, hat pins and pine lilies and everyone seems happy in a sand/peat/bark mix.

This is really my first year with the orchids. The herbs (weeds) are sprouting now, and the pitcher plants are sending up flowers. It's still too soon for the orchids, hopefully they'll be back soon too!

I did end up taking this planting out of the suiban. The hard spring rains were really tearing it up. It's in a shallow tray with drainage now. I'll get some new pics soon.

R

Russell Coker

Member





Here's how it looks this morning, the orchids are back too! Those weedy things with the long internodes and opposite leaves are swamp sunflowers (Helianthus angustifolia). They got really tall and out of proportion by late summer last year, so I'm going to keep them cut back starting today!
The pitcher plants bloom first, then put up leaves. I should have burned off the dead debris from last summer back in early March, but didn't. That's the best way to clean them up and get ready for spring.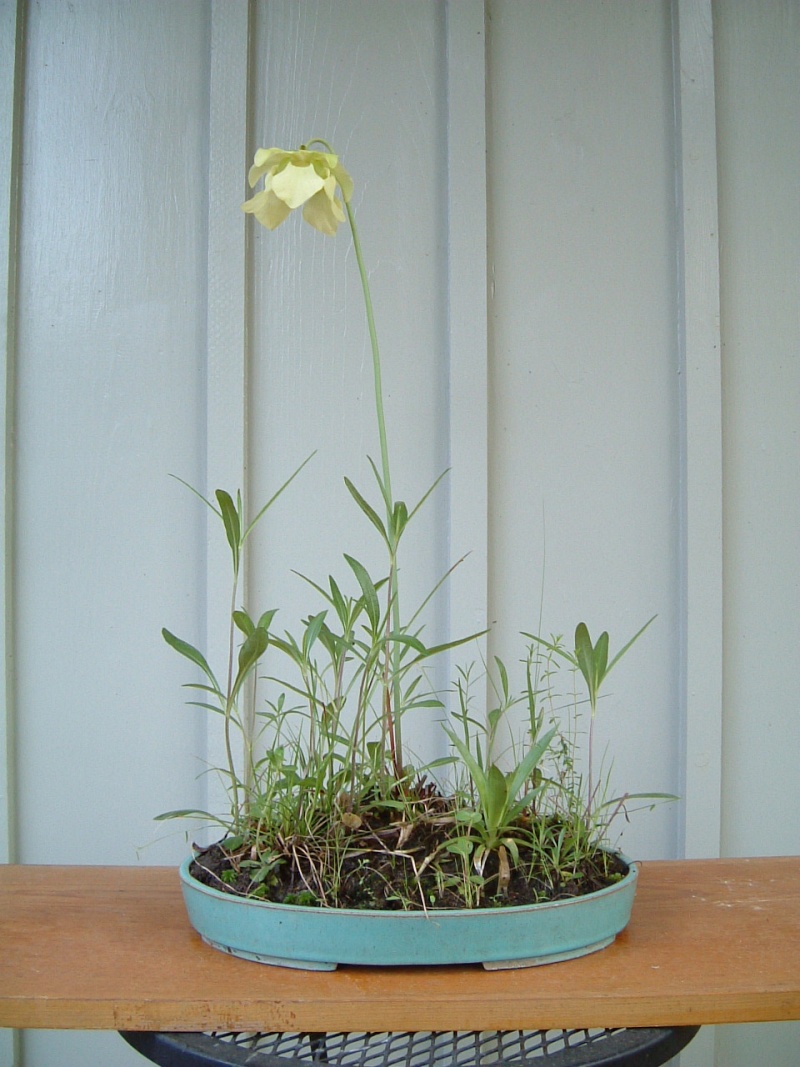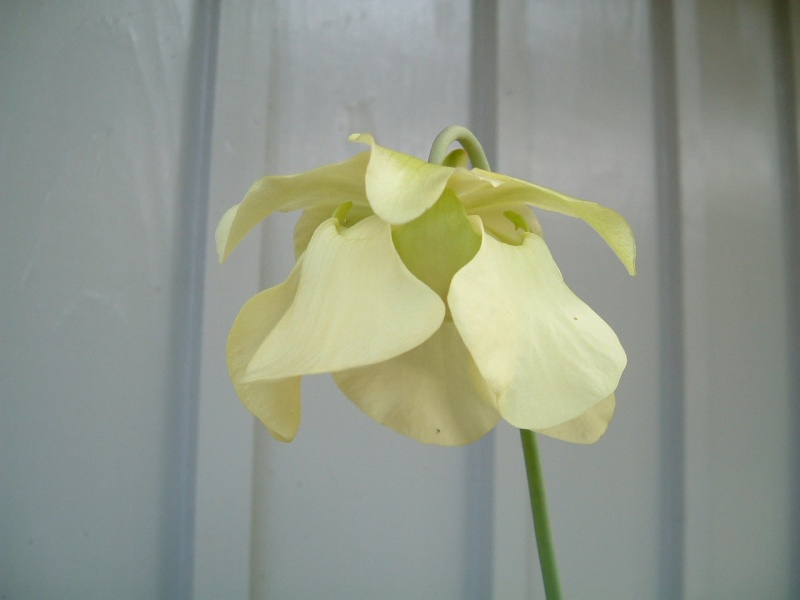 Russell Coker

Member





Thanks for sharing this lovely slice of nature across seasons, Russell. Its understated beauty, pale color & fragility are deeply elegant.

Chris Cochrane

Member





Russell – thank you for sharing this. It's beautiful and very nicely presented. A lovely and poignant reminder of the incredible native biota we have paved over, rooted out, and replaced with exotics. Out here on the West Coast our native pitcher plant and its habitat has suffered similar insults, one of the few reliable places to see them now is a botanical garden or garden center (since the cultivation of carnivorous plants has become quite popular out here now.)

This could make a very nice companion planting to some native Southern wetland trees. If I recall correctly you have posted a few here.

Do you need to keep this watered with distilled or deionized water? Here in SF we are blessed with remarkably salt-free water (it's all glacial melt water from Yosemite – an early insult to native biodiversity that John Muir fought desperately and lost,) but in the rest of the state and western U.S. in general the highly ionized water would be toxic to these bog beauties in short order.

David B.

Hi David, and thanks.

Leo mentioned the water problems a few posts back, but I've never had any with our tap water. It is from subsurface springs that seep through the piney hills west of town and is collected in a resevior, then they do God only knows what to it. The nurseries that grow them locally use well water.

As for using pitcher plants and the related grasses and orchids as accents plants for bonsai - I think it's great for cypress and other swampy trees. I have to say that I like alpine plants with alpine trees, forest plants with forest trees. For ME, they'd be inappropriate with an informal upright Japanese black pine or shimpaku. I've always felt the accent should be in character with the bonsai, but I'm weird about things like that.

R

Russell Coker

Member






Similar topics
---
Permissions in this forum:
You
cannot
reply to topics in this forum