+2
Paul Landis
William N. Valavanis
6 posters

Spring has arrived in Rochester, New York, three weeks early! That's made us very busy transplanting and creating new bonsai in a short period of time.
This year the wisteria bonsai of my students and in my garden are especially beautiful. The large garden vine in my garden is 29 years old. I waited 20 years to see it blossom for the first time. When I got it from Saichi Suzuki (introducer of Zuisho Japanese five-needle pine and pine master, Daiju en bonsai garden) it was the size of a chopstick. It has grown quite well. It is Japanese wisteria, Wisteria floribunda 'Rokushaku' which means six foot flowers. Well, a few years ago I grew ONE flower raceme which was 54 inches long. This year one flower is 39 inches, but it has not finished opening, so it will get longer.
Several of my students brought their wisteria bonsai to me to photograph and use for my beginners class which have been in training for about 15 years with me. Very nice. It is a Chinese wisteria, not Japanese and has shorter flowers.
My garden has a very sweet fragrance, especially at the entrance to the studio. Reminds me of my teacher's garden named "Kofu-en" of the Yoshimura family.
Enjoy, wish you were here to enjoy the aroma. Too bad it will not be in bloom for the US National Bonsai Exhibition on June 12-13, 2011
Bill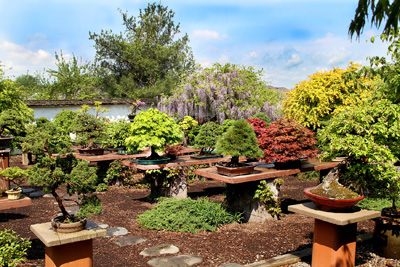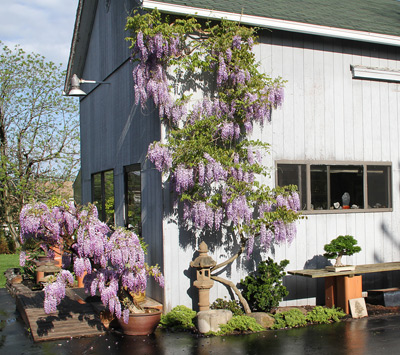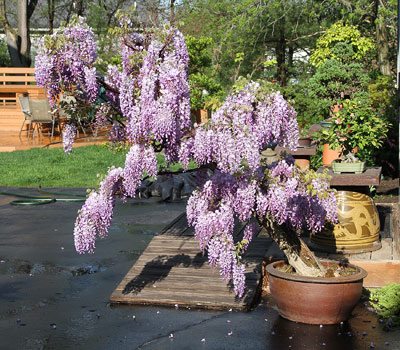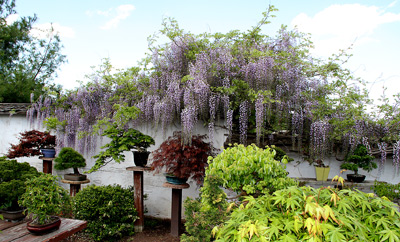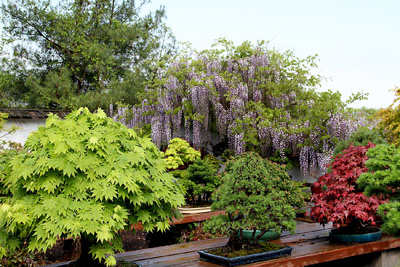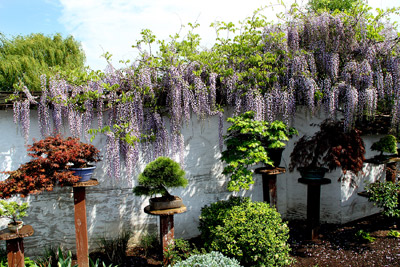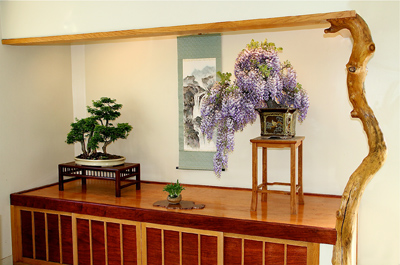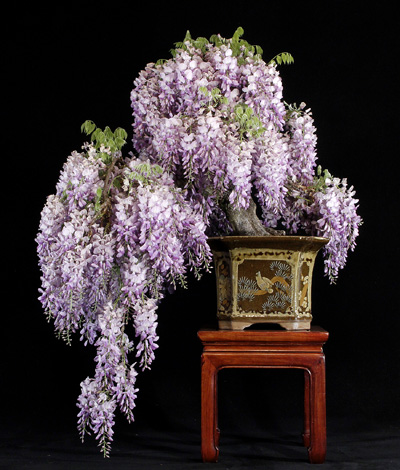 William N. Valavanis

Member





Beautiful!!! Thanks for sharing Bill!!

Paul Landis

Member





I can almost smell them from here Bill. I have one above my back door and in the evenings, when in flower, lets loose its fragrance. Thanks for posting.
Wow ,what an amazing garden.

Smithy

Member





Mahalo for sharing Bill.....
I love wisterias.
-Tim

Hawaiian77

Member





Thank you for these photos, Bill. As Will says, you can almost smell the scent from across the pond.

I especially like wisteria in the tokonoma. Can you tell us anything more about the intriguing pot?

fiona

Member





Thank you Bill for the beautiful wisteria photos.
Your garden is very beautiful As seen in pictures as in real life
Thanks for sharing
SHALOM
Ami

ami

Member






---
Permissions in this forum:
You
cannot
reply to topics in this forum