Hello everybody
Could somebody share any picture of an Osa-Kazuki maple grown as a bonsaï...this is my favorite japonese maple (lovely spring/fall colours, little red flowers growin' before leaves get mature, red fruits & purple colour on the young bark, nice shape and red lines on the leaves...) and I was wonderin' what I could expect from puttin' this sort of tree in a pot since the leaves and internodes are pretty big...
...any experience or comment on this particular species greatly welcome
Yves Dosogne

Yvoune

Member





Nobody, really?
Thanks for reading, anyway
Yves

Yvoune

Member






Carolee

Member





Hi Yvoune
I have looked at doing Acer Palmatum -OsaKazuki But have only done another palmatum type aurem. This has the same structure as Osakazuki and would be happy to take a picture tomorrow and show my effort. I felt it looks a interesting tree and will remain in my collection. I reduced the tree from 3m to about 30cm and repotted from a 90lt pot to a 5lt pot then into its show pot. The leaves was reduced from 10cm to 1.5/2cm with short back-budding. This was done by leaf pruning and low amounts of Nitrogen.

James

jamesransom

Member





As I mentioned elsewhere, bud plucking, where you pull out the new shoot between each first pair of new leaves will also shorten internodes, increase ramification and decrease leaf size over time.

_________________
"It is not the strongest of the species that survives, nor the most intelligent. It is the one that is the most adaptable to change." - Charles Darwin.

Kev Bailey

Admin





I took these on Sunday. The tree has has a repot and last year was left to grow untrained in some areas to thicken branches. I plan to wire it in the next month once i have stripped the leaves off.
This tree was about 3m when i got it and i cut back the trunk and hollowed it out.
[img]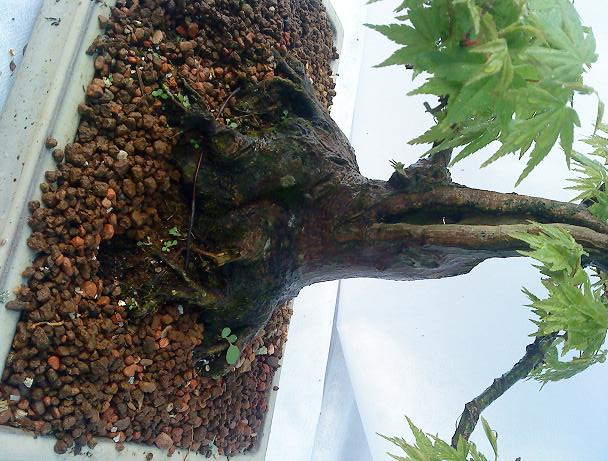 [/img]
This is the size of the leaf and the back budding.
[img]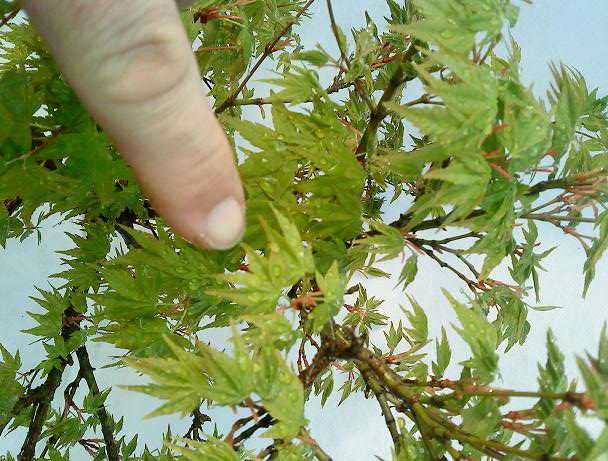 [/img]
The tree as it is now before the rewire.
[img]
[/img]
Have fun with yours
James

jamesransom

Member





A very nice nebari and trunk. You carved out the trunk even though there was no deadwood? If so, what was your reason? Thanks for posting. I would be interesting in seeing the tree after you wire.

Carolee

Member





Hi Carolee
I purchased the tree form a freind he was a grower of maples in Holland. He used this maple as his stock plant for grafting then when he retired he offered me the tree to buy. It was about 3.5m high 9 or 10ft and in a 110lt pot. I air layered about 40 trees off this tree and sold them in my garden centre (helped pay for the tree and other ones i got from him) that left a yuck looking stump. You see i fell in love with the base and the roots and piched for a long term rebranching of the tree. I am not keen on stumpsai bonsai so to gain taper i hollowed the trink to remove the stumps and give the tree a bit of interest. I will show you another two pictures this weekend hopfully one of the tree before work and the rewire.

Thanks James

jamesransom

Member






---
Permissions in this forum:
You
cannot
reply to topics in this forum