can some one help me on finding the right place for collecting yamadori in middlesex and finding a way of gaining more knowledge on the art of bonsai. Im reading lots of books have had some workshop classes 1-2-1 and group classes but need something extra.

kingbean

Member





Hi Kingbean. I see this is your first post, so welcome to the forum - I hope you get a lot of useful information and assistance from it.

So we can make a stab at answering your question, what would be good would be a little bit of information about yourself. You might care to tell us how long you've been doing bonsai for - i.e are you a newcomer or have you been doing bonsai for some time, and are you a member of a club or society. If you've been involved for some time, tell us what type of trees you like working on - maybe even post some more pictures.

I'm assuming you want some feedback on the tree pictured in your post. Maybe you could tell us what you were trying to achieve, how you set about doing it, and where you want to take the tree next.

Oh, and a more specific location would also help so that people who are more local to you can give more precise information and assistance.

I look forward to more details.

fiona

Member





Ah. I see your post changed from "How am I doing as a bonsai artist?" to its current form in the time I wrote my response. The "welcome" bit stands as does any of the rest of it that is appropriate!
I admire your hunger to be good at bonsai, but my own thought is that you don't try collecting yamadori until you have a good enough grasp of the basics of bonsai - the horticultural bits of how to keep them alive (soils, feeding, watering etc) as well as the stylistic bits (potting, wiring, pruning, styling). Yamadori collecting brings a whole new set of "fiddly bits" to deal with which are doomed to failure if you don't have the right equipment and a knowledge of the horticultural practices required to keep collected material alive. Even the guys who have been doing it for years can get it wrong at times.
Your best bet is to find a good bonsai group that will teach you the basics (there's bound to be someone on here local to you who can recommend such a group) and then involve you in the more advanced stuff. I'm hesitant to use the old cliche of not running before you can walk (because I don't actually believe it to be true) but it is worth taking a bit of time to get the underpinning skills right. If you can do this at 100miles an hour as opposed to 20 then that's fine.
You don't say how old you are (i.e. if you can drive). If you can get over to Bath for the Joy of Bonsai event on the 20th/21st March, you would meet a large number of the UK's bonsai enthusiasts, all of whom have your hunger to aspire to better bonsai. It'd be worth it. If you go, make yourself known to us.

fiona

Member





thanks for the advise.

Im from northolt in london england.
I've been practicing the art of bonsai since about 2005 when i first purchased the juniper blaws that you can see in my picture.I got it from a shop called concrete jungle in ealing and have been trying to style it ever since.
I have had a couple of work shop classes with peter chan at herons bonsai in lingfield surrey including a 1-2-1 session so I know the basics of wiring pruning and re-poting I also worked for peter on his nurserie.
I dont know what my next step should be I just cant grasp that artistic flair that a lot of the masters have but I suppose it will come one day.
I probably need to do some work shops with marco invernizzi but it is quite far for me to travel to willowbog bonsai nurserie.
Anyway I have a few trees in my collection inc- juniperus itoigawa,mountain maple,blackpine,dawn redwood,deshojo maple,trident maple,japanese hornbeam,and im growing some kyoto moss and just received my seeds today which are hinoki cypress,trident maple small leaf,cryptomeria japonica and black pine.insert a picture of a itoigawa that i love but not sure what to do withit and how to style it.

kingbean

Member





here is my pride and joy montain maple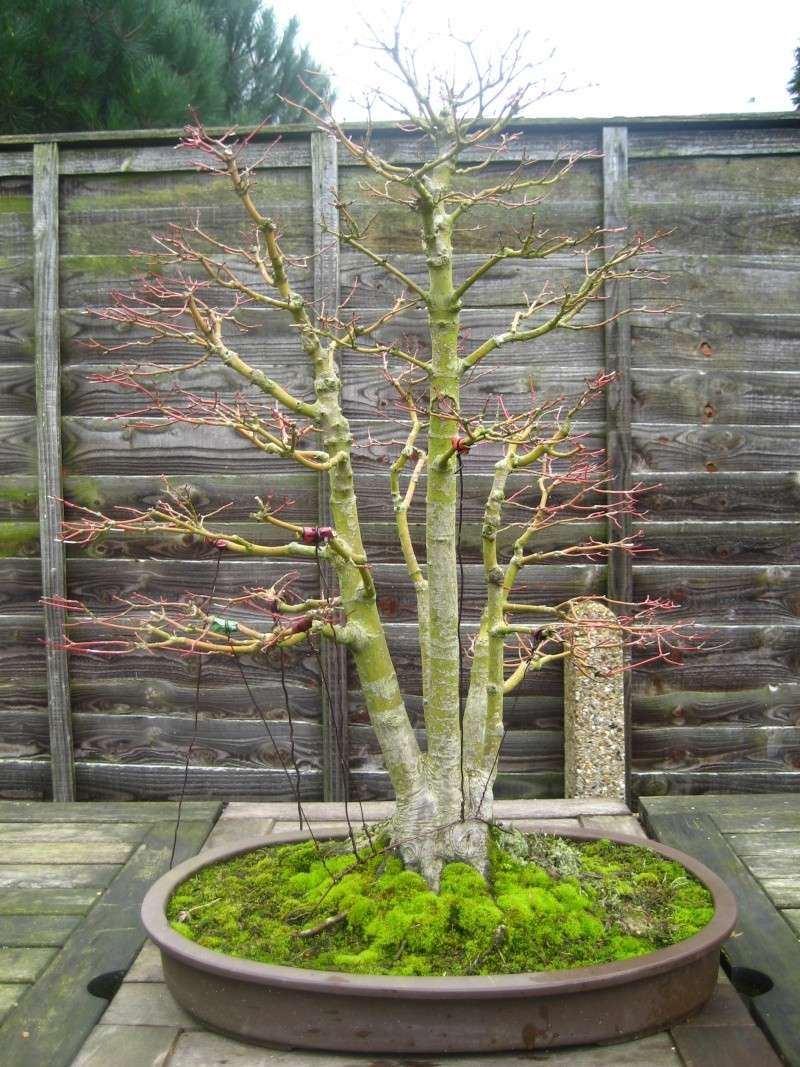 kingbean

Member





I wouldn't get too hooked into who you should or shouldn't do a workshop with. Some people find the workshop scenario helpful, others (myself included) find the short burst they offer limiting. I prefer to work with only one or two "teachers" and have 1-2-1 sessions spread throughout the year. Some people find it best to stick with one person, while others prefer to mix and match.

I can only repeat what I said in my previous post - if you can get over to Bath for the Joy of Bonsai event, you will probably meet a few folk from your area who can guide you a bit more or who/what is available. It's only an hour or so in the train.

fiona

Member





Hello Kingbean,

Welcome to IBC. I've been through your stage so I know how you must feel. But now you're at the right place where you will find most friendly and highly experienced bonsai enthusiasts willing to help you at any time. I value every single comment made on the forum. be it negative or positive. after spending good amount of money, I've learned is that joining a society is the best way to learn.

I can see that you've already some beautiful trees. I'm only round the corner from you (Greenford) so would be nice to meet up some time and see your collection.

Try not to miss Joy of Bonsai in bath on 20th & 21 of tis month. Best place to meet loads of geniuses there.

Cheers,

Faisal

F. Waheedy

Member





what sort of things go on at this event? and how much will it set me back?

kingbean

Member






_________________
"It is not the strongest of the species that survives, nor the most intelligent. It is the one that is the most adaptable to change." - Charles Darwin.

Kev Bailey

Admin






---
Permissions in this forum:
You
cannot
reply to topics in this forum