I'd appreciate thoughts/criticisms of this stone.
Growing up on the white sand beaches of north Florida doesn't give you many opportunities to find rocks. This one was collected in Pennsylvania and brought back with a bunch of others by a friend who was kind enough to share it with me. That was over 20 years ago.
Is it worth keeping and displaying? Should I display it in a suiban like this or have a dai made for it?
Russell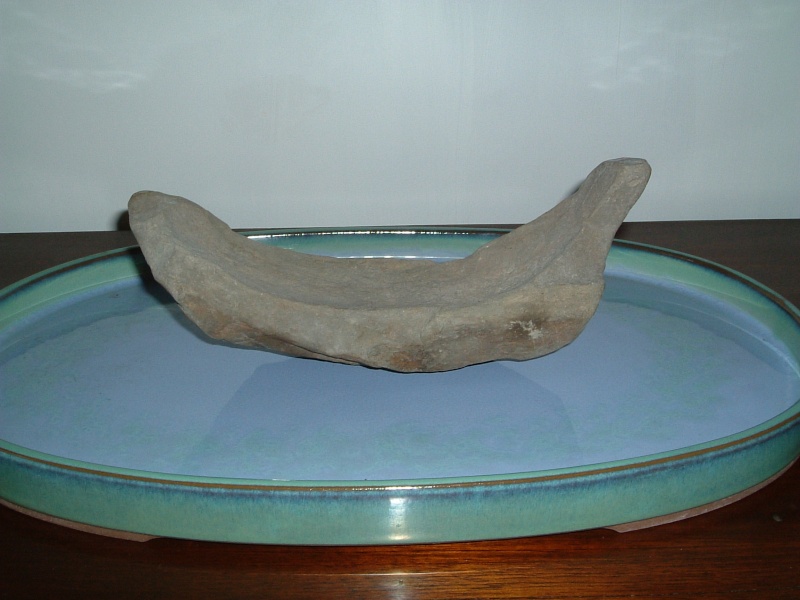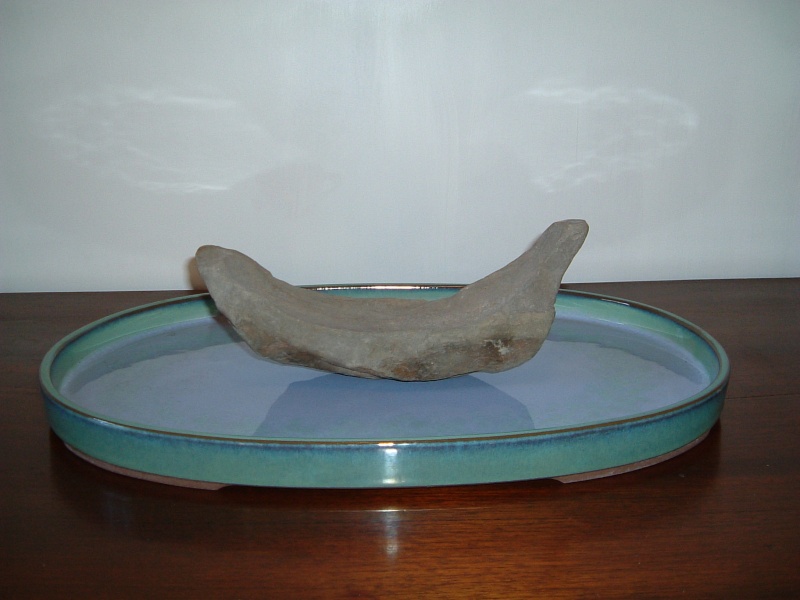 Russell Coker

Member






Chris Cochrane

Member





Thanks Chris.

I really like that stone in that shallow, wide suiban. My stone just got stuck it in what I had. I get a real sense of expansiveness from your picture.

Chris, I'd really appreciate your opinion of this stone. You aren't going to hurt my feelings, so don't hold back. You can tell me if my baby's ugly. Heck, when I first got it I thought it looked like a banana. I don't have other stones, or access to a place to look for stones. Is this one worth investing in a good suiban?

Russell

Russell Coker

Member





Hi Russell... I struggle over boat stones, too. We might imagine them easy to find, but good ones are surprisingly rare.
For suiseki, a
landscape-view boat stone
should be of a plain boat. It can have gently curving lines of both its sidewall upper rails or surprisingly jagged rails-- but they should appear unbroken & natural. A lower rail faces the viewer & the higher back rail forms the horizon-line (silhouette) for the stone. The prow and stern rocker contour (exposed underside silhouette) typically curves gently, especially at the boat's prow. The prow tip should be somewhat pointed & is usually higher than the stern (perhaps lifting from the weight of a single unobserved (but 'felt') occupant. These stones are displayed in trays & should be suitable for water aging.
Among Japanese garden water features, a humble boat will sometimes be partially submerged to suggest age, decay & especially loneliness. In landscape paintings of fragile boats, common themes of a single fisherman or a boater returning toward the Red Cliffs (China) from an expansive (& sometimes, weatherbeaten) lake also suggest fragility & solitude. For suiseki, it might be captured by allowing a lot of open space in the direction that the boat is pointed. A long, narrow,
tanzaku
"poem card" style tray works well, if available in the size you need. A tray of "poem card" contour is 2-3 times as long as wide, whereas most suiban are ~1.5 to 2 times as long as wide. It adds a poetic undertone. Literally, it might express visual flow (as in passing stream) better than more rounded/squared trays. As an alternative, I'd consider carving a socket to hold a stone in a board of similar dimension, but that is not traditional display technique.
For a
boat as an object stone
, more options in contour are available & mounting on a daiza is most appropriate. The
Taraka-bune
"Treasure Ship" is a form prized in Japan and often linked with New Years display.
Your stone's aging has not faded its stains, deepened its color or created any luster, Russell. That is more distracting than the contour which I can see (most is still hidden) after 20 years under care. Still, I would find it difficult to part with a stone I've kept so long. Your memory of it being
recognized as a boat stone
20 years ago is reason-enough to respect it. There were few East coast USA suiseki, enthusiasts, then. An EARLY significant American suiseki event was the 1993 (I think) World Bonsai Convention in Orlando. If you want to discuss a makeover, I'll share some thoughts privately that you can easily dismiss--
sashaichris@gmail.com
.

Chris Cochrane

Member





Are boat stones always portrayed as smaller boats that might be propelled with a ore or long stick? That seems to be all I ever see for these. I have found a stone that I think looks like a larger sail boat but I have not seen any others that look like this.

jon hultgren

Member





It is fine to show another style of boat as an object stone, but suiseki practice suggests the humble boat powered by hand as the landscape-view stone shown in a tray.
Check-out
Martin Pauli's blog
, which notes:
Keisho ishi (object shape stone)
If a stone suggest us a boat, we see a steamboat or a sailboat, the Japanese see a vague suggestion of the treasure boat (takarabune), which plays an important role in Japanese history
Hope that helps.

Chris Cochrane

Member





Chris,

Thanks so much. I greatly appreciate your insight and willingness to share. I will be back in touch privately to pick your brain a little more soon. Right now I have a family matter that's taking up way too much 'disk space' in my small brain, but it will soon pass.

I also have the pics of Jean's stone, and will post them and the story as soon as I have time to go through them.

Thanks again for everything.

Russell

Russell Coker

Member






Similar topics
---
Permissions in this forum:
You
cannot
reply to topics in this forum