Dear viewers
Several months ago we were in this topic :
https://ibonsaiclub.forumotion.com/suiseki-viewing-stones-and-scholars-rocks-f2/jasper-stones-t219-30.htm
The table inspired by Norma's boat stone i have made and have been
playing with to show You now.
The little table is sculpted , with feet , 1 cm. above the surface.
The end of the table i kept straight , there was for my feeling enough "river"
in the table itself.
Playing with a boat like stone , i looked for the lines , directions and colors in both
table and stone to combine.
Last edited by Morea on Sat Dec 05, 2009 8:55 am; edited 1 time in total

Morea

Member





The other side of the little table i also like very much.
This is how it looks,
With an other boat like stone ,
i got an overall chaotic feeling but wanting to hold on
to the floating water image of the table.
Something else came in the mind.
A totally different stone.
Collected in a forrest river in Cornwall
The stone also has a small pool.


Morea

Member





This last combination felt very good , inspite that i like the
table front with the "eye" much more.
To complete the water floating feeling i placed a pot with accent also to it.
The accent is a mini hosta ( Little Billy) but now asleep as it is authumn in Holland.
The movement in pot and table is much , but for my feeling gets equal.
The flat stone to be the oppposite also makes the equal feeling.
Enjoy ,
Kind regards
Morea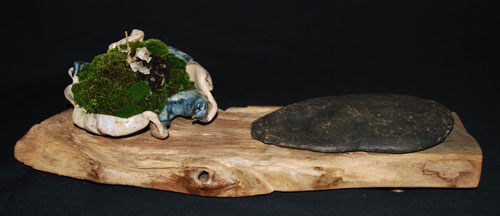 Morea

Member





Hi Morea... Thanks so much for another artistic stone presentation. Using this footed slab, I wonder at your thoughts-- especially in regard to: 1) overall visual flow, 2) eye speed and 3) cues to speeding, slowing, stopping or reversing the visual flow. Are these things that you consider when designing a ceramic slab (or table); what other notions affect the stone placement on the slab for you? When you offer a stone presentation, I expect an option outside-the-box which surprises.
In rotating the first image, I found this position most engaging for me. Does it accurately depict the slab or is one side too elevated?


Chris Cochrane

Member






Similar topics
---
Permissions in this forum:
You
cannot
reply to topics in this forum