Hi all,
I've been working on this little Pinus sylvestris for about 9 years now, and it's slowly getting to where I want it to be in terms of the overall shape. It's about a foot tall from soil level. My next task is to tighten up the foliage and improve the ramification. I have recently started to work on this, with some indications of budding back on older wood.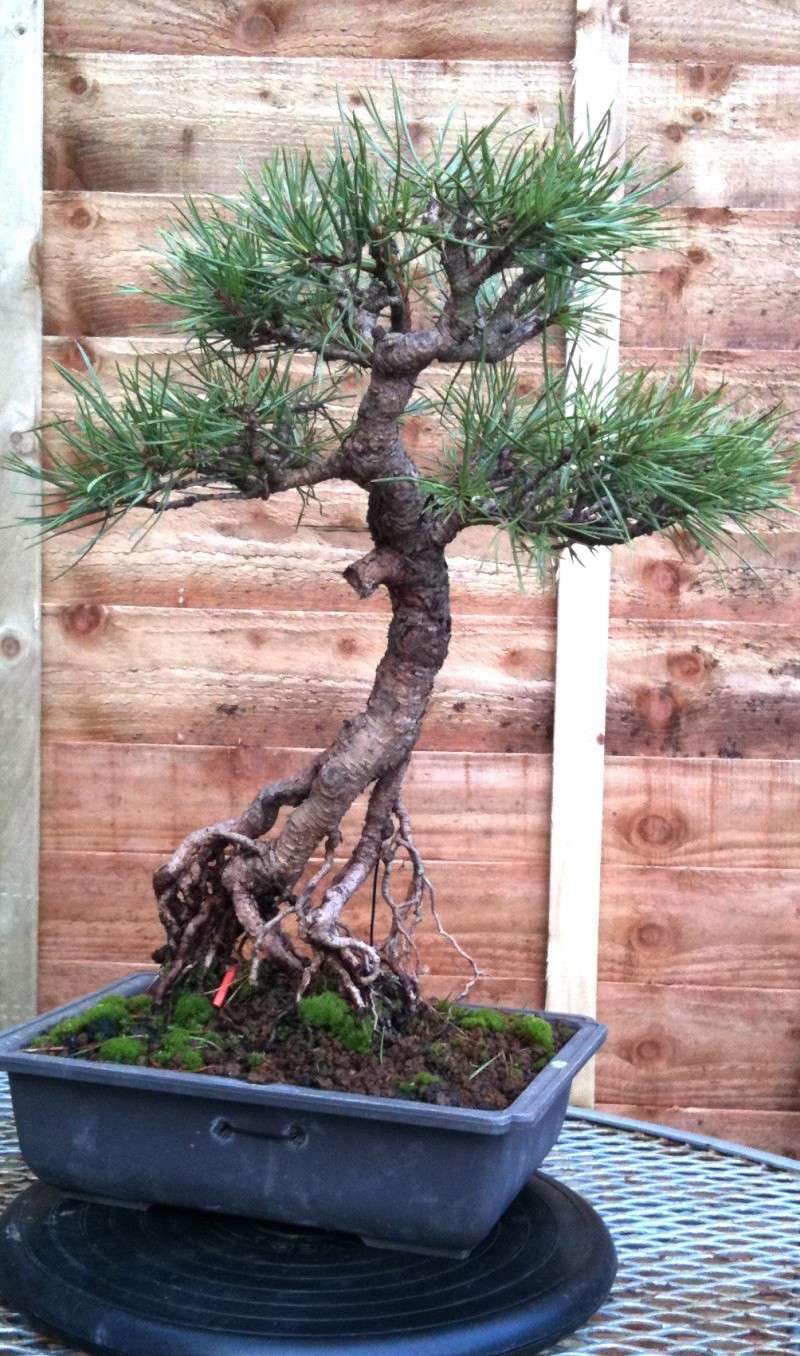 However, there is one (of many) flaws it has which I am wondering whether I should do something about.
At the back of the tree, around the junction with the lowest branch, there is a swelling where a large wound (the original trunk) has healed over. Matters are not helped by the fact that two branches (bottom right and back) come off the trunk at the same point - I should have taken one out years ago.
It's quite well hidden at the moment, but I am a little concerned that as time goes on it will continue to swell and create an unsightly lump at the top of the trunk.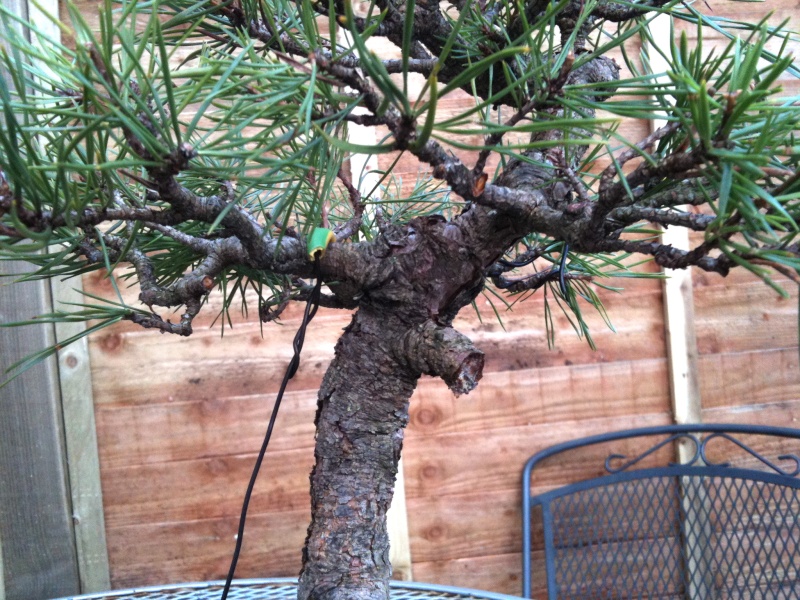 I am wondering whether I should try to carve it out to improve the appearance? Or would that run the risk of making matters worse through further callousing around the new wound? Note that there is also a branch stub below it that needs to be removed. I had not originally planned to introduce deadwood areas to the tree.
My other options are just to live with it, or to hide it with foliage - that would be easy but would obscure the trunk line lower than I wanted.
Any advice on whether to do this, appropriate technique and timing, would be very welcome. The tree grows strongly, but has had a fair amount of work done in the last 12 months, so I don't anticipate doing much to it until next autumn at the earliest.
Here's a link to a youtube video that allows a more 3-d impression.
And, for historical interest, a poor quality snap of what it looked like about 8 years ago. The current problem area is just above the third branch to the right (I think!).
Thanks in advance for any advice,
Tom

Tom

Member





In close up it is rather ugly. Seeing it as a whole, however, I don't get a bad impression. I wouldn't worry about it. Besides, I think the branches maybe should be brought down a bit.

I don't normally care much for exposed root bonsai, but the roots on this one are impressive.

Nice job.
_________________
Jim Lewis - lewisjk@windstream.net - Western NC - People, when Columbus discovered this country, it was plumb full of nuts and berries. And I'm right here to tell you the berries are just about all gone. Uncle Dave Macon, old-time country musician

JimLewis

Member





That is fairly impressive development! You must have had a lot of fun and satisfaction from bringing it along to this point. I like exposed root if done well and I like this one. With the right tweaking of branch angles and foliage pad development I think it could be very interesting. The roots have good bark and a general movement and balance that works with the rest of the tree. Keeping the apex moving towards the right seems like a good idea from where I'm sitting but perhaps you want to thin out the second (big) branch from the top on the right, and the next one down that appears to move towards the back so that they do not become too thick. I also wonder if that branch towards the back (appears to be the third one up from the bottom) would suffice as your 'depth' branch and if you could eliminate the one at the same level as your first branch that you are concerned about. In your picture at least you cannot even see that it is there.
I dont think your fault will get any worse, if its healed over completely I cant see a problem. Some of the skill in bonsai is Knowing how and when to hide your faults. You have done this very well.
Thanks to all for the comments so far - sounds like it's a case of not worrying too much about it for now then.

Jim, you are right, the branches do need adjusting.

Velodog, you may well be right about that back branch - until you mentioned it I hadn't realised it was invisible in the photo, from that 'front' at least. Need to think about that one.

Will - thanks - this has given me plenty of practice at trying to hide faults! To be honest it was dreadful material, and nowadays I'd never even consider buying it - but it has been a good 'learning tree' in some ways.

Happy New Year to all.

Tom

Tom

Member





Tom

Where abouts are you in the South East?

Regards

Andy

Stone Monkey

Member





Tom,

I like the top, unfortunately the "exposed roots" are not on;l not aesthetically pleasing, they don't support the weight of the tree convincingly. Now mind you this is entirely subjective IMHO. I would ground layer the tree were the bark changes colour. Once again IMO it would render a more convincing bonsai. As years go by, this problem will accentuate as the roots will further push the tree out of the pot. It could become a ROR but I think once again the "fat root" will lead to undesirable results.

Rick Moquin

Member





Andy, I'm in Surrey - about halfway between Windybanks and Heron's bonsai nurseries - a dangerous place to be, surrounded by temptation!

Rick - thanks for the comments. I do appreciate exactly where you are coming from. The reason I went for the exposed roots is that a) the original stick-in-pot had horrible roots sticking out in the wrong places, and b) there was (is) virtually no trunk taper.

The current design represents an attempt to make the best of what I came to realise was a bad tree, trying to create a visual illusion of taper using the roots. Of course, the extent to which this is successful is entirely in the eye of the beholder.

I'm not convinced there is much special about the top of the tree - layering it off would re-create the problem of a thin, taperless trunk - about the only thing going for it would be the bark texture which I quite like. However, I'm curious - have you had much success in ground layering pines? I've only done it with deciduous trees and had read that it was very difficult with pines. If it's something that can be done successfully I certainly wouldn't rule it out for the future (and I have a white pine with a bad graft that would also be an ideal candidate).

Thanks,
Tom

Tom

Member





Ground layering is not an option with Scots. the only way to get a good surface spread of natural roots is to plant back at root level, remove from soil, cut back roots and so on. Just like back budding on a branch.

---
Permissions in this forum:
You
cannot
reply to topics in this forum