Well, here is my larch that I digged in spring 2020. Another tree that I will possibly turn into a bonsai - if I will be lucky enough
Because the trunk was quite thick and after one year it got thicken more even in this 9,2l container, I just had to bend it now. This is my very first wiring, I know that it has several issues, because I have already seen how the correct wiring should look like and also I could feel it. But as Peter Chan says - you will learn ho ti wire the tree by the practice.
First - I should center the tree, because if not, then there is limitation in the ways how you can put the wire into the soil.
Second - it seems to me that I wired it more tightly than I wanted to (and I should bend it during placing the wire, because it is more effective).
Third - this 5mm wire turned out not to be strong enough by the base of the tree. Double the wire is possibility, but there are some brunches that I would like to keep - if possible. So there is no place for another wire.
Because larches are quite vigorous trees, I guess that I will have to remove it quite soon. I will see...
So I hope that next time I will make it more professionally.
I still have 7,5mm wire, so even next year it should be possible to bend it again and make some corrections.
Also I plan to put it in larger container. I cannot put it into the ground during growing season, because I have no place where to plant it. We grow some vegetables or flowers in the garden and therefore there is just no free space. In autumn it doesn't matter, because it is after the harvests. So I am gonna buy 37l containers. It has diameter 45cm and it will have to be good enough.
Well, that's it.
I hope that it will grow well and I will be posting here photos as it will develop.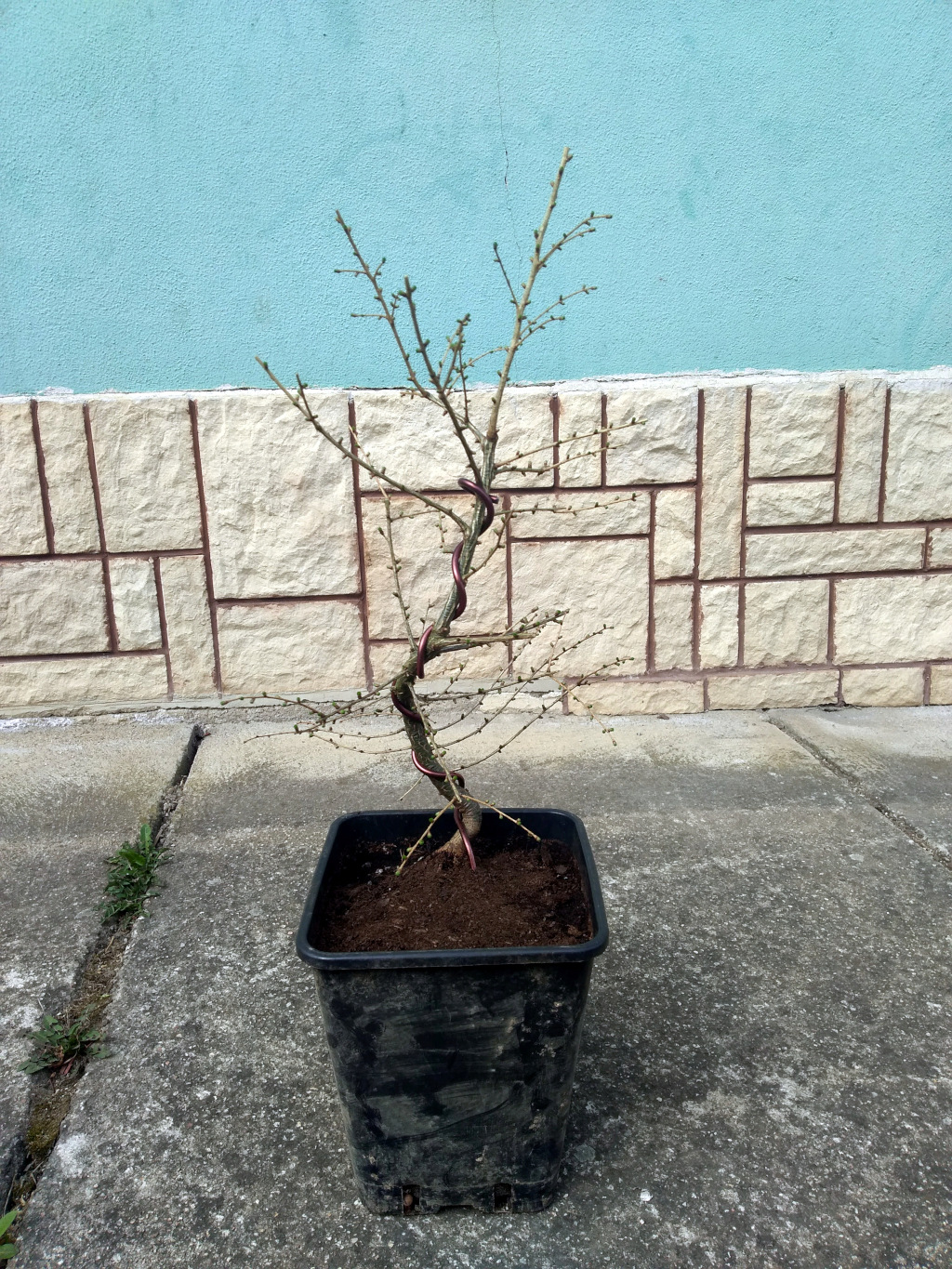 Lack of movement - I belive I will be able to correct it next time. Also it is going to be cut back in two or three years - maybe into 1/3, so I can solve it later with the new growth...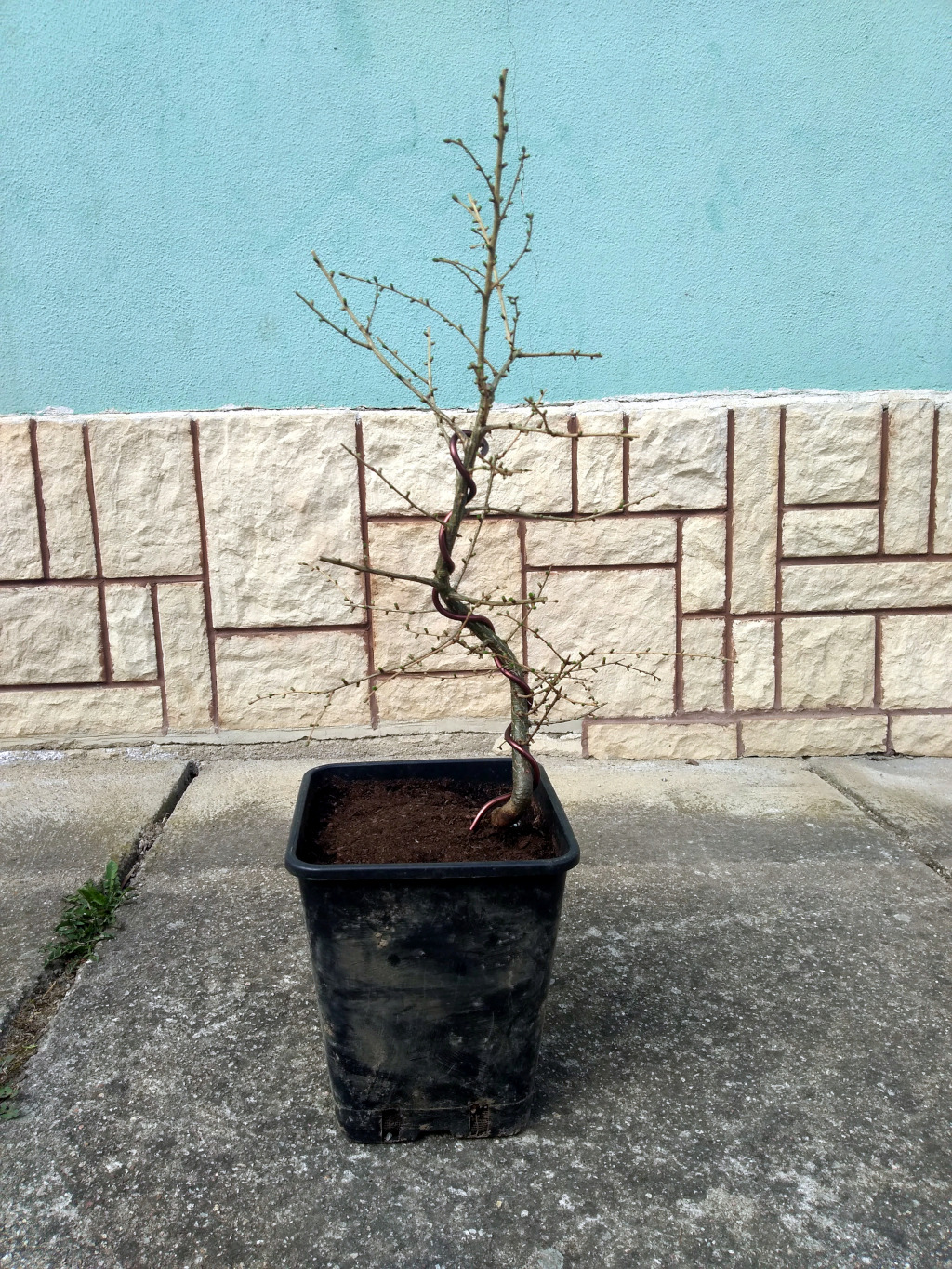 This looks - strange  
 Hopefully I will make it better next time.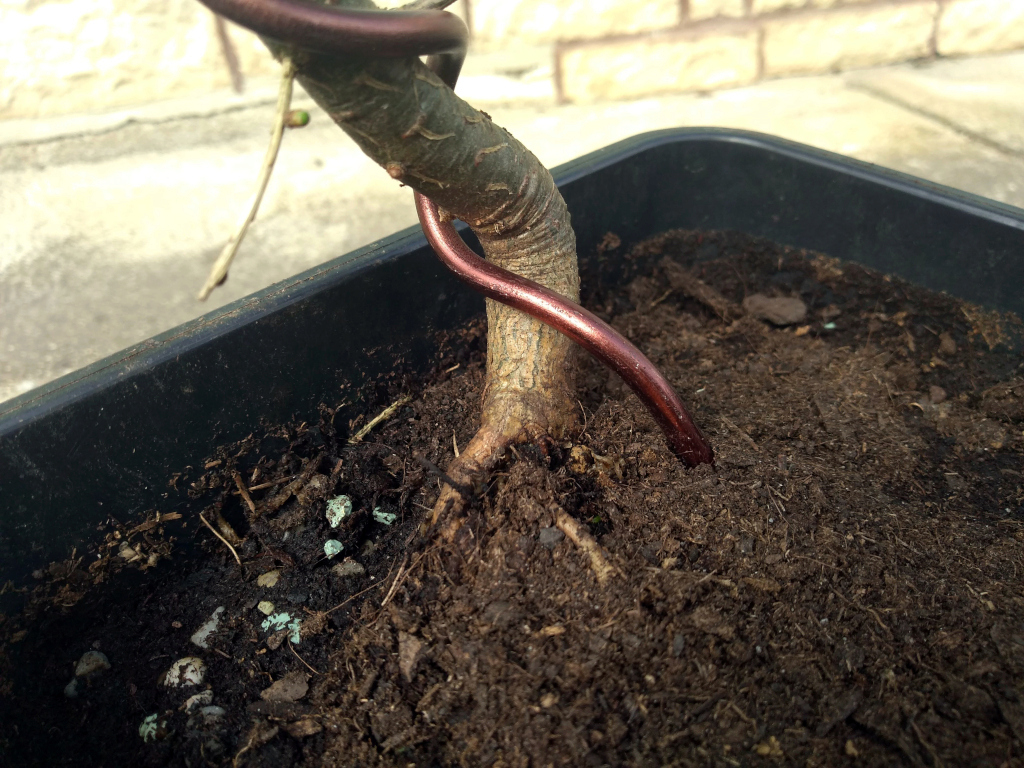 JanG.

Member





Actually your wire spacing looks fairly good. I think you might be in good shape for the movement if you bend the middle of the tree to the left below the branch that comes out to the left and then straighten the wire at the top slightly to bring that bit back to the right. You will have two larger branches on the insides of curves to remove, but you can allow them to contribute to the growth for a year or two. Also remember to make sure you put in some front-to-back movement. Overall a very good start.
JanG. and Ger Bright like this post
Thank you
I made some small corrections. If everything goes well, I will improove it more with the next wiring.

JanG.

Member





Ger Bright likes this post
This is a good beginning.  Since your conversation has been about movement of the tree, have you considered increasing the degree of slant where the trunk enters the soil?  No wire needed, yet you can accentuate your prior bends and, perhaps, revise some of them if you put more angle on the trunk entering the ground.  Of course the surface nebari should be taken into account.  This young larch will probably easily consent to adjusting the surface roots.  Very good material and very good start.
Additionally, after more examination, you have some leverage that can be applied without using wire.  Guide wires can be attached to the supple part of the trunk and then connected to the plastic container by making a wire hole at the top of the container.  Apply pressure from the top of the tree and tighten up the wire slack and secure the wire for a permanent bend without fear of wire marks. The uppermost major division or 'Y' junction would be a good place for this intervention, as this part of the tree is more supple because it is thinner now.  Of course, use portions of hose rubber to place padding under the wire on top of the branch that you are exerting force on and you will do well.
You mentioned placing the larch in the ground. I'm assuming that you mean that you want the trunk to thicken more(?) You can construct a grow box that would be, perhaps, 6"X22"X22". This will control your nebari growth, as well as allow the trunk room to thicken more.
If you decide to go with the grow box approach I suggest not upsizing them too much at once. I like to increase the soil volume by a factor of 2 - 4 each time so the roots have time to colonize the new soil fairly quickly. Not sure of the size of the current pot, but my guess in on the order of 15 cm square and perhaps 20 deep. In 2022 I would look for box that is about 25-30 cm square and 12 - 15 cm deep. That is factor of 2 - 3 or less, but starts to get the root pad spreading. The larger 22" (55 cm) square box would come along in about 2026-28 based upon my approach with box that is on the 35-45 cm square size in between.
I was thinking in inches. Oops.

---
Permissions in this forum:
You
cannot
reply to topics in this forum