The I want to start off by saying that I am new to the art of bonsai, and received my first tree (Chinese Elm) from Eastern Leaf about 2 weeks ago. I have a lot of other experience in other hobbies involving living things that I think will lend itself well to bonsai. So far it has been doing great, but the soil that it came is is the Eastern Leaf Organic Blend. From my reading that I have done, I learned at an inorganic soil would be best. The soil it has now appears to drain well, and dries out quickly, but I know that it will likely eventually break down and start holding water and potentially lead to root rot. Should I bother with changing the soil to an inorganic blend? Is there any premixed blend that anyone recommends?
I was thinking about getting this soil to use instead: 
https://www.bonsaioutlet.com/supplies/soil-blends/bonsai-premium/
Or possibly buying this kit and blending my own: 
https://www.bonsaioutlet.com/supplies/re-potting-seasonal/premium-bonsai-soil-3-pack/
Here's some photos, I know that ideally the elm should be kept outdoors, and I am currently working on remedying that (I don't have a yard, just a Juliette balcony that I might be able make something to use to hold the tree).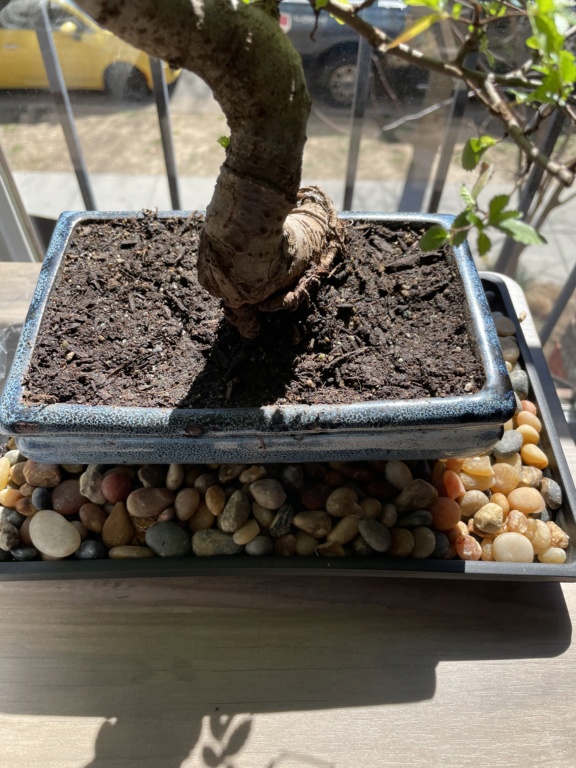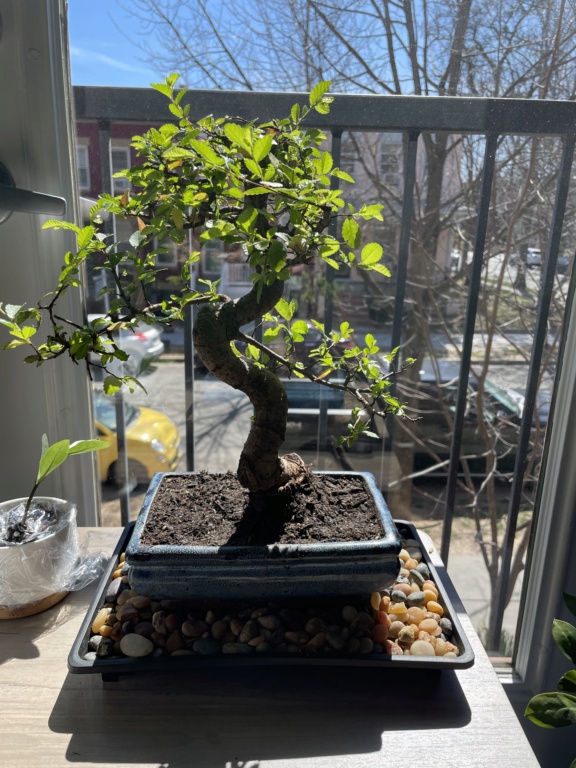 Hello my name is adam and i think that you should stop, look and think technique.
This method is to stop one self to do the wrong move.
So stop what you were going to do and look at the tree now and think.
So the tree looks healthy and is being watered so will grow and develop brilliant.
Heat and the sun will dry out the soil very quickly so watering will be a key thing for you to master at this point as if you change the soil it will still happen.
I water my trees in the summer 3 to 4 times a day.
I dont agree that elm trees should only be grown indoors because i have 20 elms over 50 years old that live out doors all year long. Uk Temp in summer at max 31 c and winter as low as - 4
I also had a balcony which i had many trees on it and i did very well but had to limit my numbers but now have 4 acres and 350 trees which is extreme but i love my trees and the art of bonsai's.
I hope this helps and if you need help just ask any time
@mrbonsaicreator Instagram


Howdy there. I haven't been on this forum in probably 3 years but your post made it to my inbox and I'd like to help.
If the water is percolating through the soil and the tree is healthy, which it does, It looks very happy
, then leave it. What you've read about modern substrate. Yes, it's much better. Nowadays we use Pumice, akadama (for refinement), lava, diatomaceous earth, etc to create a better balance of water and oxygen. The problem most have with regular old soil is it's much harder to permeate the entirety of the root ball when the mass gets dryer and as a beginner it's much easier to overwater your soil mass.
Right now it seems you're doing great and you've got a natural sense of when the tree needs water. Only water when the tree needs water. Don't let it get to dry, because with this mix you'll have trouble getting the entire rootball wet again. If that does happen, just submerge the whole thing and go back to the schedule you had before.
In the future, you'll know you want to re-pot when, 1. you want to change the aesthetics (position, pot, etc). 2. Water is running over the edge and not permeating into the rootball itself. 3. Tree is showing signs of health issues but you don't see or can't identify anything on the tree or leaves themselves.
So... you can leave this soil. The advantage to this sort of mix is you don't have to water as often as you would if you were using modern substrates. You will have a nice ecosystem of fungi/bacteria and micro-organisms if you watch that balance of water and oxygen carefully and so the time you do re-pot, and keep some of the old soil, it will inoculate your future modern substrate well.
And yes, elms are a temperate -subtropic species at best. They'll be okay indoors but over several years their health will decline as they will run out of resources since they do need a dormancy.
I started on a balcony too so feel free to look WAY back at some of my earlier endeavors
@bonsaibalconybrno (instagram and wordpress)
Good resources to get better quickly:
https://bonsaimirai.com/,
crataegus.com,
https://bjornbjorholm.com/
and so many others are now providing extremely detailed info on how to progress in both the horticultural and aesthetic part of the practice. I'm sure you'll notice the difference in aesthetic taste some of them have which is a good thing in my opinion.
Good luck!

Thomas Urban

Member





cdcurnick likes this post
Thanks for the replies! I appreciate it!
Mrbonsaicreator likes this post
I don't post to this group but I do follow certain threads. When your question arrived in my inbox, I was very strongly reminded of a blog by Graham Potter at Kaizen Bonsai. I advise you to read his entire post. His main argument is when we obtain a new tree we are often driven to do
something
to it. We want to do something to that tree whether it needs it or not. He argues one of the first choices for many of us is to re-pot.
I won't continue to paraphrase Graham. Whatever you decide for your specific tree, this is worth a read.
https://www.kaizenbonsai.com/blog/2020/05/missing-the-point-re-potting-bonsai/

Coppersdad

Member





cdcurnick likes this post
Your first tree is a beauty. Since it has already leafed out, repotting would be the wrong thing to do right now. Disturbing the roots at this time would really stress the tree.
Very early spring is the ideal time for root work and repotting. When the buds just begin to swell and just show a little green is the time to jump in. Fresh soil at that time would make it just spring into growth.

Right now, just enjoy the fresh green leaves and watch the daily changes. It's hard not to do SOMETHING with your tree, but sit by the tree in the morning with a cup of coffee or in the late afternoon with your choice of beverage and contemplate the beauty.
Dave Leppo likes this post

Similar topics
---
Permissions in this forum:
You
cannot
reply to topics in this forum