Our friend Jeff Amas once again provided photos of the annual
Nippon Suiseki Meihinten
at the Meiji Shrine in 2019. At the time that the photos were received, I was unable to reduce the photos in bulk from their high resolution.  The problem was eventually resolved & friends responsible for bonsai forums in Italy & France received copies of the photos.  Finally, I am posting them to IBC.  Note that there was not a
Nippon Suiseki Meihinten
in 2020, which would have normally been displayed in June.
Image numbers relate only to order of receiving photos, but hopefully ease discussion of particular stones.
#1
[/url]
#2
[/url]
#3
[/url]
#4
[/url]
#5
[/url]
#6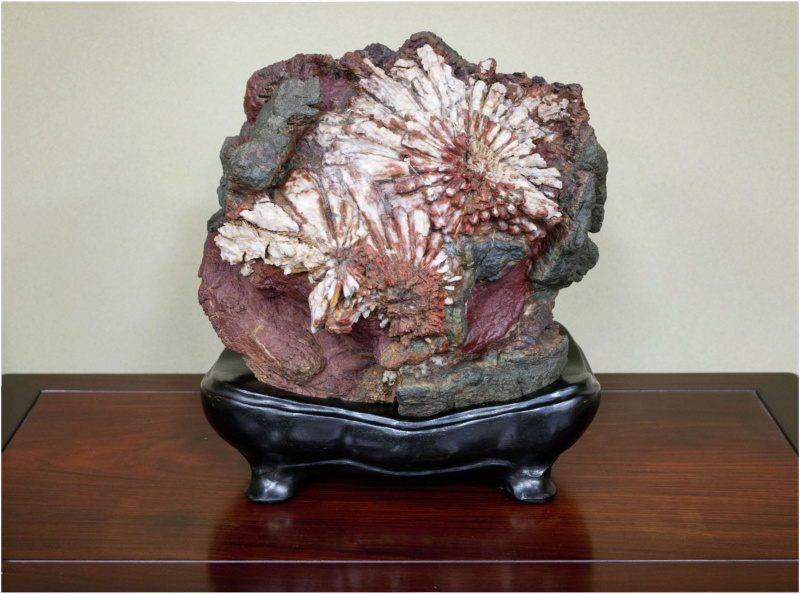 [/url]
#7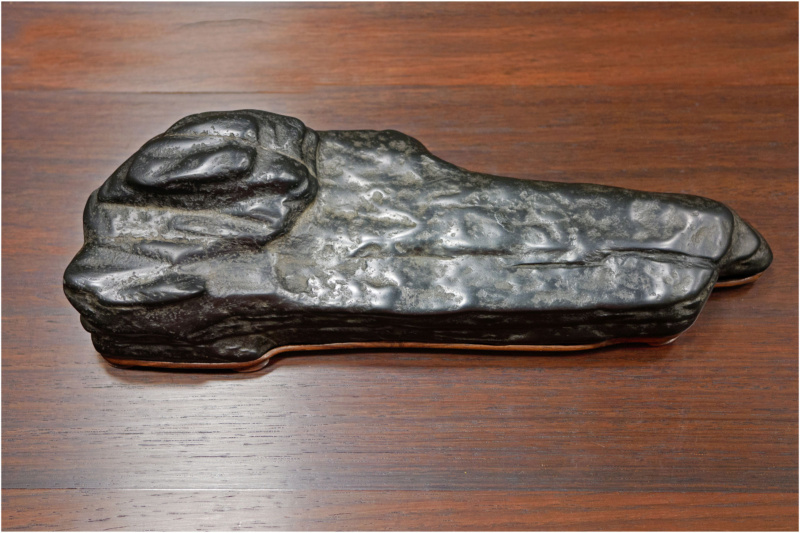 [/url]
#8
[/url]
First batch with more to come...
Last edited by Chris Cochrane on Sun Nov 15, 2020 7:42 pm; edited 1 time in total

Chris Cochrane

Member






Chris Cochrane

Member






Chris Cochrane

Member





Last edited by Chris Cochrane on Sun Nov 15, 2020 7:46 pm; edited 2 times in total

Chris Cochrane

Member






Chris Cochrane

Member





Nice report and thanks for sharing it.

Lost2301

Member





Hi Mike.

Thanks for your appreciation of Japanese suiseki.

This year, I decided to present the photos without commentary. Some of the suiseki astounded me. Over time, my appreciation of a wider variety grows.

This might be the first Meihinten exhibit with a stone mounted on a pillow in decades.

It is a pleasure to share these photos, and I fully credit my friend Jeff Amas who takes the photos each year. He is amazing!

Sincerely,
Chris

Chris Cochrane

Member





There are some really great stones and the photos are well done. I have never heard of displaying a stone on a pillow? Is that something that is acceptable in Japanese stone shows? Does the color of the pillow matter? I posted this post on my Suiseki page on my website including 3 photos from here with credits to you, Jeff Amas and IBC Forum. The post brings the viewers back to your post here on IBC. I do have a number of stone myself. I actually have figured out how to make diaza's now. I really like this one a lot. Thanks for posting them.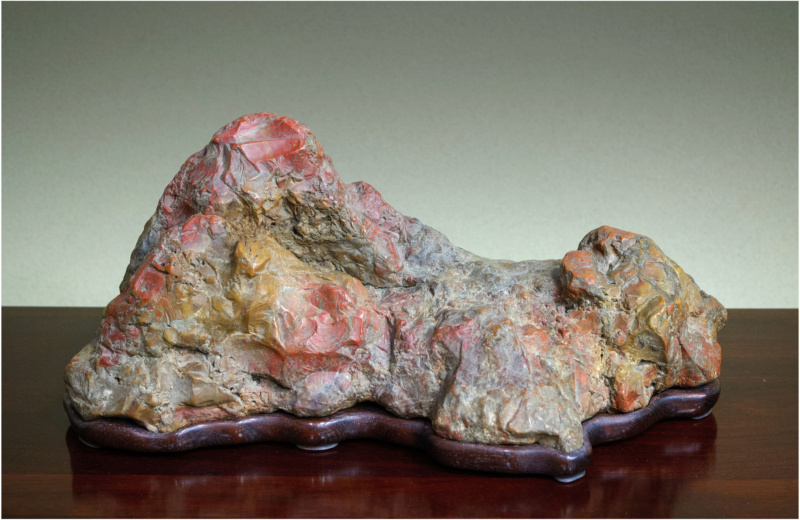 Lost2301

Member





Hi Mike.

You have a sophisticated taste in suiseki.  This appears to be a Sado akadama-ishi-- a Sado Island stone with red color (among others).  I think these are an acquired taste for most enthusiasts as the bright color is less expected than black or earth tones. Additionally, the surface that often looks broken with flat planes rather than softly rounded and smooth creates a barrier to appreciation for many.  Nevertheless, one of the nicest, most sincere & knowledgeable suiseki enthusiasts that I've met in Japan finds this style of stone among the most engaging.  Your chosen example is spectacular.

Re' pillows used for stones bases, I have seen them used for some historic stones as in the book Denshoseki.  The pillows I recall have been covered in silk material comparable to fabrics used in tea ceremony.  Jim Greaves who directs the American Viewing Stone Resource Center at the Huntington Museum (California) used pillows covered in black fabric for mounting a very few stones in his exhibition "Beyond the Black Mountain" that was exhibited in California as well as at the US National Bonsai & Penjing Museum in Washington DC (refer to the book, Beyond the Black Mountain).  In at least one of the annual (now 7) Japan Suiseki Exhibitions, a stone has been displayed with mounting on a pillow. As noted earlier, Nippon Suiseki Association, which was founded in the early 1960s to maintain classical standards for suiseki selection & display, refused to display stones except in suiban/doban, on wood daiza made for individual stones or rarely in saharibon bronze trays.

Chris Cochrane

Member





Hi Chris,
Thank you for the nice compliment. You certainly know a lot about Suiseki/stones. I am just an amateur, my friend Paul Gilbert knows a lot about stones. I can always ask him questions. I bet you probably know Paul? I just might have to hunt down a silk pillow to use with a stone. I like a good challenge. I like coming up with new ways to display stones. I remember your comments on my Petrified Wood Suiseki and the carved base.  I had two other stones in our 2019 show that drew lots of comments on them. The first is named "Yamagata - ishi" Red Jasper California Viewing Stone. The original owner of the stone provided the name as it is written in pencil on the bottom of the dizia. I thought I should leave the name as is. The second stone is named "Birth of a Galaxy" China Viewing Stone. It was very popular with the public. I like the way it sits on top of the driftwood found in the mountains of Colorado.
Do you have any suggestions who a person can donate their viewing stone collection to when and if there comes a time to do so?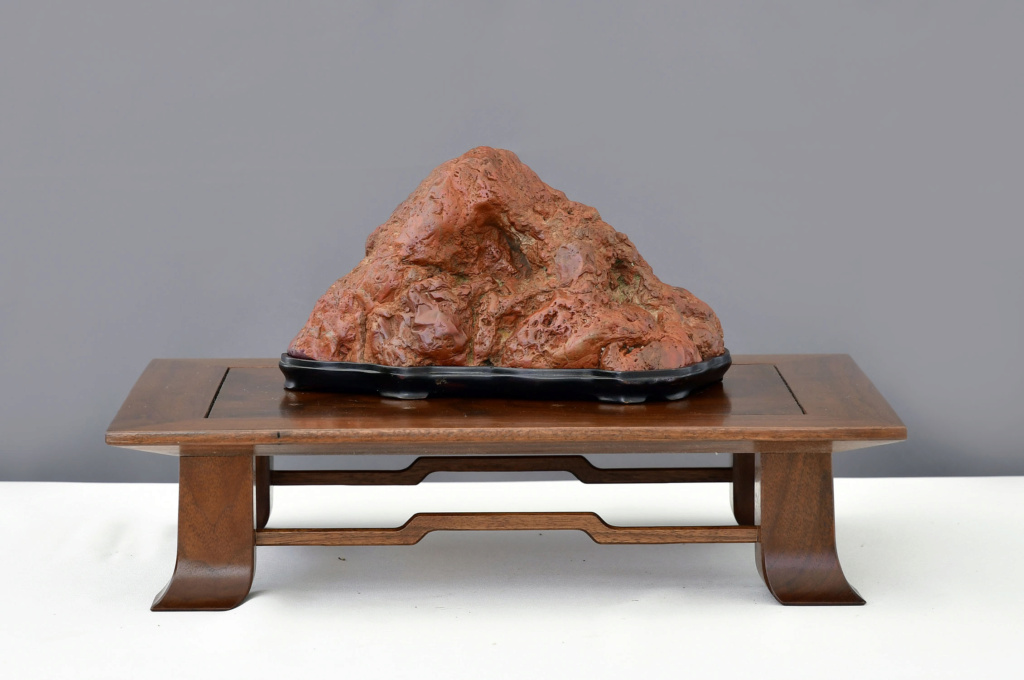 Here are a couple of links to several stone galleries from our last two shows with stones in them. I hope you like them.
2019 show
2020 Virtual Show
Best regards and Happy Holidays.

Lost2301

Member





Hi Mike.

Your red Jasper stone has "Yamagata-ishi " written on its bottom. From Japanese, it translates: yama/"mountain" +gata/"shape" + ishi/"stone." It is a wonderful example of a near-view mountain-shaped stone. I say near-view because the texture & crevices of the stone suggest details of a mountain that would not be clear at a long distance.

You ask about donating a viewing stone collection. Funny that you should ask immediately after I commended a relative of a California Aiseki Kai member for donating her deceased uncle's collection to the club. I imagine members of the Rocky Mountain Bonsai Club with which you have been active might be potential recipients. You could assist the club by planning a memorial exhibition & sale-- these have occurred with documentary publication for important collections in Japan.

Jim Greaves is the director of the American Viewing Stone Resource Center at the Huntington Museum in San Marino, California. Jim has amassed a vast collection of suiseki that he is willing to share with others for exhibits anywhere in North America. I am considering a donation to the Resource Center of at least one treasured stone in my collection. Of course, it is best for Jim to only maintain the best of stones representing a wide array of examples, and Jim primarily accepts stones in classic Japanese suiseki style.

Several suiseki clubs are likely to retain the history of individual suiseki that pass through the hands of members. Any of these would see that your stones remain alive among sincere collectors of viewing stones. Those clubs include:
- California Aiseki Kai (southern California)
- California Suiseki Society (northern California)
- Puget Sound Suiseki Study Group (Washington state)
- Greater New York Suiseki Study Group (Rochester, NY)
- Potomac Viewing Stone Group (Washington DC)

I am an active member in Potomac Viewing Stone Group & in California Aiseki Kai but can also speak to each of the other clubs as sharing outstanding leadership, devotion & humility in pursuing & sharing stone enthusiasm.


Chris Cochrane

Member






---
Permissions in this forum:
You
cannot
reply to topics in this forum