Dear Bonsai Buddies, I am quite new in this business, and i am trying hard and reading and watching a lot. Would you please help me to identify my first bonsai. I think it is Ficus microcarpa 'Green Island'. But the difference between F. microcarpa and F. retusa is kind of smokey.
I would also appreciate few critique about the style.
Thanks in advance.
mahbub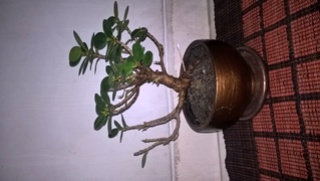 mahbub

Member





Hello Mahbud:

Welcome to bonsai and welcome to the forum. I am sorry that you are finding the world of botanical nomenclature difficult and confusing; alas even many who have spent their lives in the pursuit find it such.

I am certain that your guess with regard to your tree being Ficus microparpa cv. "green island" is correct.

If you want a deeper conversation with regard to F. microcarpa and F. retusa I would be delighted. However, all such taxonomic debate set aside, I think your identification is correct.

David B.

Thanks David for your confirmation.

mahbub

Member






Similar topics
---
Permissions in this forum:
You
cannot
reply to topics in this forum