And are we rolling downhill like a snowball headed for hell.    Merle Haggard
I guess this is a result of any addiction.  Even such seemingly mild one as a cultivation of bonsai.   It may start relatively easy but once you cross a certain boundery it may go quite "nasty".  
Buying  your first tree. Or maybe collecting one.  Then you start thinking about growing your tree from  cuttings or from seeds. Clearly you  need pots for your  trees.  Well, it is not a bad idea to have a small collection of nice pots, isn't it.  Maybe making your own ones?  Then what about  displays.  Tables, scrolls, figurines. Oh,  a nice suiseki may come in handy as well...
Sounds familiar?  Welcome in the club then.
Last year I have made my first  wood plate.  By now I have quite a few. Probably too many.   All made from burls.  Birch, black locust, elm, maple.   This year I have finished some new plates made from ash.   Some of them are listed on my blog for sale.   And you may find there also instructions how to make your own one/s.  
(
https://doriyama.blogspot.cz/2017/12/ji-ita-ready-to-be-used.html
)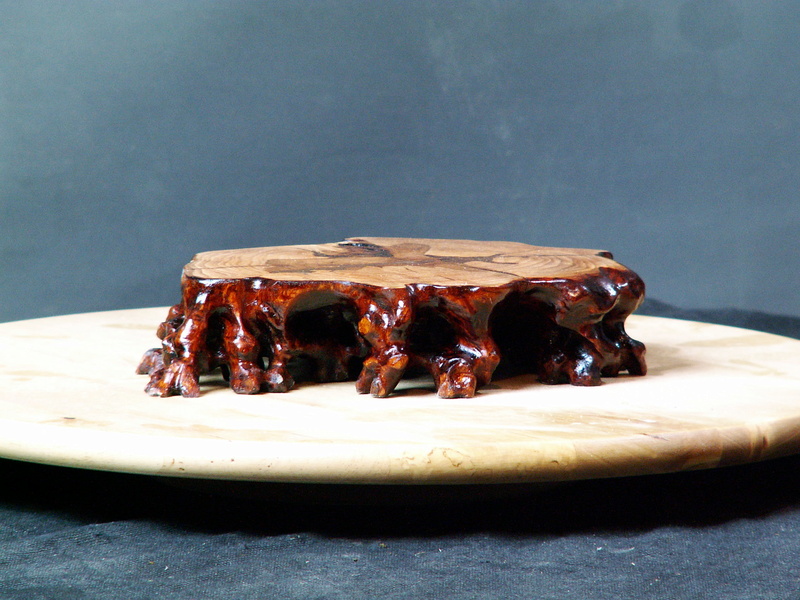 Ash_burl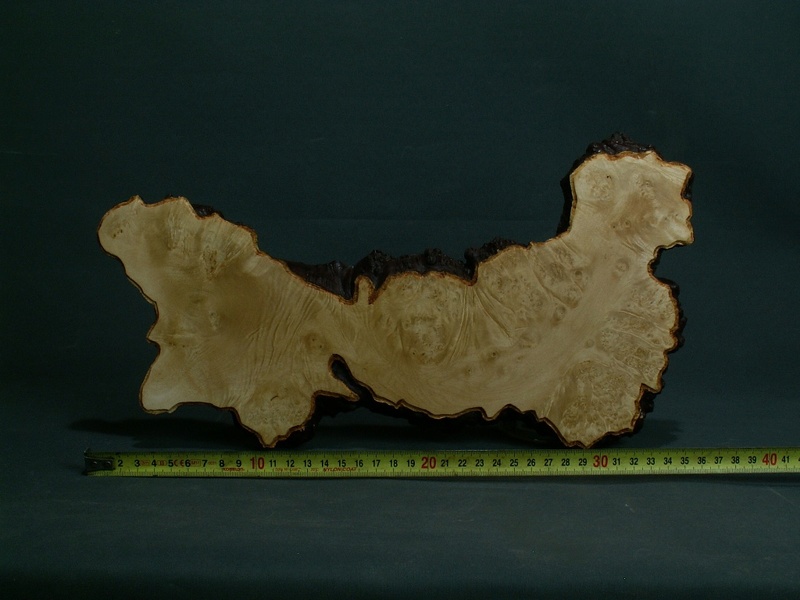 Black locust_Burl
Birch_burl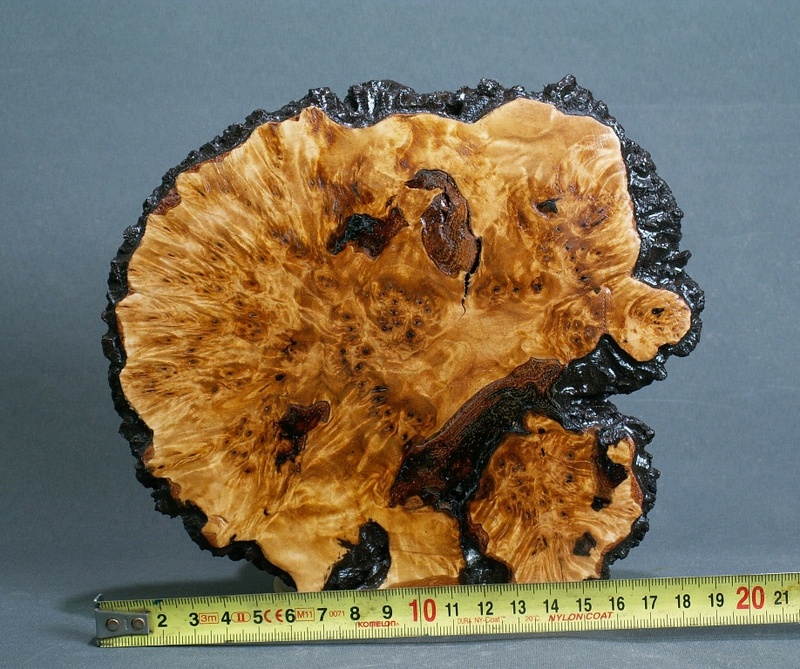 Vlad

Member





so beautiful
attractive wood slice

bonsai supek rhok rhak

Member





bonsai supek rhok rhak wrote:so beautiful
attractive wood slice
With burls I have discovered completely new area of interest. btw your roots stands are a great inspiration for me and another challenge...

Vlad

Member





Hi. What do you use to make the cuts, a chain saw with a guide or something more industrial?

Any guidance given would be appreciated.

Thanks

Nigel Parke

Member





Almost too nice to block the view with a tree. Stand alone accent pieces?
Nigel Parke wrote:Hi. What do you use to make the cuts, a chain saw with a guide or something more industrial?


A handpowered foxtail saw
in fact. more details - there is a link on the top of this thread.
A bandsaw may be a good option but I have never tried it. The chain saw woul destroy a lot of precious wood

Vlad

Member





Dave Leppo wrote:Almost too nice to block the view with a tree.  Stand alone accent pieces?
You are absolutely right. I also plan to frame some of them a place them on the wall

Vlad

Member





Good work, Vladimir!
I like them very very much!

my nellie

Member





Glad you like it, Alexandra. In fact, you are the first lady to say that

Vlad

Member





Ahoj Vlad,

Are you using "dry" wood?

I mean, there's a cherry tree that I will cut down, but i'm afraid if I "slice" the best part, it might split when drying: any tips?

-A-





AlainK

Member





Salut Alain,
a fresh wood
BUT
from burls. Due to the specific growth pattern I have not experienced any splits on the radial plates.
For a "normal" timber: I will also made the rough radial slices from the fresh wood. The wood should be harvested in December or January though. Old practicioners would add - during the last quarter of the moon.
Once you have cut the slices you will face two most common sort of problems that occur during drying: 1. deformation and 2. tangential splits.
1st. Placing the slice between several sheets of newspaper and fixing its shape with the use of additional boards and clamps coud solve this one. I do the same with the slices from burls.
2nd. Very slow drying is the old practicioner tip that could help. In the past they have placed the wood under the cover of hay to slowly dry there. I am using mixture of old and fresh wood shavings instead.
Plastic crates 600*400 mm filled with the wood shavings and the clamped slice is burried there and left for a season in my workshope/garage8) .
During the process I would change the wet newspaper as often as necessary
. Once it is dry I will make the final things including several soaks of a resin.
So this is "my" way. But I am definitely not an expert. Just a humble Czech guy who strongly believes he is the BEST
No guarantee it will work for you...

Vlad

Member






---
Permissions in this forum:
You
cannot
reply to topics in this forum