I have had this tree in a nursery pot for several years while I worked on it. Have trimmed off a number of major limbs over the years and I have a hard time finding where I did it. I put it in a Chuck Iker pot this year and it is responding with new growth now. Very fast grower and needs to be attended to on a regular basis. Back buds pretty good to. I have 2 other Ninebarks that are in training. The only down side is it is hard to see them bloom because they grow so fast you have to keep cutting them back thus no flower buds. It might just be a timing issue as to when to stop cutting back to get blooms?
Mike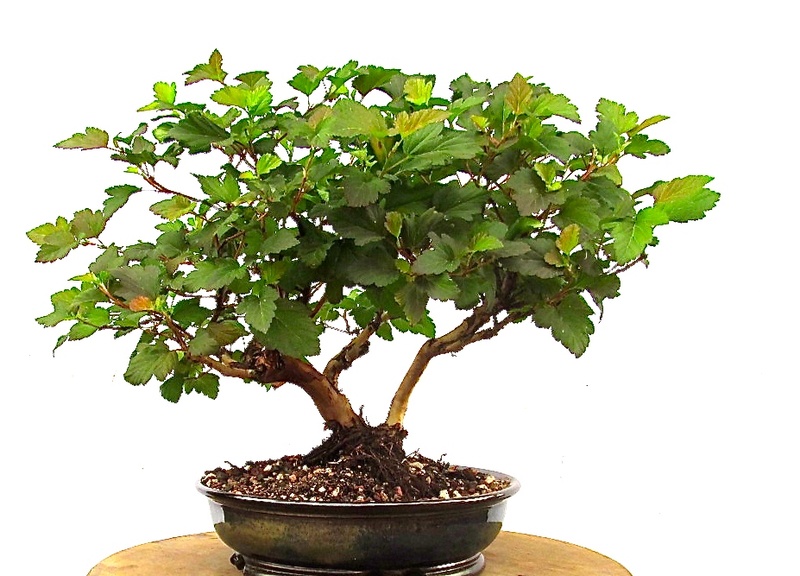 Lost2301

Member





nice... i'm working on a nine-bark too... trunk chopped it and only got suckery growth from around the base...
not giving up yet... the bark is too cool..

Kevin S - Wisco Bonsai

Member





Usually they respond well to chopping, I chopped one back about 4 weeks ago and one of the 3 trunks did not bud back, just from the ground up. Oh well, now its a twin trunk tree! It was growing in a gravel bunker and I took it out this spring and it had rooted through the holes in the soil. So I did end up root chopping as well, so maybe that had something to do with loosing a trunk?

I would like to find one of the miniature leaved "little devils" with a nice trunk on it. So far I have found some shrubs in #5's but no large trunks on them. I'll keep looking, I bet I find one someday.

Lost2301

Member





yeah... mine might be headed toward an unintentional clump !

Kevin S - Wisco Bonsai

Member





I just added a ground cover to the tree, looks pretty good, will try to post new photo.

Lost2301

Member






Lost2301

Member





looks like quite a bit of cover...
with potentially evasively rooting

Kevin S - Wisco Bonsai

Member





I have a very tiny push mower to cut it. If its gets to bad, a little round up on it will do the trick.

Lost2301

Member






Kevin S - Wisco Bonsai

Member






Lost2301

Member






Similar topics
---
Permissions in this forum:
You
cannot
reply to topics in this forum