This is and interior live oak I collected over twenty years ago that I sold to a friend who recently gave it back to me because it is sick. These black spots are only on the underside of the leaves. The tops of the leaves have yellow blotching. I treated the tree with Cleary 3336 systemic fungicide but probably won't know if it works until spring growth starts.
Anyone know what this is?
" />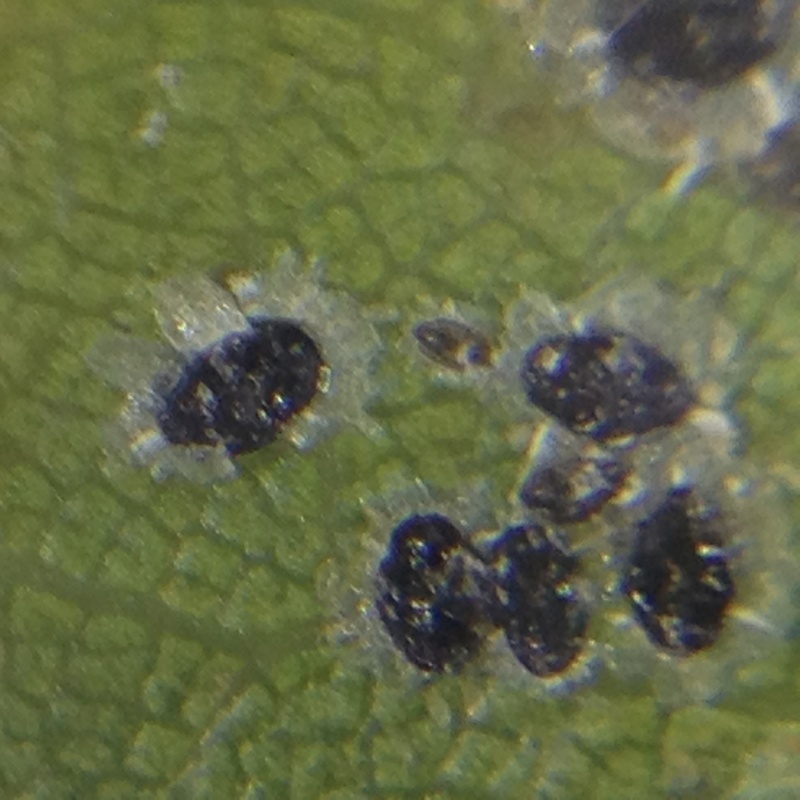 " />

PaulH

Member





Focus, focus, focus.  We can't see anything useful.
_________________
Jim Lewis - lewisjk@windstream.net - Western NC - People, when Columbus discovered this country, it was plumb full of nuts and berries. And I'm right here to tell you the berries are just about all gone. Uncle Dave Macon, old-time country musician

JimLewis

Member





I can't tell what I'm looking at. If the spots are fungal fruiting bodies, or if they are a type of scale. For fungus, the Cleary's 3336 systemic is a good general purpose fungicide, it should work. The spots won't go away, but no new spots will form if it worked.

However if it is a scale, you should be able to pick a few off the leaves. The underside should reveal the insect. You will see something that resembles insect body, possibly abdomen segments or legs or something will be intact enough after picking them off that you will be able to tell if they are insects or not. If they are fungus, the underside will also be the same black glob.

If they are scale insects, treat with a systemic pesticide. I recommend any of the "neo-nics" such as Merit, or any other in Mode of Action Group 4. Imidiproclid is the main active ingredient for this group of pesticides. Brand name is not important. Bayer, Bonide, what ever is on sale.

Take a survey, pick say 10 leaves, count the spots, write it down. Then in 2 or 3 weeks repeat - and see if the number of spots has increased. If yes, you did not cure the problem. If it remains the same, the Cleary's worked. I ran into the problem of not being able to tell if something worked, because I couldn't judge whether damage was increasing or remaining the same. So counting spots will help.

Fungicides are not "harmless" chemicals. You do not want to over-dose your tree. Counting spots will prevent you from hitting it with an unnecessary additional dose of Cleary's.

Myself, when confronted with something I can't diagnose, I often dose Cleary's and Merit at the same time. Seems to work okay.

I would read the Cleary's label. And make sure the recommended interval has passed, then in spring I would does the tree a second time. Often the time to treat the fungus is before it develops to the fruiting body phase. For example, we tend to see needle cast on our pines in my area toward the end of summer. The time to treat is actually the very early spring, when the spores are being released from needles on the ground in the environment. Knock out the infection at its earliest phase, rather than after it has done its damage.

You know you have the problem, so the spring treatment is appropriate. I am not in favor of dosing with fungicides if you have not observed any problems the previous year. Don't want to use more fungicides than you absolutely have to.



Leo Schordje

Member





Thanks. I have treated the tree with both Merit and Cleary 3336. I'll see what happens in springtime.

PaulH

Member





Paul,

Consult with the local cooperative extension service. I've consulted mine at the University of MD several times via email. They are paid to help the local gardeners/farmers.


Paul, I'd be interested to see what Leo's directions show- whether or not scale.

Precarious

Member






---
Permissions in this forum:
You
cannot
reply to topics in this forum