+6
William N. Valavanis
Marty Weiser
Bolero
LanceMac10
JimLewis
dick benbow
10 posters
Page 2 of 2 •
1, 2

This bird was quietly worked into the scroll artestry. A delight when you take the time to see everything instead of rushing thru something in too much of a hurry....
My sensae is one of the judges at the artesan's cup this weekend. I sent him the photo for constructive criticism and was suggested to have taken the photo in more of a verticle format. If you look real close to the right you can see a biwa that I eliminated that is used occassionaly for a 4th object.

dick benbow

Member





Here is an alternative idea. I'm now in the car on the way to Portland, a friend is driving so have a few minutes to show you how I would display the same items:
he
1.  Turn the main pine around so it is facing the scroll. It's easier to turn the tree than hav3.e another scroll painted. This way the tree is facing the bird. Also the heavier, or larger, half of the flat wood should be on the left, not right. The tree should not be centered on the flat wooden slab. It would look more interesting and asymmetrical if the tree was on the left side of the wooden slab with the narrow side on the right.
2.  The tree is in the back part of the display area and the fern is in the front. It just looks better to me that way.
3.  The fern companion planting is way too light. Looks unestablished, like it was just planted. When making up a companion like this, get some more and plant them all together. I often purchase three or four plants an put them in the same container to make it a "full" companion plant. The single fern looks too light and lonely. It needs to be heavier.
Just my idea today on the way to Portland...
Bill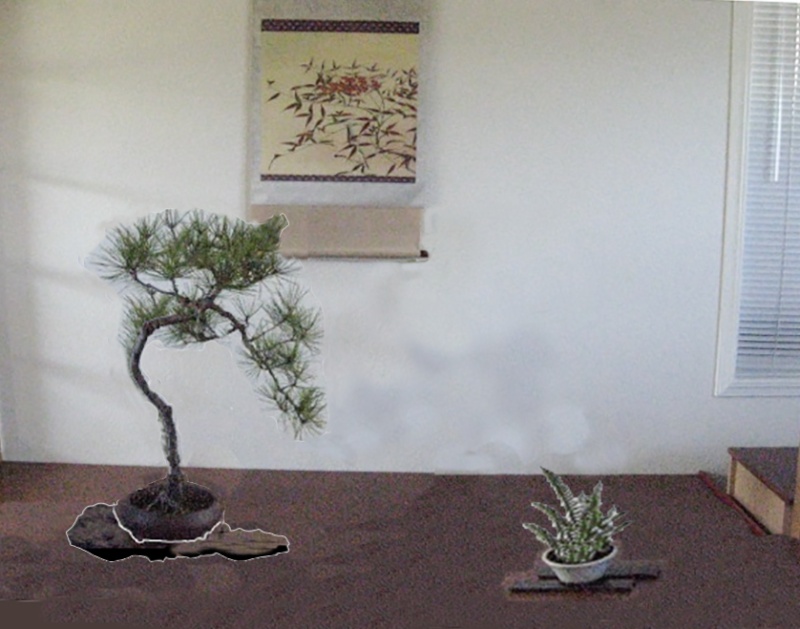 William N. Valavanis

Member





Very helpful Bill. Safe journey and good time....
It's a 3 hrs drive to portland from where I live near Seattle. Talking with a friend about making the run friday late afternoon.
Coming mainly to see the vendors

dick benbow

Member





Dick,

So glad we can finally meet!

Be sure to ask about the special shikishi boards for bonsai display. I don't think they will be on display in my sales area.

Bill

William N. Valavanis

Member





Bill, after you mentioned the directionality of the bird it really reenforced a good lesson that I should have been aware of. As they say in anything american, where someone really misses the mark...."DUH"...hope to see you friday shortly after 5 pm in vendor area.

dick benbow

Member





dick benbow wrote:

I never could quite understand with the numbers of viewers here, why I could never get good interested or knowledgeable parties to participate. I always felt it would be a good place to echange known knowledge and maybe some inroads into culturat differences.

But as my younger brother is oft quoted as saying, "such is life"....

so with that said I'm sure all will understand if I discontinue my effort to spark informational exchange on toko display.
Dear Dick
This is exactly the reason why I'm now in the backseat...  
It is terribly hurtful, when one takes the effort to go out, and photograph something, in order to  share the joy with others,  just to wait in all excitement , and all that happens is the views go up and nobody says anything.  Bunch of free loaders!  
Now I just pop in now an then, and spend my time on my own website.
Anyway I think everyone is now slightly relieved that I'm now silent.... hihiihihihi
And William your Toko hashira is fantastic.
Love and Light

Andre Beaurain

Member





Well keep popping in from time to time (please)
I got to thank Bill V for his help at the Artesan's cup as we met in passing.
Also at the Cup, I ran into and told Walter Pall that I appreciated his efforts to educate folks on the web.

dick benbow

Member





Page 2 of 2 •
1, 2

Similar topics
---
Permissions in this forum:
You
cannot
reply to topics in this forum