Hi All.
1st post but been reading on the forum for a while.
hoping for some help.
This is not a bonsai but bought this Acer palmatum to air layer for bonsai.
I live in South Africa and bought this tree Early July 2014 - it still had some leaves
on it even though July should not be the growing season for this tree.
Now it is spring in South Africa and it started pushing a little more new growth
but a few weeks back 1 branch started to get like a yellow/ brown and all the leaves on that branch died off!
Now it looks like the other 2 branches are starting to get the same colour and moving towards the main trunk.
There is just the main trunk and 3 branches.
is this some sort of disease that the tree has?
thank you.
Photos.
from main trunk to branches -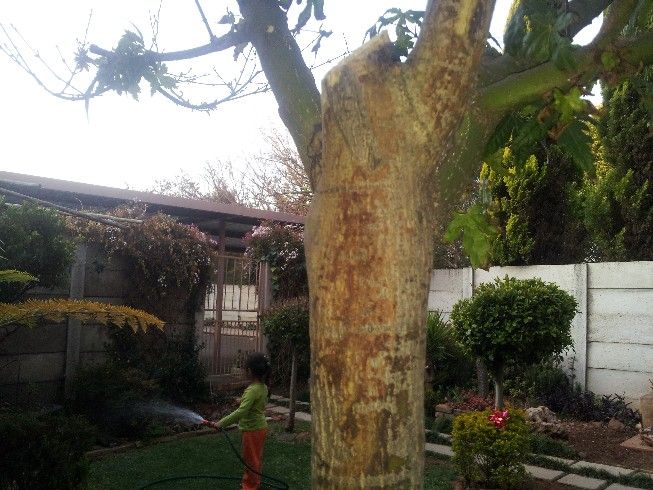 Branch that looks like it is dying - all leaves died back and looks like the branch is as well.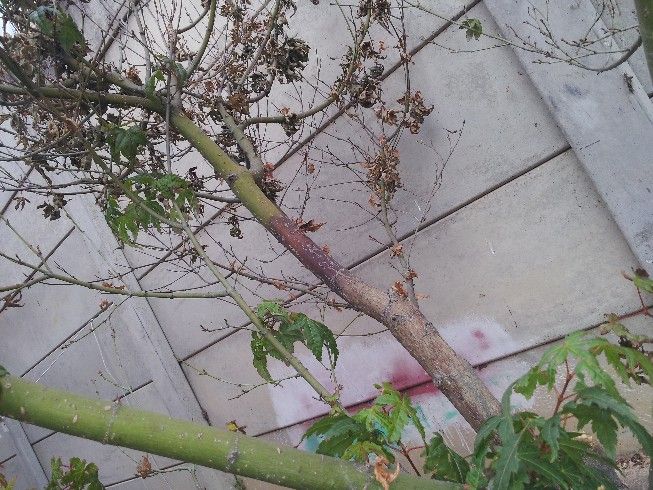 looks like it is spreading to the other 2 branches.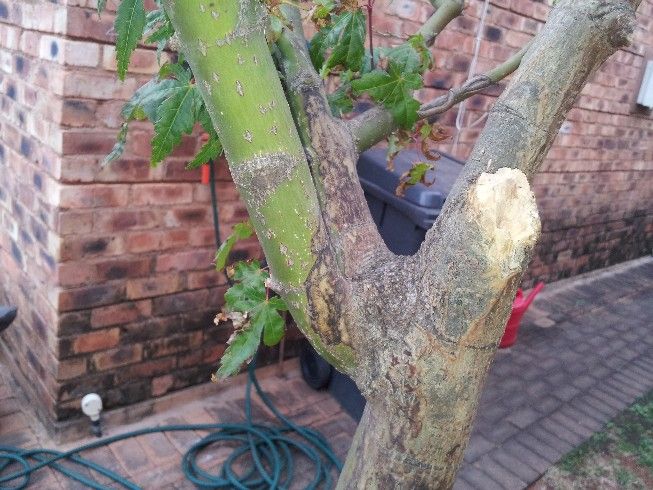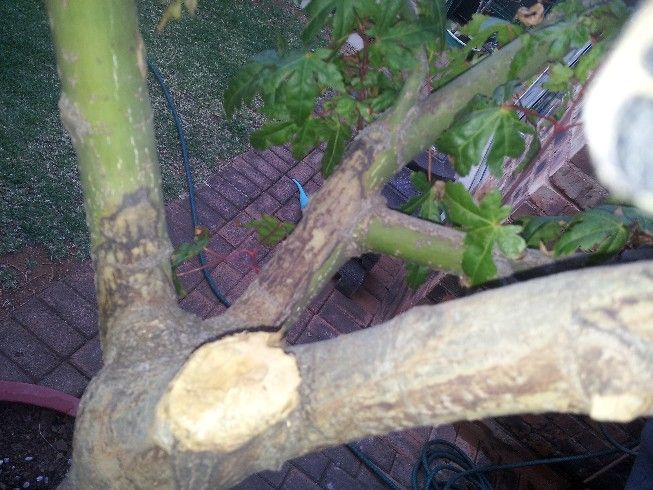 It looks like it is soon going to be a dead tree. My speculation is that it is verticillium wilt, but it could be nectria canker. Both are serious fungal infections. Both enter the tree through pruning cuts, so make it your habit to always clean your pruning tools with 70% isopropyl (rubbing) alcohol (bleach solutions also work, but will pit your tools).

Nectria is most active when temperatures are above 23C and attacks the cambium. It will make very small orange fruiting bodies in the fall.
Verticillium is most active when temperatures are below 23C, so it is a cool springtime disease. It works by clogging the xylem and leaves a dark-brown/black stain in the wood.

0soyoung

Member





what can be done once those fungi are noticed?

bucknbonsai

Member





We have had reports of DoubleNickel55 BioFungacide by Certis USA being useful against Verticillium wilt. The active ingredient is a bacteria - Bacillus amyloliquefaciens strain D747. A 5 lb bag was $125 and I dissolved in water and did a soil drench as directed. We are in the first year of trying it after a fairly bad outbreak so I can't give a strong report one way or the other.
bucknbonsai wrote:what can be done once those fungi are noticed?
Try to remove the infected material. Debarking in the same fashion as girdling for an air layer can be effective with nectria since it grows in the cambial tissues, but usually one is going to lop off the affected branches. Nectria infections tend to spread toward the roots (the direction of phloem sap flow).
Since verticillium infects the wood, removing the affected branch(es) is the only option. In both cases, the infection spreads well beyond the visible effects, so cut well into the adjacent healthy-looking part of the tree. Verticillium infection tends to propagate upward (the direction of xylem sap flow).

0soyoung

Member






---
Permissions in this forum:
You
cannot
reply to topics in this forum