a good chunk of the art i created in the past involved driftwood, so i am trying out some driftwood plantings....
this piece has a nice deep natural pocket for the fern and the driftwood has not been altered
(thats one of my loose "rules" for using driftwood in anything - use "as found")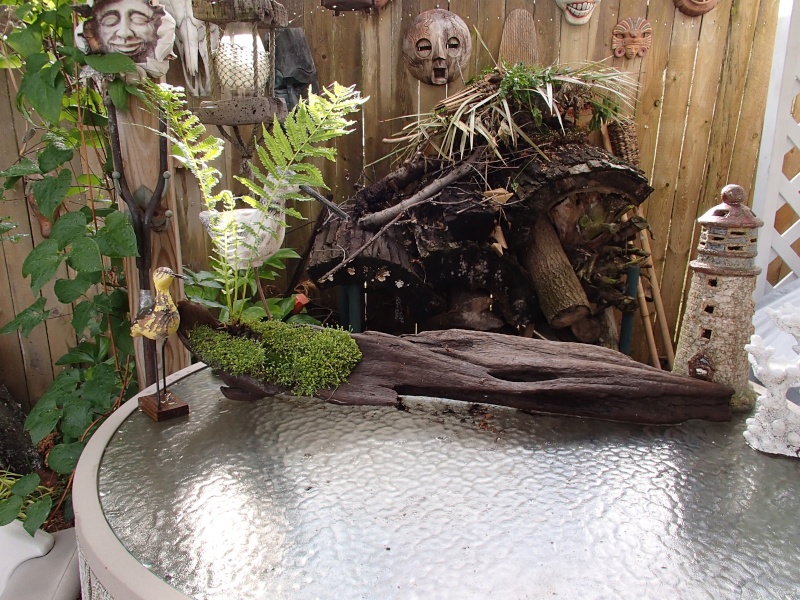 thoughts and comments are welcome
just please dont try to over analyze it in oriental styling terms  
_________________
AAC Original Milwaukee Wi. Chapter - North America
aka beer city snake
http://wiscobonsai.com/

Kevin S - Wisco Bonsai

Member





oh yeah... the woodbirds are not part of it or attached...
they are just there (and i dont mind them being there)

Kevin S - Wisco Bonsai

Member





I like it, it is attractive. I would use it in conjunction with a 24 inch or taller grass planting, or bamboo, or a tree. Depending on other props chosen it could say deep woods, or a lake shore. I like the fern in the moss. The birds say lake shore. One of those plantings that kick around on the shelf, until the perfect opportunity presents itself to use it in a display.



Leo Schordje

Member





Hey Leo,
Glad to see others working with driftwood.......I'm with you ....as I bring home many types of unique looking pieces most of which I either have in the garden as a large accent piece or more recently I'm using them as pots.  I see more wooden accent pieces being used in shows/displays so maybe its a growing trend. 
Cheers Graham

gman

Member





hey graham... actually this is mine, not leo's (we just have the same avatar, both being in the Arbor Arts Collective)
and yeah, driftwood is fun and i am looking at more ways of incorporating it.
yes leo... slally shells shesells by the sheshore
(sheee-it man - i cant even type it much less say it  
 )
yeah, i'm thinking of going for a sea-shore-ish theme for the "art beat in the heat" show
along with the MBS show in sept...
_________________
AAC Original Milwaukee Wi. Chapter - North America
aka beer city snake
http://wiscobonsai.com/

Kevin S - Wisco Bonsai

Member






Similar topics
---
Permissions in this forum:
You
cannot
reply to topics in this forum